Reformat SanDisk Ultra SDHC Card
"My SanDisk Ultra SDHC card got reformatted by mistake when I was using it in my Android phone. It is a 32GB card with more than 10GB data inside including images, MP3 files, MP4 files, 3GP files and more. Those files are important to me, so I am wondering if there is any way to unformat the SDHC card after mistakenly reformatting."
"Hello! Please tell if it is possible to recover data after reformat an SDHC card. I bought a SanDisk Ultra yesterday and transferred all important data from my old SD card to this new card. However, I mistakenly reformat the SDHC card after data transferring. What should I do to restore lost files due to reformat? There are many pictures and videos inside the SDHC card. Any help will be highly appreciated."
Solution - Data Recovery after Reformat SanDisk Ultra SDHC
Reformat can prepare the SDHC card for new data storage, but it doesn't erase data permanently. Therefore, you can employ the read-only data recovery software - iCare Data Recovery Pro to restore lost files due to reformat. For data recovery after reformat, the most important thing is that the original data cannot be overwritten. Therefore, it is highly recommended you to stop wring additional data to your SDHC card after reformat. The data recovery software allows you to restore all kinds of lost files whether you perform a quick format or full format on your SDHC card. You can restore data off SanDisk Ultra SDHC card and other brands of card corrupted memory card by using this data recovery software.
Steps to Restore Data from SanDisk SDHC after Reformat

Step1. Connect your SanDisk Ultra SDHC to your computer via a card reader. Download and install the data recovery software. Run the software and choose a recovery module.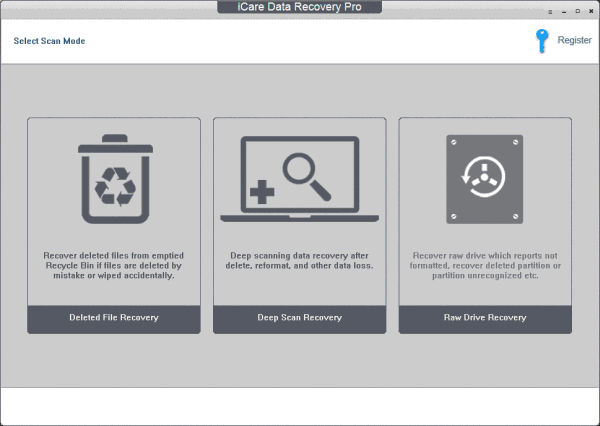 Step2. Choose the SanDisk Ultra SDHC card as aim disk so that the software can scan it for lost files. You only need to wait when the software is scanning.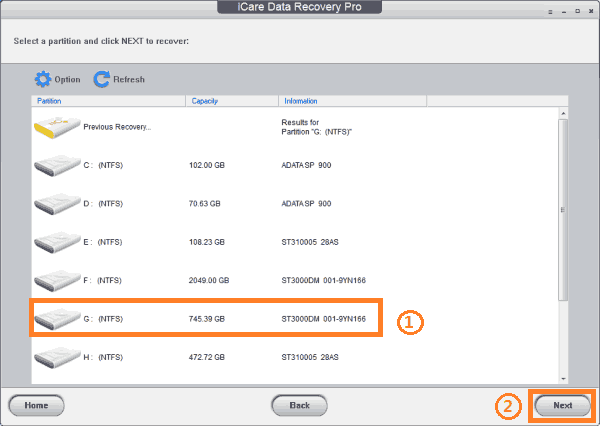 Step3. When the scanning is completed, you can select the found files to preview. Then, you can choose the files you need and recover them.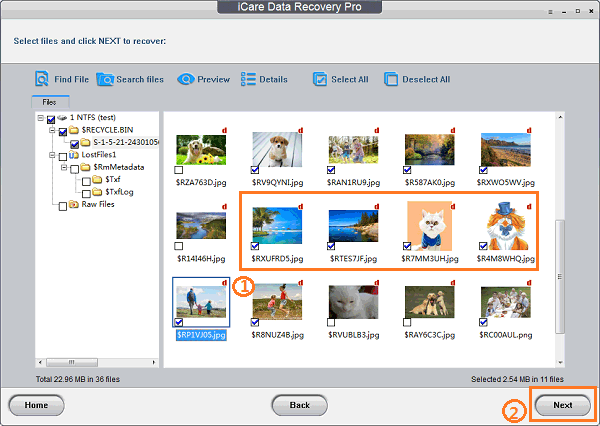 Reformatted SanDisk Ultra SDHC Card due to Mistake
Have you mistakenly reformatted your SanDisk Ultra SDHC card when using it in your digital camera, mobile phone or computer? Files lost due to mistakenly formatting are not erased permanently before you write new data to the formatted card. In another word, as long you do not write new data to your SanDisk Ultra SDHC card after reformat, you have chance to restore data from SDHC card by using the data recovery software. You can restore images, music, office files, videos, and other types of files from your SanDisk Ultra SDHC card after reformat.
This data recovery software also supports other kinds of storage media, with which you are able to rescue files from formatted pen drive, external hard drive, hard disk, flash drive, SD card, XD card, CF card, memory stick, etc.
SanDisk Ultra SDHC Has Not Formatted Error
If it is human mistake that you accidentally reformat your SanDisk SDHC card, not formatted error is a common error that often occurs on different kinds of memory card and other storage media. Your SDHC card disables you to access any file and pops up message that card needs to be formatted before you can use it? In this situation, do you want to reformat the card to fix the error? Remember not to format your SDHC card when it reports not formatted error, because any operation may make data it more difficult to restore data inside the card. The data recovery software is also available for data recovery from unformatted SanDisk SDHC memory card even if it is inaccessible or unreadable.
Data Recovery after Reformatting Micro SDHC Card
Do you know micro SDHC card? SDHC card, namely Micro Secure Digital High –Capacity Card, is another type of memory card. If you mistakenly reformat a micro SDHC card and lose important files, you can also rely on the data recovery software to restore files off micro SDHC card after reformat. No matter you reformat the micro SDHC card in camera, mobile phone or other device, the data recovery software can help restore lost files. This data recovery software can recover files after quick format or complete format and it can not only support SanDisk Ultra card, but also supports other card like Samsung, Transcend, Lexar, Toshiba, Kingston, Kingmax, etc.
About SDHC
SDHC is short for Secure Digital High Capacity, which supports 4GB capacity up to 32GB. An SDHC card often h as FAT32 file system, because FAT16 file system only supports 2GB capacity. The standard SD card usually has FAT or FAT16 file system. Since the file system of SDHC card has updated to FAT32, the device that can support a standard SD card may be unable to support an SDHC card. However, the device that supports an SDHC card can support SD card too. Simply say, if your digital camera can recognize a 2GB SD card but cannot detect a 16GB SDHC card, probably the reason is that the camera is not compatible with your SDHC card.

Recover data now!
---
Resource
iCare Data Recovery Pro : Data recovery from reformatted sandisk ultra sdhc after format by error
Related Articles
Hot Articles
Hot Tags
Related External Resource