Recover Transcend CF Card after Quick Format
"I accidentally quick formatted my 4GB Transcend CF card which contains many precious files. I connected my digital camera with the CF card inserted to my computer and transfer some data, but mistakenly I formatted the card. I stopped formatting the card when I realized the mistake, but the card showed as unformatted when I wanted to see if the files still remain on the card. Without other choice, I continue to format the card. Now, the 4GB CF card is empty. How can I recover data from memory card after quick reformat?"
"Please tell me can I unformat a compact flash card when I format it by mistake. The card contains more than 2GB important data and I cannot afford to lose it. Thanks for any kind help."
Solution - Unformat Transcend CF Card with Recovery Software
Quick format is a process to format a device quickly and efficiently. When you quick format your Transcend CF card, system only erase the data inside the card and prepares the card for new data storage. In this situation, you can use the read-only data recovery software - iCare Data Recovery Pro to restore lost files due to quick format before new data is written to the card. Therefore, in order to avoid writing new data to the formatted CF card due to mistake, you had better stop using your CF card after formatting. The read-only data recovery software enables you to restore all kinds of files from quick formatted CF card as long as no new data is written to the card. This software can work on Windows PC to restore data from Transcend CF card and other memory card.
Steps to Restore Data off Quick Formatted Compact Flash Card

Step1. Insert your Transcend CF card to a card reader and plug it to your computer. Download and install the data recovery software. Then, run the software and choose a recovery module.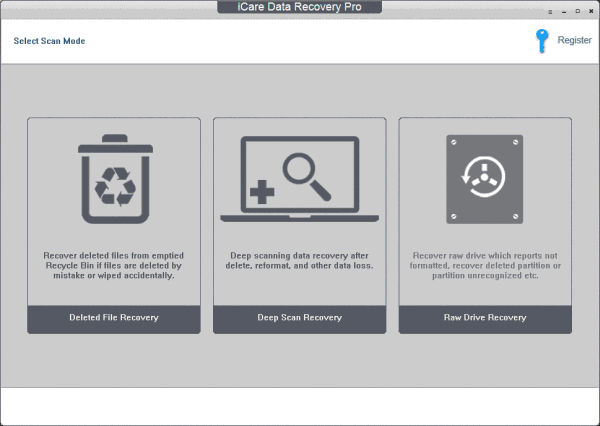 Step2. Choose the Transcend CF card for scanning. Then, you only need to wait when the software is scanning.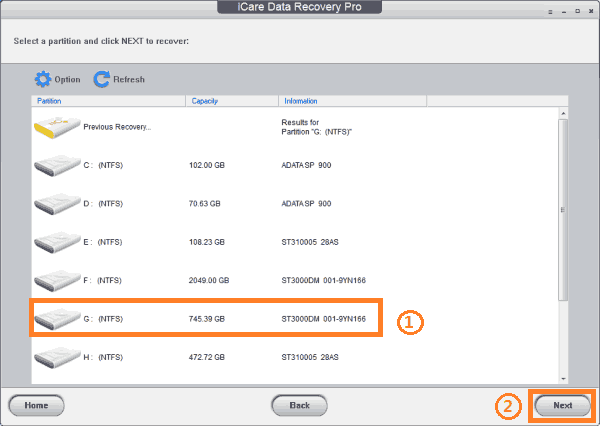 Step3. You can preview the found images and office files. Then, you can choose the needed files and save them. Please remember not to save the files to the formatted CF card.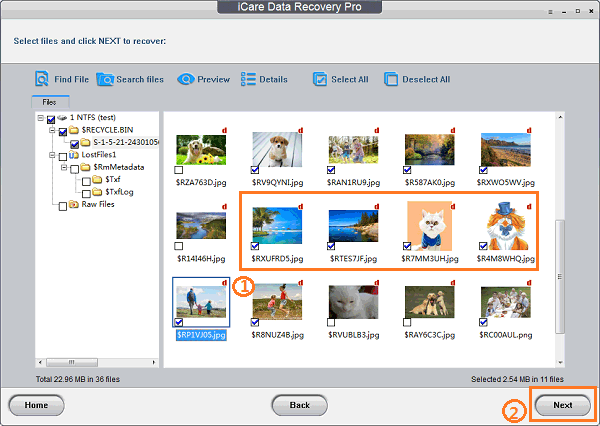 Put CF Card in Safe Place after Quick Format - Untouched
Like all other types of memory card, Compact flash card (CF card) is easy to be damaged due to different reasons. A CF card can be physically damaged or logical damaged. If you mistakenly quick format your CF card and want to restore lost files after formatting, you should stop using the card. The reason why you need do this is that you should stop writing any new data to the formatted card to protect original lost data from being overwritten. What is more, you should stop using the card to protect it from suffering physical damage or logical damage. If the card is physically damaged, you will lose the only chance to restore files from CF card.
Protect Compact Flash Card from Being Infected with Virus
When you lose important data after quick format your Transcend CF card, you may try to search for a useful method to get back lost files. Before getting back the data, you should prevent the card from being infected with any possible virus. The virus may corrupt your CF card and files inside, so you had better not connect your compact flash card to a computer which is infected with virus. In addition, you should employ a safe and reliable data recovery software. The read-only data recovery software is a secure tool for data recovery, which does no hurt to your CF card or data inside.
About Transcend & Other Manufactures of CF Card
Transcend Information Inc. was founded in 1988 in Taiwan, which manufactures memory card, USB flash drive, SSD, card reader and other digital products. Transcend CF card is often used in a digital camera and some device by many people. In addition to Transcend, here are some popular manufacturers of CF card: SanDisk, Lexar, Kingston, Sony, Samsung, Toshiba, etc.
Other Situations for CF Card Data Loss
Quick formatting can erase your CF card quickly and everything stored on the card will be lost due to a quick format. Here are some other situations for CF card data loss, and you can also use the data recovery software to restore lost data when running into the following data loss situations:
1. Full format CF card
When formatting a CF card, you can choose to quick format it or full format (complete format) it. Data is also recoverable when you full format a compact flash card.
2. Deleting files from CF card
Files are recoverable when you delete them from your compact flash card in digital camera or when connect the card to your computer.
3. CF card turns to RAW and gets unformatted error
RAW file system with unformatted error on compact flash card can disable access to your CF card, but you can use the data recovery software to recover files from the inaccessible CF card.
iCare Data Recovery provides free CF card recovery solutions for all data loss problems above.

Recover data now!
---
Resource
iCare Data Recovery Pro : powerful all in one rescue software for Windows All OS
Related Articles
Other Articles
Related External Resource