Recover Deleted Pictures from 32GB Memory Card on Blackberry Phone
"I have a Blackberry mobile phone with a 32GB SD card inserted in. I mistakenly deleted some picture from the SD memory card on the Blackberry mobile phone, and now I want to undelete those pictures. Can you tell me how to recover deleted pictures from a Blackberry phone memory card?"
"I accidentally deleted many photos on the memory card of my Blackberry phone when the card is connected to my computer. I though that I had deleted files from the hard disk partition, but instead, I had deleted those pictures from the memory card. Can I undelete files from my Blackberry phone memory card?"

Undelete Pictures from 32GB Card with Data Recovery Software
You might store lots of pictures and other types of files on a 32GB memory card, so it is a terrible thing if all those files are lost. However, the good news is that files deleted from a 32GB memory card are recoverable with the read-only software - iCare data recovery software. The software works on all kinds of memory card, with which you can recover deleted pictures from SD, micro SD, mini SD, CF, XD, etc. The software can deep scan every sector of the memory card so as to search for all deleted files. After scanning, you can also preview found files.
Steps to Recover Deleted Pictures from 32GB Memory Card
iCare Data Recovery is compatible with Windows OS, so you can connect the 32GB memory card to Windows computer for memory card permanently deleted file recovery on Windows 7, 8, 10, XP, etc:

Step1. Plug the memory card to your computer. Download and install the data recovery software. Then, you can run the software and choose a recovery option.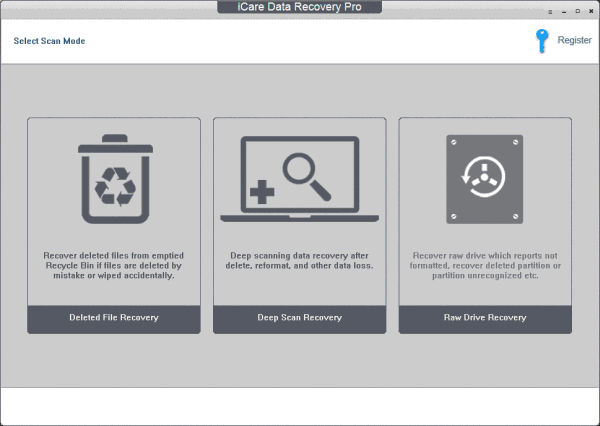 Step2. Choose the memory card as target device and then the software can scan for lost files. You only need to wait when the software is scanning.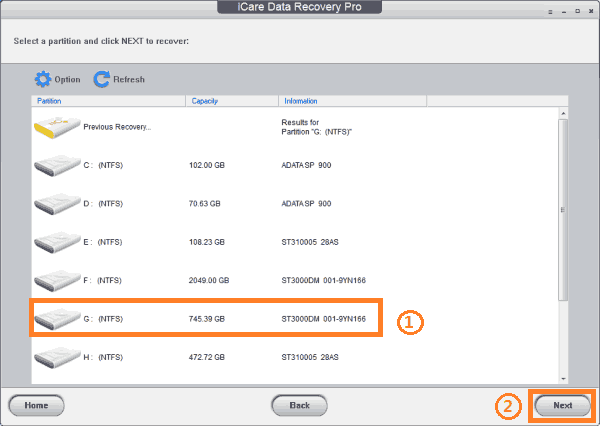 Step3. You can preview the files when scanning is finished. Then, you can select all pictures and recover them.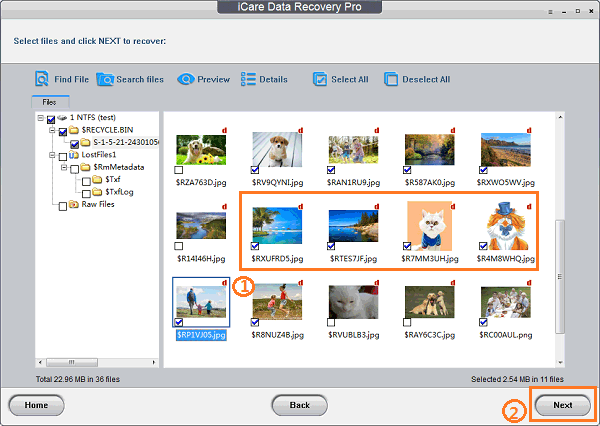 Do Not Write New Data to Memory Card after Deleting
It is very important that you should not write new data to the memory card after deleting pictures. When you write a file to the memory card, it will occupy some space on the card. If the new written data is right stored on the space that was used to save deleted pictures before, the pictures will be overwritten by new data. In order to protect the deleted pictures from being overwritten, it is highly recommended to stop adding any file.
Tip:
New added data will make it difficult for deleted photo recovery, but it doesn't mean that you lose the chance completely to recover deleted photos even after adding some new data. If the new added data is not written to the memory card space where stored the lost data, the original data will not be overwritten and then you still have chance to recover the original files.
Recover Deleted Pictures from 32GB Memory Card
A 32GB memory card can hold lots of data. If a large number of pictures are deleted on the 32GB memory card, you may need to spend a long time to scan and search for the lost files with other method. However, the data recovery software - iCare Data Recovery can quickly scan the memory card and help search for lost files efficiently. The data recovery software supports memory card deleted file recovery whether it has small capacity like 128MB, 1GB, 2GB, or has a larger capacity like 4GB, 8GB, 16GB, 32GB, 64GB, 128GB, etc. The data recovery software supports all formats of pictures such as JPEG, BMP, GIF, PNG, RAW, and more.
Other Situations for Data Loss on Blackberry Phone Card
Among various causes for memory card data loss, mistakenly deleting occupying a large percent. Besides, here are some other situations in which data will be lost easily from memory card on Blackberry mobile phone.
1. Wrongly format the memory card for Blackberry mobile phone
Many memory card users have ever run into such a situation that they wrongly formatted their memory card instead of another storage media when connecting the card to computer.
2. Memory card is inaccessible or unreadable
In addition to formatting and deleting, another common situation for memory card data loss is that the card is not accessible or unreadable. When running into such kind of problem, you can receive error message when trying to access the card. Here are the possible error messages:
* Memory card needs to be formatted before you can use it
* Memory card changes its file system RAW
* There is no storage media on device
* Please insert a disk into drive
* Memory card is not accessible, the access is denied.
* More other error messages received on memory card that disable you to access any file

Recover data now!
---
Resource
iCare Data Recovery Pro : powerful all in one rescue software for Windows All OS
Related Articles
Other Articles
Related External Resource