Recover Data from Formatted XD Card or When It Requires Formatting
"I have a 1GB XD card for my Olympus digital camera. Although the capacity of this XD card is small, it is the only card that can be used in my Olympus camera. I have SD card and CF card, but they cannot be compatible with this camera. Therefore, I like this XD card very much. However, today when I turned on my camera, I found that I cannot access the XD card anymore. Camera says that XD card needs to be formatted before I can use it. What is wrong? How can I get back all files stored on the card?"
"Can anybody tell me if I can restore data off an XD picture card after reformat? I reformat the XD card due to a mistake when I was viewing some data. I have lots of important pictures and videos stored on this card. I cannot afford to lose them. Please tell me the solution for formatted XD card photo video recovery."
Data Recovery off Formatted XD or When Has Unformatted Error
When you mistakenly format XD card or when the card reports not formatted error, you still have chance to get back files off the card by using the read-only data recovery software - iCare Data Recovery. The data recovery software can recover pictures, videos, music, etc off XD picture card after formatting or when the card is inaccessible due to not formatted error and RAW file system error. This software is fully compatible with Windows operating system such as Windows XP, Windows 7 and Windows Vista. Therefore, you can connect your XD card to a Windows PC to perform lost data recovery by using this software.
Steps to Restore Photos Videos from XD Card

Step1. Connect the XD card to computer. Download and install the data recovery software. Run the software and select a recovery module.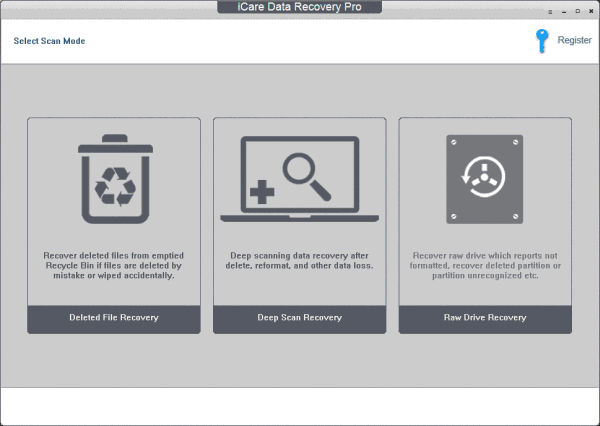 Step2.  Select the XD card and wait the software to scan. You need to wait patiently before the scanning is completed.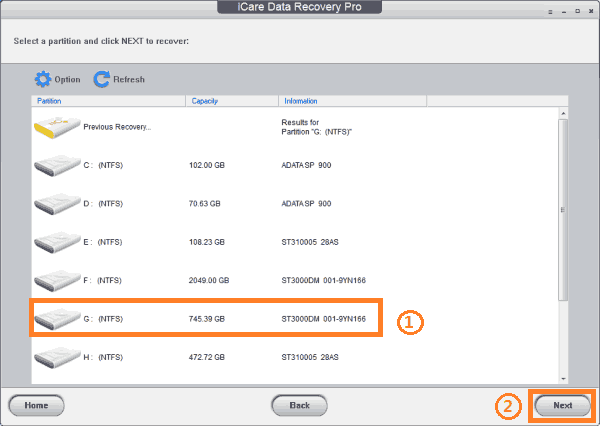 Step3. When the scanning is finished, you can preview the pictures. Then, you can select the files you need and recover them.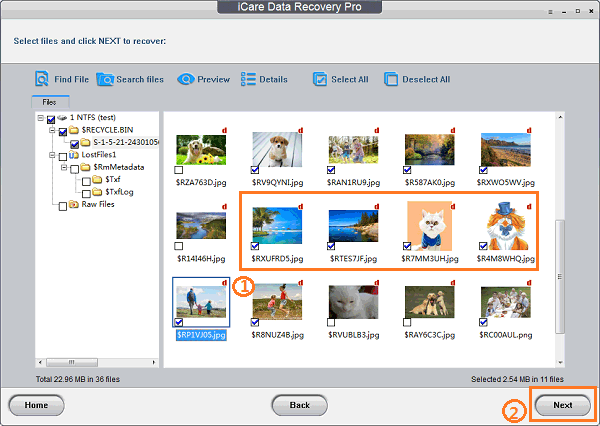 Data Recovery from Mistakenly Formatted XD Card
XD card stores all precious data of your digital camera, but some mistakes may lead you to lose the precious data from the XD card. Mistaken formatting is a common mistake that causes data loss from an XD picture card. If you mistakenly format your XD card and lose important files, can you recover data after format? The answer is yes! The first thing you should do is to stop using the card. You had better stop taking photos and remove the XD card from your digital camera properly. When removing the XD card form digital camera, you should switch off the camera first of all. Please do not remove the XD card with the camera still on. Otherwise, it may cause unexpected damage to your card.
XD Card Requires Formatting
Another common reason for XD card data loss is that XD card requires formatting when you attempt to access it. You may receive such kind of error message on your digital camera or when the card is connected to your PC. Whatever, you had better not format the card when receiving the message. Formatting can fix the unformatted error on your XD card, but it may put the data stored on XD card in danger. Therefore, the best way is to format the card after data recovery.
Note:
It is highly recommended not to format the XD card when it requires formatting. However, if you have unfortunately formatted the card before data recovery, it is very important not to write even a single file to the card. Once the original data is overwritten by new added data, you will lose the chance to get it back.
Causes for XD Card Unformatted Error & How to Prevent It
It is terrible experience when XD card becomes inaccessible due to unformatted error. Here are some possible reasons for the error and solutions to prevent the error:
Causes:
1. XD card is infected with virus
2. Format XD card improperly
3. Remove XD card improperly from digital camera or PC
4. Other unknown reasons
Solutions:
1. Avoid connecting XD card to public computer and protect it from being attacked by virus
2. If you want to format XD card, you should format it to proper file system which can be compatible with the digital camera
3. You should not remove XD card without switching the digital camera. Or you cannot disconnect your XD card to PC during data transferring.
Restore Data from Olympus & FujiFilm XD Card
XD picture card was developed by Olympus Corporation and FujiFilm. The read-only data recovery software is compatible with Olympus XD card and FujiFilm XD card for lost data recovery when you mistakenly format the card or when it shows not formatted error. The data recovery software supports all capacities of XD picture card
The data recovery software also allows you to restore files from SD card when you run into SD card not formatted error.

Recover data now!
---
Resource
iCare Data Recovery Pro : powerful all in one rescue software for Windows All OS
Related Articles
Other Articles
Related External Resource