RAW External Hard Drive Data Recovery
"I have a Seagate external hard drive 500GB but it became RAW file system recently. There are a lot of precious pictures and videos on this external hard drive, but every time I tried to access it, Windows system will pop up a message to say you need to format disk drive before you can use it. If I confirmed to format the external drive, Windows system allows me to format it into NTFS file system. However, I didn't format it because I am afraid that I will lose those files after formatting. What can I do to get back files from a RAW external hard disk drive?"
"My portable hard disk drive becomes RAW file system and disables me to access any file. The capacity of the external shows 0 byte. The external hard drive has 160GB capacity in total and it contains more than 100GB data. Can you tell me how to retrieve files from the external HDD when it reports RAW drive error"?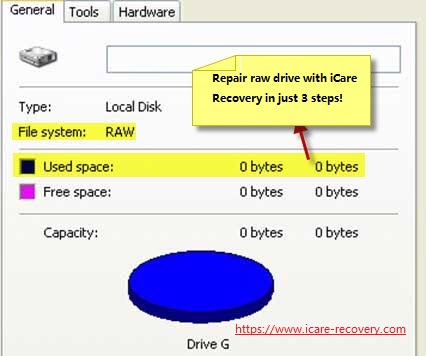 HD file sytem raw unreadable
Video - raw disk drive recovery

Also read: external hard drive raw file system fix
Data Recovery off RAW External HDD
An external hard drive will change to RAW file system due to various kinds of reasons. You cannot access a RAW drive, but it doesn't mean that you will lose all kinds of files on a RAW external hard drive. You just need to employ a read-only hard drive data recovery program - iCare Data Recovery to copy all files from the RAW external HDD. The data recovery program can work on all brands of external hard disk drive such as Seagate, Samsung, Western Digital, Hitachi, Maxtor and more. This program allows you to restore any kind of files such as videos, office files, music, images, etc from RAW drive. The read-only data recovery program is compatible with Windows Operating System, so you can plug your external hard drive to a Windows PC to perform data recovery by following the guide below.
Steps to Restore Data off RAW Portable Hard Drive
Free download the data recovery software to recover deleted excel file, word file, images, videos, music, etc when your external hard drive turns to RAW file sysetm.

Step1. Plug the external hard drive to a Windows PC. Download and install the data recovery program on the PC. Then, you can run the program and choose a recovery module.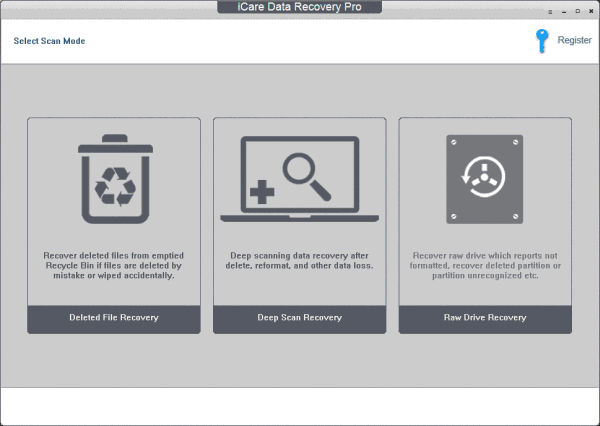 Step2.  Choose the RAW external hard drive as scanning device so that the program can scan it for lost files. You only need to wait when the program is scanning.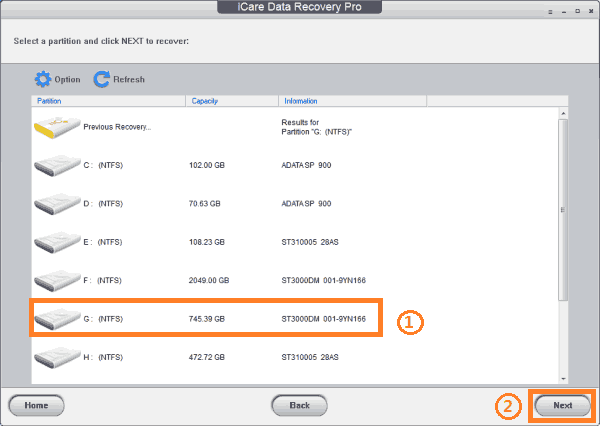 Step3. You are allowed to preview some files after scanning. Then, you can select the files you need and save them to another storage media instead of the RAW external HDD.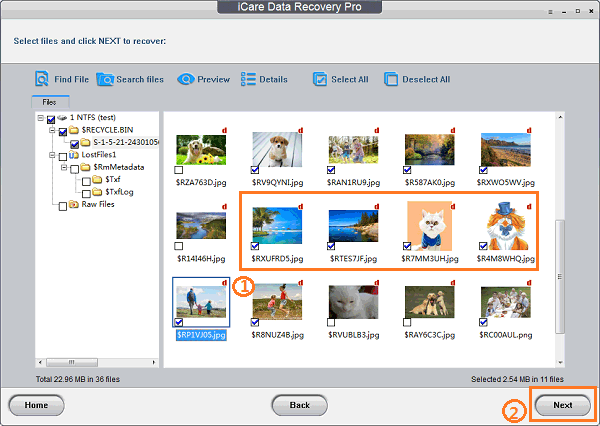 External Hard Drive RAW & Unformatted Error
If you have ever encountered RAW drive error on any storage media, you may know that you often be asked to format the device when it shows RAW file system. When an external hard drive shows RAW file system on your computer, Windows Operating System will ask you to format the drive because RAW drive cannot be recognized by system. You need to format RAW to FAT32 or RAW to NTFS file system so that Windows system can recognize it normally. Although you may be able to access the external hard drive normally after formatting it, there is no data on your external after formatting. Therefore, you had better use the read-only data recovery program to restore everything you need before formatting the external HDD.
External HDD Shows 0 Byte
For a RAW drive, its capacity may show 0 byte. Does it mean there is no data when your external hard disk shows 0 byte? Well, in fact, all original data is still intact on the external HDD. As long as there is no new data being written to the RAW external HDD, you can run the data recovery program to restore the files off the RAW external even if it shows 0 byte. The program supports all brands of portable hard drives for data recovery on Windows platform such as Windows 10/ XP/Vista/7/8.
Reasons Why External HDD Became RAW
1. There are bad sectors on external hard drive
One possible reason for RAW drive error is that the external has bad sectors. When an external hard drive has been used for a long time, it may contain lots of bad sectors.
2. External hard drive is corrupted due to virus infection or improper operation
Virus infection can corrupt the file system of external hard drive. In addition, some improper operations can lead an external hard drive to be corrupted and show RAW file system. Some possible improper operations include:
>> Disconnect external HDD to PC during data transferring
>> Remove portable hard drive from computer without safely remove it
Solutions to Fix RAW Drive Error
The most common way to fix RAW drive error is to format the external hard disk after data recovery, but you may run into another problem that you cannot format the RAW portable hard drive successfully sometimes because Windows reports it was unable to complete the format. In this situation, you can run Windows built-in error-checking tool to repair bad sectors. If you insist on formatting the RAW external hard drive even when system says cannot complete the format, you can have a try with some professional format tools.
When USB flash drive shows not formatted error and becomes unreadable, you can also download the data recovery software to restore files and then format the USB drive to convert RAW to FAT32.
---
Resource
iCare Data Recovery Pro : Data recovery utility to restore files from raw external hard disk drive.
Related Articles
Hot Articles
Related External Resource