Samsung Micro SD Card Photo Recovery from RAW File System
Last updated on 06/02/2018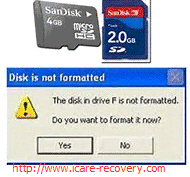 "My 64GB Samsung micro SD card turns to RAW file system when I connected it to my computer. This card has been used for many years in my Samsung mobile phone. Last week, I bought a new mobile phone that has 128GB internal memory, so I stopped using the micro SD card. Today, I inserted the micro SD card to my computer and wanted to move some pictures to my new mobile phone. However, Windows recognized the micro SD 64GB card as RAW drive and I could not access the card. How can I get back the photos stored on the Samsung micro SD 64GB card when it says file system is RAW?"
"I have a Samsung 64GB micro SD card, but Windows system asks me to format the card when I connected it to my computer. It says that the card needs to be formatted before I can use it. The file system of the micro SD card has changed to RAW. Please tell me how to recover files stored on the corrupted micro SD card. There are many precious photos on the card."
Solution - Photo Recovery from RAW Samsung Micro SD Card
You don't need to worry even if you cannot access any data when your Samsung micro SD 64GB card is saying RAW file system, because files still remain intact on the card. You just need to stop using the card and then download the iCare data recovery software to perform photo restore. Before getting back lost files from the micro SD card, you had better not format the card. The data recovery software allows you to recover all type of files including photos from any micro SD card including Samsung 64GB. If you want to convert the Samsung 64GB micro SD card from RAW to NTFS or FAT32, you can format the card once data has been restored successfully.
How to Recover Photos from RAW Micro SD Card Step by Step
Free download the data recovery utility to recover deleted files from micro SD card Android or other devices by following the tutorial below:

Step1. Insert the Samsung micro SD 64GB card to a card reader and connect it to a computer. Then, you can download and install the data recovery software to the computer. And finally, you can launch the software and select a recovery module.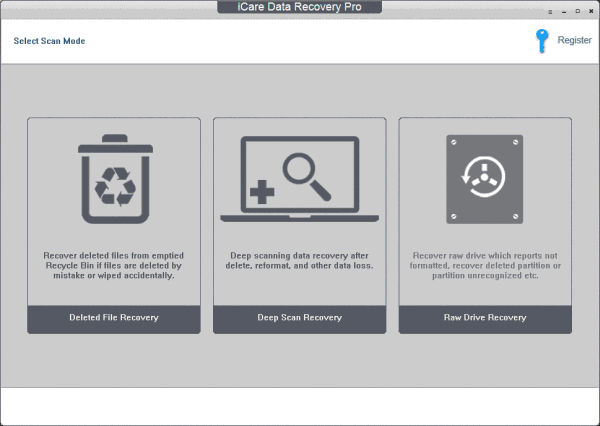 Step2. Choose the RAW micro SD card as target device and let the software scan. You only need to wait during the scanning.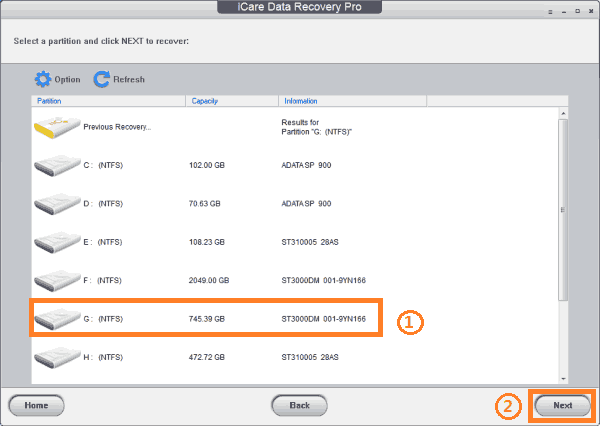 Step3. The software allows you to preview found files after scanning. And then, you can select the files you need and recover them.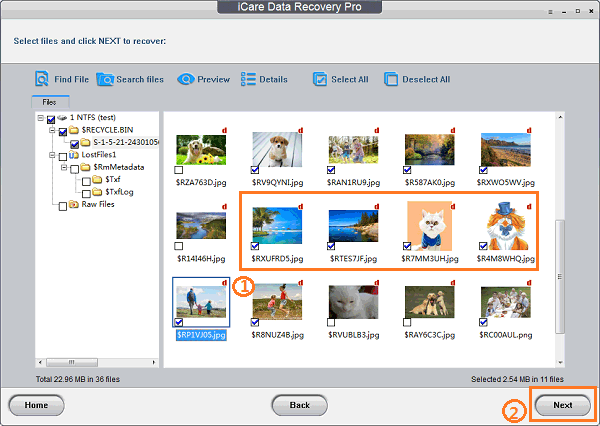 Stop Using the Card When Shows RAW File System
There is no doubt that you will be quite worried when a 64GB micro SD card becomes inaccessible due to RAW file system. In this situation, you may make every effort to fix the error. The most common solution is to format the micro SD card and convert its file system from RAW to NTFS or FAT32. However, problem cannot be resolved so easily because even if you can format the card to convert RAW to NTFS or change RAW to FAT32, the card will be erased and you will find nothing on the card after formatting. In addition, formatting doesn't erase the card completely, but you may mistakenly write new data to the card after formatting. And the new added data will overwrite the original data. Once the lost data is overwritten, it will become unrecoverable. Therefore, if you don't want to lose any data due to mistake, you had stop using the micro SD card when it shows RAW file system. What you need to do is to rely on the professional data recovery software, which provides a safe way to deep scan the RAW micro SD card for lost files. This software only help read and extract files on the micro SD card, but it will not delete or modify any information on the micro SD card.
When micro SD card is in RAW file system, you might mistakenly reformat the memory card before file recovery. If so, do you still have chance to unformat the card and get back lost files? Generally speaking, as long as you do not write new data to the formatted memory card, you still have a good chance for Samsung micro SD card recovery by using the data recovery software.
Data Recovery from Unformatted USB Flash Drive
USB flash drive is a type of storage media which is different from microSD card, but you might meet the similar data loss problem on a USB drive when its file system changes to RAW. iCare Data Recovery supports all kinds of storage media in addition to micro SD card, so you can download this software to restore files from RAW USB flash drive.

Recover data now!
---
Resource
iCare Data Recovery Pro : Reclaim photos videos from samsung micro sd card that has raw format error
Related Articles
Hot Articles
Related External Resource