PAD Phone Cannot Recognize Samsung TF Card
"Several days ago, I used my cell phone to take some pictures and then I inserted the card to my PAD to view those pictures. However, carelessly my PAD dropped down on the ground and the Samsung TF card become undetectable. Then I took out the card from my PAD inserted it to my cell phone again. However, the TF card cannot be recognized too. Now, I cannot access any file stored on the Samsung TF card. How can I recover lost files from the unrecognized Samsung TF memory card??"
"My PAD stop recognizing my 2GB micro SD card when I insert the card in. I have no idea what happened, but I want to get back lost files from the unrecognized card. Can you tell me what to do to restore lost files? This card can still work normally this morning in my cell phone, so I don't think it is physically damaged."

Solution - Data Recovery When Phone Pad Cannot Recognize Samsung TF Card
If your PAD cannot recognize a memory card anymore, the first thing you should make sure is if the card is physically damaged. If the card is not physically damaged, no matter what message you receive on your computer, you should stop using the card. Then, you can download the read-only data recovery software - iCare Data Recovery to extract files off the card. This read-only Samsung recovery software provides safe way to scan your card without modifying or hurting any information on the card. This recovery software supports Samsung TF card data recovery and other types of memory card data recovery when it is not recognized, detected or becomes unreadable.
Steps to Recover Data from Samsung TF Card

Step1. Connect the Samsung TF card to your computer. Download and install the data recovery software on your computer. Then, run the software and choose a recovery module.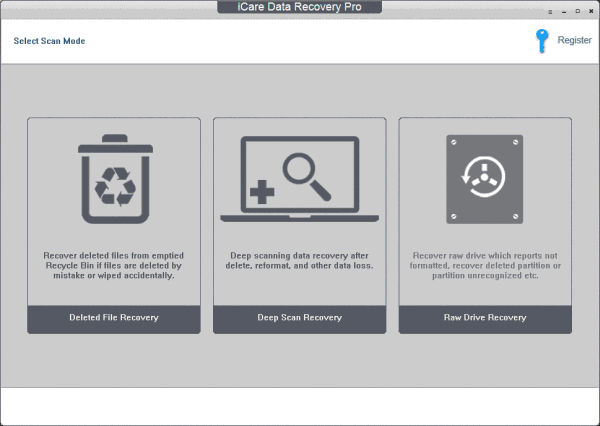 Step2. Choose the Samsung TF card so that the software can scan. You just need to wait patiently when the software is scanning.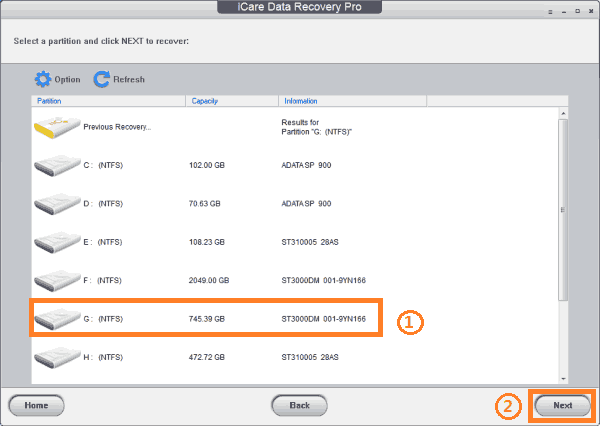 Step3. You can preview some found files. Then, you can select the files you need and recover them.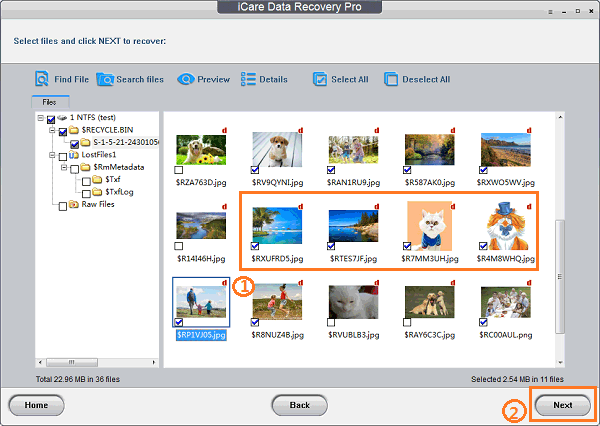 Tips:
1. You should stop using the Samsung TF card if you do not want to cause any trouble to data recovery. Any operation to the memory card might put the original data in danger.
2. You can preview some files like photos, excel files, word files after scanning. But you cannot preview some large files like videos and music, etc. Although you cannot preview those files, you can select and recover them effectively.
3. You are not allowed to save the recovered files to original Samsung TF card.
Photo Recovery When PAD Phone Cannot Recognize Samsung TF Card
A digital PAD/Phone helps record many wonderful times in our life. A picture stored on digital media's memory card reminds us of lots of laughing and happy moments. However, you may fail to access all pictures stored on the memory card due to card error. When your digital device cannot recognize the card like Samsung TF card inserted in, all pictures inside the card might be lost permanently if you cannot find a useful way to recover them. If you want to restore those inaccessible photos when PAD stops recognizing the card, you can connect the card to your computer and check if the card can still be recognized by PC. As long as PC can detect the memory card, you have a good chance to restore delete photos off memory card by using iCare data recovery software.
What If TF Card Is Not Recognized by PC?
Even PC cannot recognize your Samsung TF card when you connect it through a card reader? In this situation, you should make sure if the card is physically damaged. If card is physically damaged, unfortunately you will be unable to restore the lost files. Sometimes, PC will stop recognizing your memory card when the card is corrupted due to virus infection, bad sectors and some other unknown reasons. In this situation, you can also use the data recovery software to restore files from the Samsung TF card. Please do not try to fix the memory card before all needed is recovered successfully. If the memory card warns not formatted once you get it into your media or when you connect it to your PC, then your data won't be accessed any more without the help of iCare Data Recovery. This data recovery software can also help recover files when CF card is not recognized by PC.
Restore All Types of Data from Samsung TF Card for PAD Phone
A Samsung TF card for digital PAD Phone may contain lots of precious photos. However, you may also store some other types of files on this card. If you want to restore other types of data from Samsung TF card for digital PAD Phone, the data recovery software is also available. With this software, you can restore videos, music, images, office files, email, and more. What is more, this data recovery software can not only help you recover files off Samsung TF card, but also from other memory card such as SD, XD, CF, mini SD, MMC, SDHC, SDXC, etc from SanDisk, Lexar, Transcend, Kingston, Kingmax, and more. All brands of digital PAD Phones such as Samsung, Panasonic, Canon, Nikon, Kodak, etc are supported by this data recovery software.
Deleted Photo Recovery off TF Memory Card
It is much easier to get deleted photos video files back if the data were just simpily deleted by mistake off your tf card. The buttom line - never do any further operation to the card once data lost. And then download iCare Data Recovery to rescue deleted photo video off tf card.
Formatted TF Card Recovery
It is also easy to restore files after reformatting TF card by using iCare Data Recovery as long as you do not write new data from the formatted memory card. Apart from TF card data recovery, the software also supports to recover deleted files from phone internal memory card Blackberry, HTC, LG, Samsung, etc.

Recover data now!
---
Resource
iCare Data Recovery Pro : powerful all in one rescue software for Windows All OS
Related Articles
Other Articles
Related External Resource