Micro SD Card RAW Not Formatted Error on Canon PowerShot
Last updated on 06/02/2018
"My micro SD card for Canon PowerShot camera turns to RAW file system from FAT32, and I cannot access the card. No matter I insert the card in the camera or connect it to my computer, I will receive a message that memory card needs to be formatted if I want to access the card. I do not want to format the micro SD card because it contains many important files. What can I do to access an unformatted micro SD card which has RAW file system?"
"Well, My daughter bough a PNY 16GB TF card for me several years ago, and I inserted this card in my Canon PowerShot these years. I captured lots of pictures with my camera, but I have not backup those pictures to any other storage media. Today, when I turned on my camera, it says the memory card is not formatted. Windows 7 operating system reports the same error message when I connected the card to my computer. I want to know if there is any way to fix the TF card and perform micro SD card recovery on Canon PowerShot."
Solution - Data Recovery on RAW Unformatted Micro SD Card for Canon PowerShot
Micro SD card is also named TF card. If a micro SD card reports not formatted error and changes to RAW file system on your sd card and the sd card is corrupted on Canon PowerShot or computer, the most common symptom is that you cannot access the card. Therefore, the most important thing for you is to find a way to extract files off an inaccessible card. If you want to recover data off an unformatted RAW micro SD (TF card), you can use the iCare data recovery Pro. Now, free download data recovery software to deep scan RAW card to search for files that cannot be accessed due to not formatted error. With this software, you can restore any data from any brand of micro SD card from not only Canon PowerShot, but also other electronic device.
Steps to Recover Data from Unformatted Micro SD Card

Step1. Plug the micro SD card to your computer via a card reader. Download and install the data recovery software on your computer. Launch the software and choose a recovery module.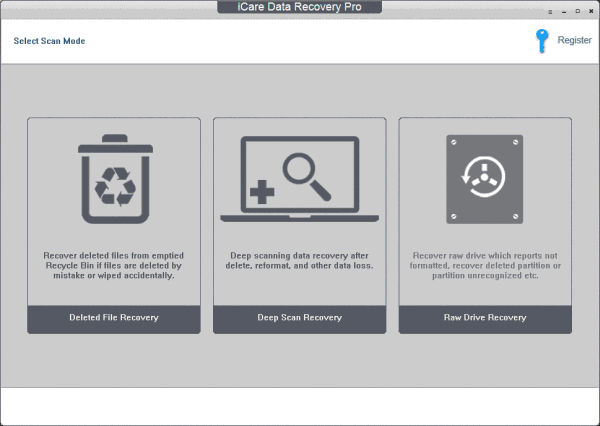 Step2. Choose the unformatted micro SD card for scanning, and then you only need to wait when the software is scanning.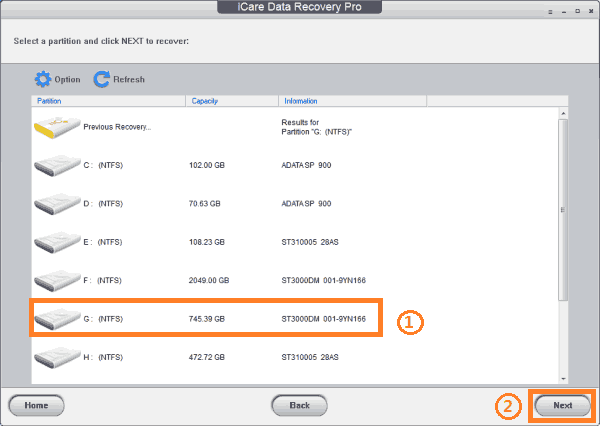 Step3. You can preview the found pictures. Then, you can select all types of files lost from the micro SD card and recover them.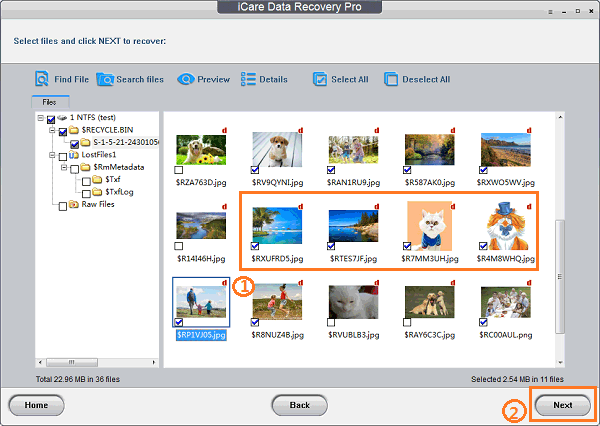 Cannot Access RAW Micro SD Card due to Unformatted Error
When a micro SD card has RAW file system and reports not formatted error, it can cause a series of troubles. One of the most common troubles is that you cannot access the micro SD card. Because of this, you cannot read any file stored on the micro SD card or write any new file to the card. The most common solution to fix the problem is to format the RAW unformatted micro SD card, but it will erase everything on the card. Even worse, it has no 100% guarantee that you can format an unformatted micro SD card successfully. Therefore, many people feel quite difficult to make a decision what to do when their micro SD card has not formatted error with RAW file system.
Correct Solution for Micro SD Card RAW Unformatted Error
No matter whether you have formatted the RAW micro SD card successfully or not, you still have chance to recover data from the card. No matter you format your micro SD card on its original device such as digital camera or format it on the computer, formatting will not erase everything completely and permanently. All you need is the data recovery software. However, in order to protect the original data on the micro SD card from being corrupted or suffering any unexpected disaster, you had better follow the procedure below to perform data recovery and fix the error:
1. Run data recovery software to extract files from the RAW unformatted micro SD card
Although formatting would not erase the micro SD card completely, system will mark the space on micro SD card as available for new data storage after formatting. If you carelessly write some new data to the formatted micro SD card, the new data will overwrite the original data and make it unrecoverable.
2. Format the unformatted micro SD card from RAW to FAT32
When data is recovered successfully, you can format the unformatted micro SD card from raw to FAT32 file system in order to make it usable again. If you encounter the problem that micro SD card cannot be formatted since Windows reports it was unable to complete the format, you can run Windows built-in Error-checking tool to check and repair bad sectors on the micro SD card. If the card really contains bad sectors, you can perform a complete format on the card, which can check and mark bad sectors on the micro SD card.
==>> If micro SD card is not able to be formatted, please go to this page - Windows was not able to format memory card>>
Quick Reformatted Micro SD
If the micro sd warns not formatted, it pops up with a message "the drive is not formatted, do you want to format it now?", sometimes, users would click YES and quick memory card without knowing the data would be become inaccessible once quick formatted the card. However, no matter quick reformat or full reformat, data from the micro sd or any quick formatted drive can be restored with iCare Data Recovery. You can use this software to retrieve files after quick format SD, XD, CF, etc.
About Canon PowerShot
Canon PowerShot is a type of Canon digital camera, which include Canon PowerShot A (PowerShot A700), Canon PowerShot G, Canon PowerShot S IS, and Canon PowerShot Pro. Canon PowerShot digital camera is developed by Japan, but is widely used by many people around the world.

Recover data now!
---
Resource
iCare Data Recovery Pro : All in one data recovery tool for micro sd card recovery when canon powershot asks to format it
Related Articles
Hot Articles
Related External Resource