Repair RAW Micro SD Card When Says/Reports Not Formatted Error
Last updated on 7/5/2017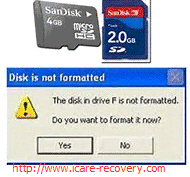 "MicroSD suddenly become raw, I cannot access my micro SD card on android cellphone. Connecting it to my PC, Windows system says that the memory card is not formatted do you want to format it now. The original FAT32 file system has changed to RAW on micro SD card. Now, my question is how to recover data from the micro SD card which has changed to RAW file system and says not formatted error. I have many important files on the card. Can anybody who has the similar experience give me some advance to format micro sd card from raw to fat32?"
How to Repair RAW/Blank Micro SD Card that changed to RAW File System
Kingston/Toshiba/Samsung/Sandisk/Lexar/PNY... Microsdhc tf card shows/reports raw needs to format? Have you ever been asked to format your micro SD card if you want to use it on your mobile/camera? Truthfully, the micro SD card will keep inaccessible before you format it, but you can get back files on the micro SD card even if you cannot access the memory card. You can rely on read-only microsd raw repair/recovery software to extract files from the RAW micro SD card. The data recovery software allows you to deep scan the micro SD card so as to search for files stored on the card, and then the software enables you to preview the found files after scanning. Finally, you can recover all types of files in batch. Generally speaking, the data recovery software supports all types of memory card to recover files when the card is inaccessible or unreadable. You can follow the steps below to recover deleted pictures from SD card which has RAW not formatted error and perform the raw micro sd data recovery.
Steps - RAW MicroSD Card Format Software Download

Step1. Plug the SD card to your computer through a card reader or USB cable. Then, download and install the free data recovery software. Run the software and select a recovery module.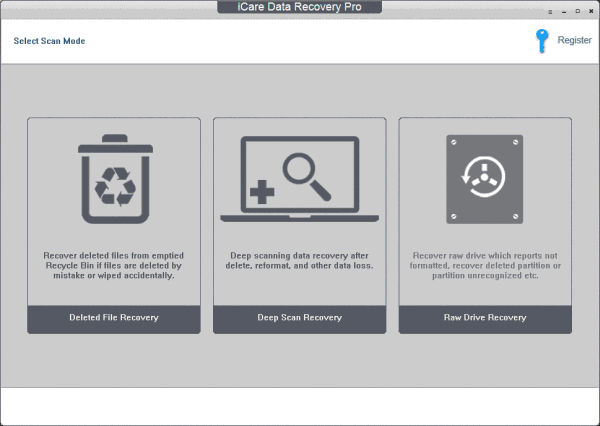 Step2. Select the micro SD card so that the software can scan. You only need to wait when the software is scanning for lost files.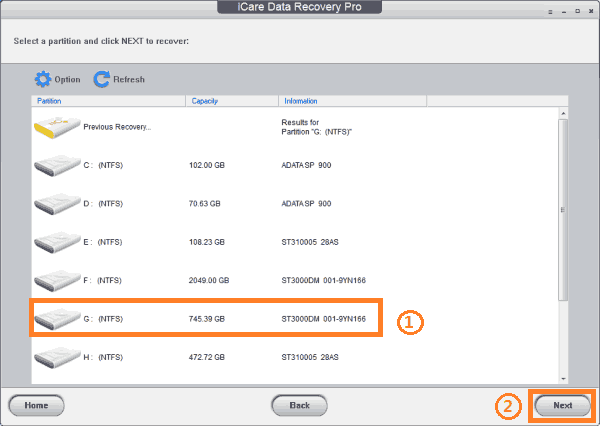 Step3. Choose the files to preview and the select the files you need to recover them.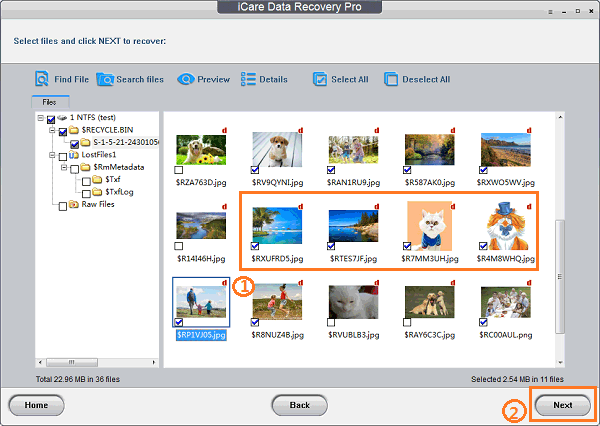 Different Types of MicroSD Card Supported by RAW Data Recovery Software
Micro SD card is just a common type of memory card which is widely used by digital camera users, mobile phone users and other users. As a matter of fact, many other types of memory cards are also popular. Those memory cards include SD card, CF card, mini SD card, SDHC card, SDXC card, XD card, MMC card, etc, which are different from appearance and have different capacities. The data recovery software supports all types of memory card, so you can use it to recover data if you run into not formatted error and RAW file system problem on other types of memory card. The software also helps recover data when you formatted memory card by mistake.
Micro SD Card Not Formatted Error & RAW File System
A micro SD card often works perfectly initially, but as time goes by, more and more problem will occur on the card. There is no more frustrating thing when you run into the problem about micro SD card not formatted error and RAW file system. A micro SD card can show not formatted error and RAW file system due to various reasons such as virus infection, improper operation and so on. It will be a difficult choice to decide whether you should format the card or not, especially there are important files on the card. Formatting the micro SD card can fix the not formatted error and RAW file system, but it will also erase the card. If you don't format the card, you will never be able to access the card. If you still have no idea, you can use the data recovery tool. Before formatting the card, you can run data recovery software to restore all files stored on the RAW micro SD card.
Repair RAW Micro SD Card without Formatting
You want to repair micro SD card RAW not formatting error in order to use it for data storage again? Following methods are helpful for RAW error fix:
#1: Format micro SD card from RAW to FAT32
#2: Fix RAW unformatted micro SD card using command line
==>> If SD card cannot be formatted to FAT32 because Windows failed to complete the format, please go to this page for methods - Memory card was unable to be formatted>>

Recover data now!
---
Resource
iCare Data Recovery Pro : Free download data recovery software for raw micro sd card recovery when it needs to format.
Related Articles
Hot Articles
Related Information
Related External Resource