Computer Turns off When Cutting Files from SD Card to Hard Disk
Have you ever had the similar experience below?
1. "I often like to snap lots of pictures and store them on my digital camera SD card every time I go to a holiday. When I get back home, I will transfer those pictures from the SD card to my computer's hard disk. Here the problem comes: I select all pictures on my SD card and choose Cut option and then I go to my computer's hard disk partition and select Paste option to transfer the pictures. However, my computer shuts down automatically in the transferring process. When I reboot my computer, I cannot find the pictures on my SD card or on the hard disk partition. Where are my pictures? How can I get them back?"
2. "When I was cutting some photos and videos from my SD card to USB flash drive on my laptop, the process stopped due to power failure of my laptop. Now, I cannot find the photos and videos on my SD card and USB flash drive. Can you please tell me is it possible to restore the lost files from my SD card in this situation?"
File Recovery with Data Recovery Program
Data recovery program helps recover SD card photos, videos, music, audio files, documents, etc when you encounter the cut and paste failure problem on the memory card due to power failure of computer or other reasons.
Steps to Recover Data with Data Recovery Program

Step1. Connect the SD card to your computer via a card reader or USB cable. Download, install and run the data recovery program and select a proper recovery module.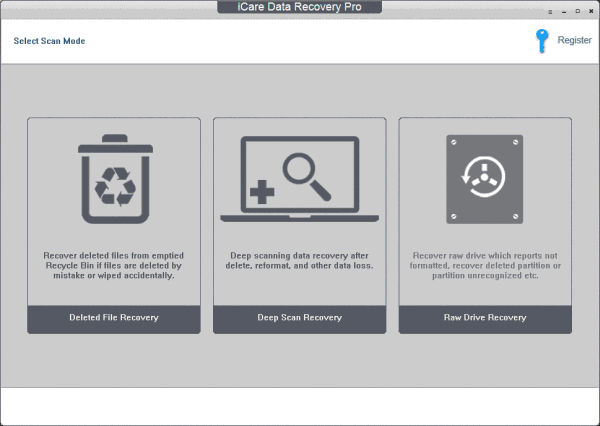 Step2. Select the SD card and then the software will scan the card for lost files. You just need to wait during the scanning.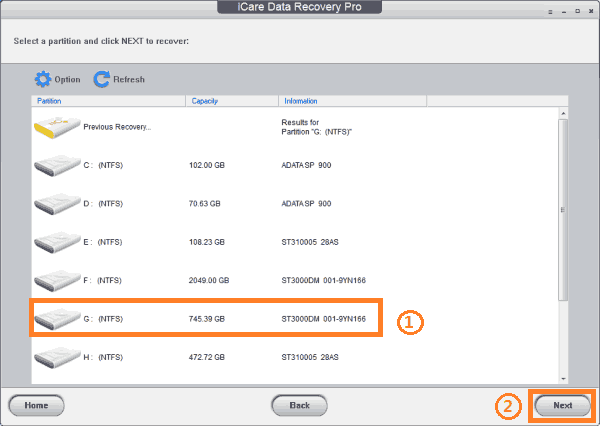 Step3.  Preview the found files after scanning. Then, select the files you need and restore them.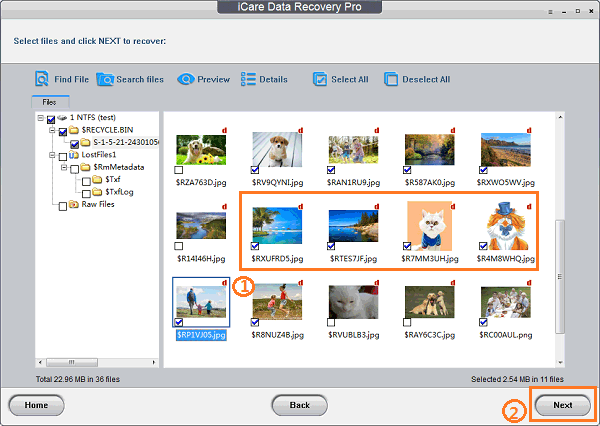 Reasons Why Computer Turns off during Cutting Pasting
As mentioned above, one possible reason for cutting pasting failure is that the PC turns off due to this and that kind of reasons. Well, the possible reasons that can cause your PC to turn off might include:
1. PC turns off due to Power Failure
When you cut files from your SD card and paste them to another storage media, the cut and paste process may fail due to power failure of your PC. This is also one of the most common reasons for SD card file loss. Fortunately, files lost in this situation can be restored with the data recovery program as long as the SD card space is not overwritten by new added data. In addition, you should also protect the SD card from being physically damaged or destroyed before getting lost files.
2. PC turns off due to virus infection or other reasons
In the cutting pasting process, your PC may turn off due to blue screen, black screen, etc due to virus infection or other reasons. In this situation, files may also get lost from your SD card but you can use data recovery program to restore them.
SD Card Is Disconnected during Cutting Pasting
If your SD card is disconnected from your computer in the cutting pasting process, the cutting pasting will also fail which may cause data loss from SD card. Therefore, you should not unplug your SD card from your compute when you are transferring files from the card to your PC or other storage device in order to avoid data loss. Besides, SD card will be disconnected with PC due to other reasons such as that there is something wrong with the USB cable or card reader.
Other cases that users may have problem accessing data
During the data transferring process, your memory card may stop working normally due to some reasons such as RAW format. If you want to change file system of memory card from RAW to FAT32, you can format the card after data recovery.
When sd became raw, or sd card got reformat by mistake, or other kind of error, users will also won't be able to access data. And under such case, data can be accessed with the help of iCare Data Recovery Pro.
Tip
It is not safe to cut files from SD card, because it may get lost if cutting pasting fails. Therefore, when you want to transfer files from SD card to another storage media, you had better copy files from the card and then paste them to another storage media. With this method, files will not get lost from SD card even if the pasting fails due to any reason.
---
Resource
iCare Data Recovery Pro : powerful all in one rescue software for Windows All OS
Related Articles
Other Articles
Related External Resource