Accidentally Deleted Photos on Toshiba TF Card/SD Card
Last updated on 10/04/2018
"I got a new Toshiba TF card and stored more than 2GB photos on this card. Today when I was classifying those pictures, I mistakenly deleted some. Although I deleted those photos by connecting the TF card to my computer, I cannot find any deleted data in the Recycle Bin. I don't know why but if I delete some files from computer's hard disk, I can undelete them from the Recycle Bin. However, those photos deleted from my TF card are not moved to the Recycle Bin. Can I recover the mistakenly deleted photos from my Toshiba TF card?"
"I accidentally delete several pictures on my TF card in my mobile phone The TF card is a Toshiba card and the mobile phone is Samsung. Those pictures are very important to me, but I don't have any backup. Please tell me if it is possible to restore them with any photo recovery software for memory card."
For deleted files recovery from Toshiba TF card after format memory card or when the TF memory card is corrupted, you need to rely on data recovery software.
Solution - Undelete Photos from Toshiba TF Card
Files deleted from TF card will not be moved to Recycle Bin, so you cannot undelete them from Recycle Bin. If you want to recover photos deleted from your Toshiba TF card, you should remember not to write new data to the card and then you can use the read-only data recovery software to restore lost data. This data recovery software only helps scan and search for lost files on your TF card without modifying any information. With help of this software, you can not only recover deleted photos, but also you can restore all other kinds of files. After scanning, the software also allows you to preview the found photos so that you can see whether they are the deleted ones from your card.
Steps to Restore Photos Deleted from Toshiba TF Card

Step1. Connect the Toshiba TF card to your computer. Download and install the data recovery software. Run the software and choose a recovery module.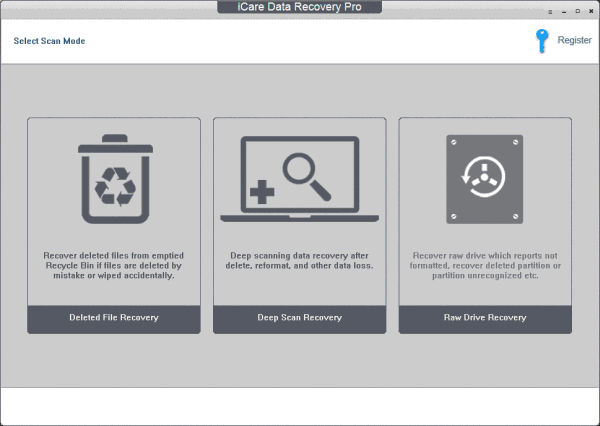 Step2. Choose the TF card for scanning. Then, you only need to wait patiently before the scanning is finished.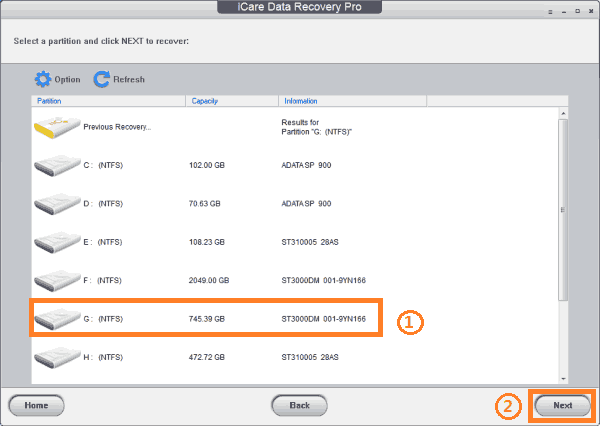 Step3. Once the scanning is completed, you can preview the found photos. Then, you can choose all photos you need and save them to another storage media.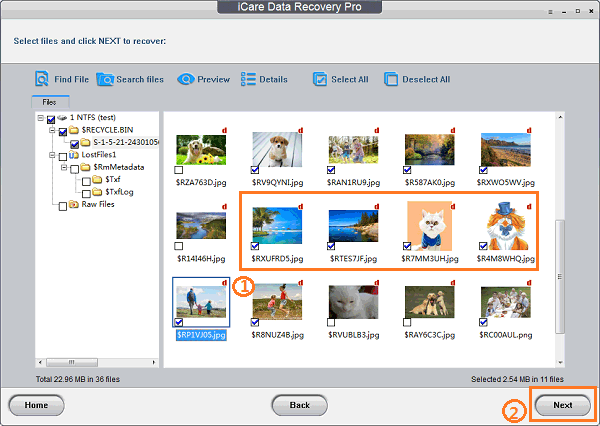 Avoid Overwriting Toshiba TF Card after Deleting
Simply say, you cannot write new data to the Toshiba TF card when you lose important photos due to mistaken deletion. Although photos have been deleted from the card, the real data is not erased permanently. Instead, the real data still remains on original place but become invisible. If you write any new data to the TF card, it may overwrite the deleted photos. If the deleted photos are overwritten by new data, you will be unable to get them back. Besides, in order to avoid overwriting the lost photos, you cannot save the recovered files to the original TF card. When all needed photos have been restored, you can copy them back to the Toshiba TF card if you like.
Situations to Delete Photos on Toshiba TF Card
1. Deleting photos from Toshiba TF card in different device
--- Deleting photos in cell phone
TF card is widely used in different kinds of cell phone. As you know, a cell phone has the function of deleting data, so you can delete photos from your Toshiba TF card on those electronic devices. Unlike deleting files from hard disk partition, there is no recycle bin on a cell phone to save the deleted files. Therefore, when you delete photos from your TF card in a cell phone, the data will be erase immediately.
--- Deleting photos on computer
It is a common problem that you delete photos from your TF card when connecting the card to your computer. Although computer provides Recycle Bin to save deleted files, unfortunately PC's Recycle Bin does not save any file deleted from a removable disk.
2. Deleting photos in different situation
--- istakenly deleting pictures from Toshiba TF card
When you are viewing files on your Toshiba TF card, you may mistakenly delete some or even all important photos.
--- Deleting photos on purpose
Probably, you regard some photos as unnecessary ones and delete them. However, you may realize that some deleted photos are important.
Restore Different Types of Pictures and Other Data
You may use your phone to capture pictures wherever you go. Does your TF card contain lots of beautiful photos? As you know, there are different types of pictures such as BMP, JPEG, GIF, PNG, etc. The data recovery software has the ability to restore any type of pictures after deleting from your TF card. A TF card can be used to store different types of files in addition to photos. If you mistakenly delete some other kinds of data like videos, music, etc, you can also rely on the data recovery software to perform deleted files recovery free.
You might lose precious pictures off a Toshiba TF card due to other reasons, among which memory card RAW format is a common reason. When TF card has RAW format, you need to format the card from RAW to FAT if you want to use it again. Before formatting the card, you had better extract files off the card first of all. If you accidentally format memory card before data recovery, you should remember not to write new data to the card. Then, you can also run the data recovery software to restore data from reformatted SD, XD, CF, etc.

Recover data now!
---
Resource
iCare Data Recovery Pro : powerful all in one rescue software for Windows All OS
Related Articles
Other Articles
Related External Resource