Free Fix/Repair RAW USB Drive/Stick without Losing Data when Flash Drive Says That Needs to Be Formatted in Windows 7/8/10
Last updated on 6/14/2018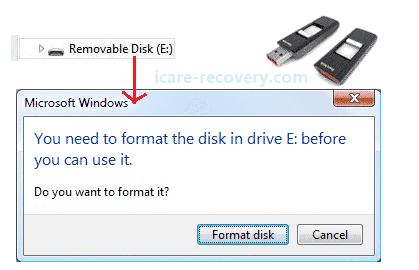 How to fix/repair raw usb flash/pen/thumb/jump drive not formatted/formatting/unformatted error when usb drive says that needs to be formatted or Windows says flash drive is not formatted in Windows xp/7/8/10? How to recover files from not formatted usb drive/stick?
Solution:
Step1: Recover data off from raw usb flash/pen drive with not formatted error/unformatted error by using usb drive  not format error recovery software iCare Data Recovery Pro free edition.  
Step2: Fix/repair raw file system usb stick/drive not formatted/formatting/format error with format/reformat.
>>100% Safe Free usb drive/stick/key not formatted erro recovery

Download iCare Data Recovery Pro to free restore photos, videos, audios, games, programs and files from raw usb flash/pen/thumb/jump drive not formatted/unformatted before/after you perform a format there or not.
Free Fix/Repair USB Flash/Thumb Drive Not Formatted/Formatting Error without Data Loss in Windows
While using Toshiba/Samsung/sandisk usb flash/pen/thumb drive on Windows xp/7/810/vista computer, people is possible to find usb stick/drive is inaccessible and receive an error message says: "drive is not formatted, do you want to format now?" And, in fact, no matter which not formatted/formatting/unformatted/format error message you do have received, before you fix/repair usb drive/stick error problems with formatting/reformatting and reuse it, go try free not formatted flash drive file recovery tools, like free iCare Recovery Pro, to recover inaccessible usb drive files back.
Free download free iCare Data Recovery software to recover files when Windows says flash drive must be formatted before any access/use:

Also select Deep Scan Recovery mode to take unformatted usb drive files as many as possible: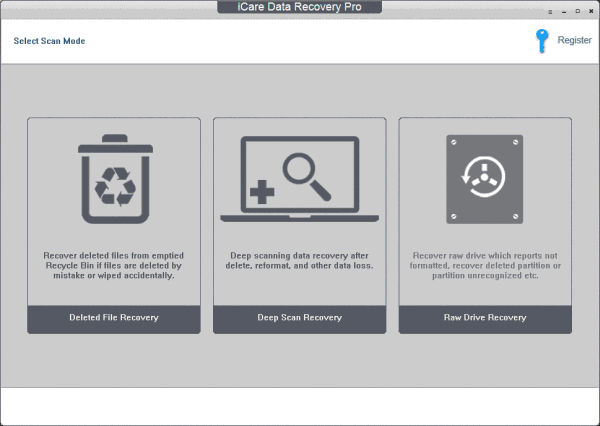 SanDisk/Toshiba/Samsung/Kingston RAW Format USB Stick/Key Asks to Format/Reformat
SanDisk/Toshiba/Samsung/Kingston/PNY/Lexar usb stick/key becomes raw file system and cannot be accessed since my usb fash drive asks to format/reformat before any use on Windows computer? OK! The related usb drive not formatted error issues occurs to people due to raw file system error, no file system error, blank or unsupported error, corrupted usb stick problems, virus infected drive problems and more. However, no matter why yours is, also remember to perform data recovery process in advance in case of any permanent flash drive file loss troubles.
Of course, this happens when you do have left much important inside such usb pen drive with raw not formatted error issues.
==>Also read more details to recover data from raw format usb drive/key
Fix and Test Not Formatted/Unformatted RAW USB Flash/Pen Drive
No matter whether you do have found out why your flash/pen drive becomes not formatted, after taking lost documents and files back, you are often suggested to format usb drive to fix/repair/resolve its not formatted/formatting error issues.
Of course, in case that this usb stick is corrupted somehow and cause file loss troubles in the future, you can also run chkdsk/command prompts/cmd to test whether this raw file system pen drive is still workable.
==>Also read more details to know how to run chkdsk
No matter whether you follow window not formatted error message to format raw usb flash/pen drive now, stop saving new photos and files on this unformatted raw usb drive and perform usb flash drive file recovery there before it is too late.
Download the unformatted usb drive software now to restore inaccessible data from usb stick before/after any not formatted/unformatted error fix.
Windows Cannot Format USB Drive/Stick
If you unfortunately find this not formatted/unformatted flash/pen drive cannot be formatted since Windows was not able to complete format usb, you can also get more details here: Windows cannot complete format usb flash drive
---
Related Articles
Hot Articles