Free to Fix/Repair RAW External SSD/HDD Not Formatted/Formatting Error without Data Loss
Last updated on 6/14/2017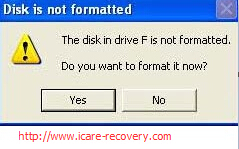 How to perform free raw Samsung/Seagate/sandisk external/usb ssd/hdd/hd not formatted/formatting/unformatted error recovery in Windows 7/8/10 when usb ssd/hhd suddenly requires formatting/shows not formatted? How to convert/format/fix/repair raw external ssd/hdd not formatted error without formatting/losing data? Is there any raw external ssd/hard drive data recovery freeware to recover data from not formatted disk?
Question: Free raw external ssd/hhd not formatted/unformatted error recovery in Windows 7/8/10
Answer: Yes. Free SSD not formatted error recovery software iCare Data Recovery Pro free version is able to recover inaccessible data from raw external ssd/hdd with not formatted/unformatted error. 

>>100% Safe Free unformatted external ssd/hdd/hard drive file recovery
Download iCare Data Recovery Pro to free restore inacessible files from usb/external ssd/hdd/hard disk requring to format safely.
Question: Convert/format/fix/repair raw external ssd/hd not formatted error without formatting/losing data
Answer: No. Convert/format/fix/repair raw disk not formatted/unformatted error after retrieving not formatted/formatting hard drive/ssd with raw file system recovery tools.
==>Read more details to convert/format raw disk to ntfs without data loss
Free RAW External SSD/HDD Not Formatted/Unformatted Error Recovery in Windows
What can you do to recover raw external ssd/hdd/hd photos, videos, songs, games and files when usb ssd/hd requires formatting/shows/becomes not formatted/formatting/unformatted in Windows xp/7/8/10/vista due to raw file system? How can you convert/format/fix/repair/resolve raw external solid state drive/hard disk drive not formatted error issues without data loss? Wondering whether there is some raw external ssd/hdd recovery freeware to rescue not formatted drive files back? No worry! Unformatted usb drive file recovery programs like free iCare Recovery Pro are what you are looking for to rescue data from raw hard drive not formatted error before you start to fix/repair raw not formatted error and convert/format raw to fat32/ntfs.
Free download and use free iCare Data Recovery Pro to retrieve data from raw ssd/hdd with not formatted/unformatted error:

And, here are simple steps for you to follow:
Step1. Insert the unformatted corrupted usb/external drive to your computer and choose one of scan mode.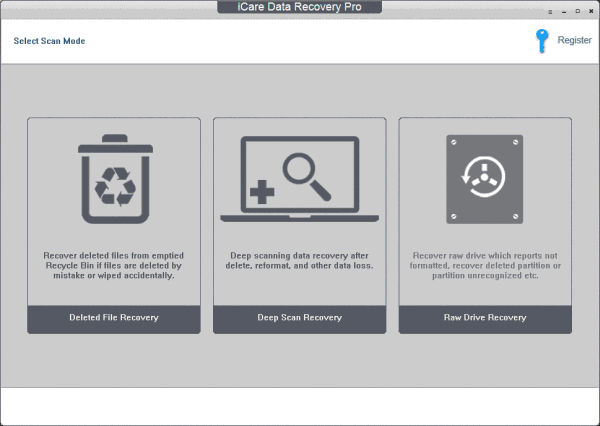 Step2. Select the external hdd/ssd with not formatted/unformatted/format error on your PC.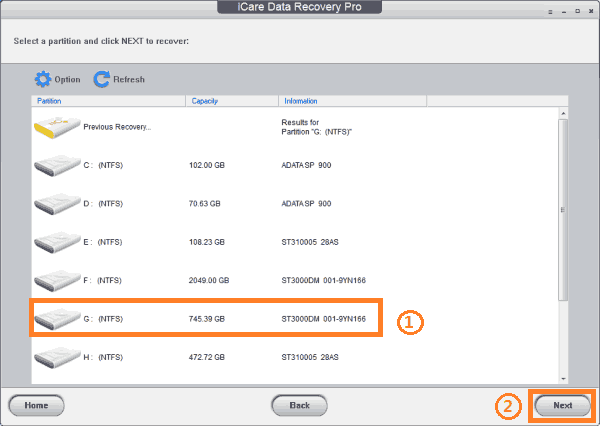 Step3. Preview all scanned files and select the needed ones out, and save them on another storage devices.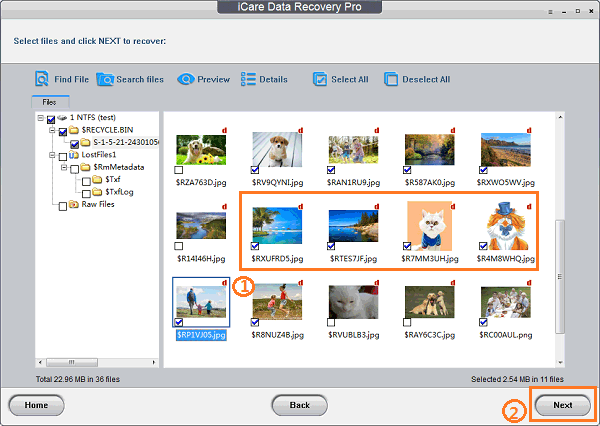 Samsung/SanDisk/Seagate/Adata SSD Becomes RAW Asking to Format in Windows
Want to fix/repair RAW Samsung/Sandisk/Seagate/adata ssd not formatted/formatting error when ssd becomes raw file system and asks to format in Windows computer? No panic! In these days, many ssd file recovery utilities support ssd/hdd/hd disks with a wide range of brands, including Samsung, sandisk, Seagate, adata, Toshiba, Intel, Kingston solid state drives.
Floppy Disk Not Formatted Error Fix/Repair
Even though a floppy disk is different from a external ssd/hdd/hd, like the different destructions, history, noises, heat production, durability and more, while the floppy disk also is/says not formatted and inaccessible, you also get the similar method to fix/repair floppy disk needing to ne formatted error issues: recovering files from not formatted/unformatted floppy disk with disk not formatted error software and also perform a formatting process there to resolve/remove/repair not formatting error problems. 
==>Read more details to fix floppy disk not formatted error without losing data
---
Related Articles
Hot Articles