Free Fix Parameter Incorrect on External/USB HD/HDD without Data Loss in Windows 7/8/10
Last updated on 6/15/2017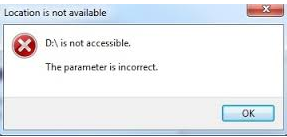 How to fix/repair/remove wd/Seagate/Samsung/iomega/Toshiba external/usb portable/removable hard drive/disk not accessible the parameter is incorrect error without losing data in Windows xp/7/8/10? How to recover files when you cannot/unable to access/read external hd/hdd with parameter incorrect error?
Solution:
Free recover data from inaccessible external/USB hard drive whose parameter is incorrect with free iCare Data Recovery Pro, and then begin to fix/repair "the drive is not accessible. The parameter is incorrect" error on usb portable/removable hard disk.

>>100% Safe free external hard drive file recovery software
Download iCare Data Recovery Pro to free restore photos/videos from inaccessible external hd/hdd saying parameter incorrect error.
Free Data Recovery When Receiving Parameter Incorrect Error Message on USB Hard Drive/Disk
When Windows 7/8/10 says/reports disk c/d/e/f is not accessible, the parameter is incorrect, you often are not allowed to access and write anything on exetenal/usb hd. However, that does not mean you do have to fix/repair drive not accessible parameter incorrect error at the risk of losing/deleting hard drive files. Oppositely, you are often suggested to perform hard drive file recovery like iCare Recovery Pro free edition before any incorrect parameter fix/repair.
Immediately download and try free iCare Data recovery pro to recover data before fixing drive incorrect parameter issues:

Go check more details of this free data recovery tool as below: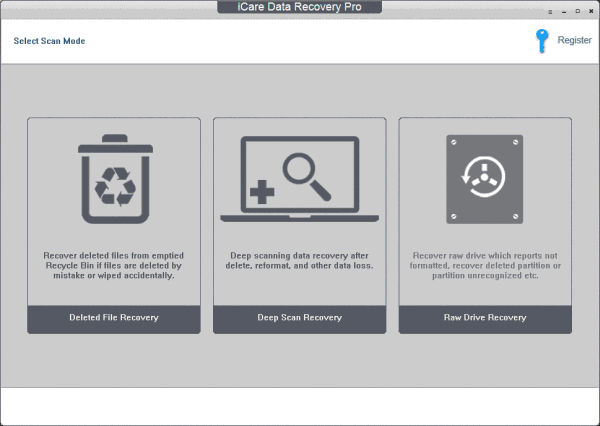 Fix/Repair WD/Iomega/Toshiba External HD/HDD Not Accessible Parameter Incorrect Error
Need to fix/repair WD/Samsung/Iomega/Toshiba/Seagate external hd/hdd not accessible parameter incorrect error without data loss? No worry. Generally, when a WD/Samsung/Iomega/Toshiba/Seagate external hard disk says incorrect parameter, it often is possible to be caused by incorrect/incompatible usb connection, outdated PC drivers/operating systems, corrupted hard drive problems, hard drive bad sectors, virus and more.
And here are simple instructions for you to fix/resolve incorrect parameter external drive issues:
Firstly, try different enclosures/usb ports/computers to see whether it is a drive problems.
Secondly, update/upgrade computer drivers or operating systems.
Thirdly, test and fix incorrect parameter external hard disk drive to see whether your drive are workable.
Fourthly, format hard disk that says the parameter is incorrect in Windows.
==>Also learn to format/resolve/fix parameter incorrect error using cmd/diskpart/command prompt 
==>If you have done a format on incorrect parameter hard drive, also recover formatted external drive data
The Parameter Is Incorrect Copying Files Error
While trying to copy files/pictures/folders from iPhone/iPod/USB flash drive/sd/cf memory card to PC, get an error message saying/reporting: "cannot copy files from the parameter is incorrect"? Or merely get error moving/copying files or folder the parameter is incorrect when you are trying to uploading/backing up external hard drive files to computer? Also free download and use free data recovery tools to rescue iphone/ipad/pen drive/sd/xd/cf/micro sd memory card data and fix the parameter is incorrect issues latter.
---
Related Articles
Hot Articles