Fix Disk Not Initialized Prolem
Last updated on 6/11/2018
How to fix disk unknown not initialized when hard disk like Western digital/Seagate/Samsung sees disk 1 is unknown uninitialized unallocated in Disk Management in Windows xp/7/8/10/vista/server 2003 and more?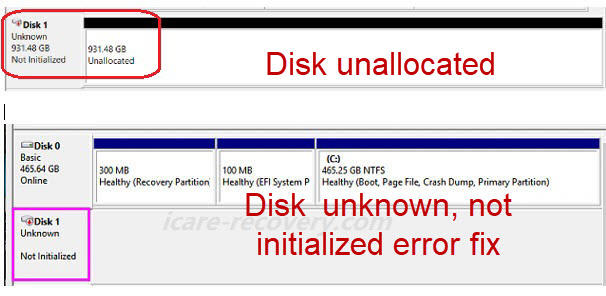 Answer: Your best bet now is to recover data from uninitialized external drive with the help of iCare Data Recovery Pro to avoid any permanent data loss. And then fix the problem with following way.
Part 1: Recover Files
>>Not initialized disk file recovery

Download iCare Data Recovery Pro to restore photos and files from hard drive that is unknown, not initialized and unallocated in disk management of your computer or laptop.
Free Data Recovery from Unknown Uninitialized Unallocated USB HD/Stick/SD in Windows 7/8/10
Seagate/WD/Samsung external hard disk drive reports disk 1 is unknown, not initialized? Windows 7/8/10 Disk Management shows/sees disk unknown, uninitialized, no allocated space, no size on your hard drive? Run iCare Data Recovery Pro free edition to rescued files at first.
Do not forget to choose Deep Scan Recovery mode to retrieve most of your not initialized hard drive data: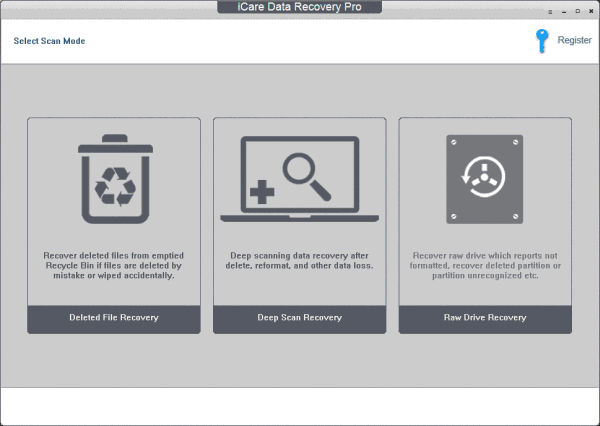 ==>And if you do have formatted/initialized hard drive/memory card, also go recover data from accidentally initialized external drive/memory card.
Part 2: Fix Not Initialized Issues
Why old disk now became not initialized? Here are some possible reasons.
bad sectors
MBR corrupted
virus attack
system crash and unknow damage
SOLUTION: Initialize the disk by right clicking MY COMPUTER -->MANAGE --> DISK MANAGEMENT
Right click the drive and then click "Initialize Disk"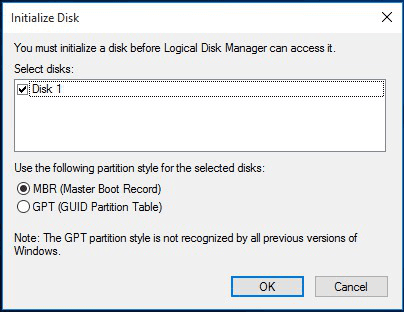 ==>Also read more details to know how to initialize a hard drive/memory card
External Hard Disk Not Initialized I/O Error Fix/Repair without Data Loss
External hard drive shows not initialized and unallocated in Disk Management and keeps giving an error message reporting: "the request could not be performed because of an I/O device error"? Really need fix drive not initialized I/O error there? OK! Also try retrieve not initialized hard drive data back by running external hard drive file recovery utility and start to remove/repair hard drive I/O error problems.
---
Related Articles
Hot Articles