Repair Error The raw Drive Need to be Formatted
Last updated on 27/5/2018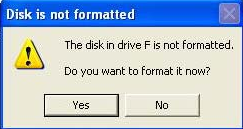 How to repair external hard drive/flash drive shows not formatted error when Windows pc, camera, phone says the device need to be formatted.
Question: Fix unformatted external hard drive without formatting
Answer:No. You are supposed to format usb hard drive/thumb drive/camera/phone sd/micro sd memory card with the drive/memory card not formatted error.
Question: Fix/repair/undo not formatted error/format disk error without losing data in Windows
Answer: Yes. Free download not formatted error recovery software iCare Data Recovery Pro free edition to recover files from unformatted hard drive/thumb drive/memory card before/after you format usb disk/memory card when hard drive/memory card says it needs to be formatted.
>>100% Safe Formatted Storage Card Data Repair

Download iCare Data Recovery Pro to restore photos/videos from storage card including SD, XD, and CF card after formatting it by mistake or due to memory card error.
Fix External Hard Drive/USB/Memory Card Is Not Formatted Error
Windows/computer says/reports: "The disk in drive is not formatted. Do you want to format it now?" when you are trying to access corrupted/blank/raw file system ntfs external hard drive/usb drive/sd memory card files? External hdd/flash drive/memory card suddenly reports/says it needs a format in Windows 7/8/10/vista/server computer? Or usb portable hard drive/usb stick/memory card keeps asking to format before use? No worry! Merely try to do a quick/full format to fix/repair/undo unformatted/not formatted/format disk error on external drive/usb drive/memory card.
Please Note: No matter how you get such hard drive/memory card error "you need to format the disk in drive", always seek and use free data recovery software like iCare Recovery Pro to retrieve inaccessible drive/memory card files before/after any format.
Just give iCare Data Recovery Pro free edition a good try here:

The Deep Scan Recovery mode is worth trying for your raw not formatted error issue: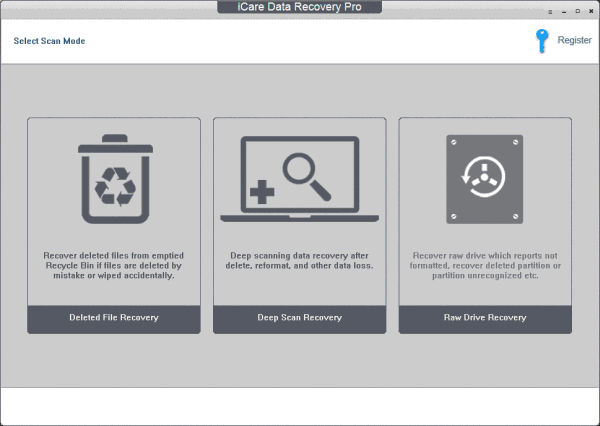 Not Formatted/Unformatted USB/HD/SD Shows RAW File System
NTFS USB HDD/flash drive/sd memory card reports not formatted/unformatted and also shows raw file system? Need convert raw to ntfs and recover raw drive/storage card data? OK! Also do not use/format external drive/usb drive/memory card and download raw file system recovery tools to repair lost data back. And then, also go format not formatted/unformatted/raw file system drive storage card to restore its use.
==>If you have formatted raw storage device as you are asked to, also go unformat hard drive/memory card in raw to rescue data.
HD/Pen Drive/Micro SD Memory Card Not Formatting Properly
HD/Pen drive/micro sd memory card keeps asking to format/reformat before any use in Windows computer? However, while trying to format hard drive/memory card there, Windows says the format cannot be completed? Or USB hard drive/ stick/memory card becomes raw/not recognizable/not readable/not detectable/blank/inaccessible due to improper formatting? Do not panic! Also go rely on free file recovery utilities to retrieve deleted/lost files and perform another format there correctly there.
---
Related Articles
Hot Articles