Free Convert/Fix USB Hard Drive/Disk RAW to NTFS without Format and Recover Data in Windows
Last updated on 27/5/2017
How to free convert/change/fix/repair raw external/USB/portable/removable hard drive to ntfs without formatting and recover/rescue/retrieve files in Windows 7/8/10?
Answer: Free download raw to ntfs converter/format tool/diskpart/cmd/command line to free format/convert/fix/repair raw external/USB hard drive/hard disk drive to ntfs after you do have recovered/rescued/retrieved files inside back with free raw external drive file recovery software iCare Data Recovery Pro Free version.
==>Also read more raw to ntfs converting/formatting tools here: raw to ntfs converter/formatter freeware
==>And also go visit this page to repair/fix/format raw to ntfs using cmd/diskpart
No matter whether you do have converted/formatted/fixed/repaired usb hard drive/flash drive/sd memory card raw to ntfs yet, stop using this storage device to avoid permanent data loss and then download raw file system recovery programs to recover lost files.
Download the free raw file system recovery utility now to rescue inaccessible data, like pictures, music, videos, games and files back with success.
Steps to Recover RAW File System USB Hard Drive/Disk Data with iCare Recovery Pro Free
1TB/2TB/320GB raw external/USB hard drive/disk is corrupted/unreadable and asks to format before any access in Windows xp/7/8/10/server computers? Blank/damaged Seagate/WD/Samsung/Toshiba USB portable/removable hard drive/hard disk drive shows raw file system/0 byte free space? Before convert/format raw to ntfs file system, you are supposed to recover raw file system hard drive files with iCare Data Recovery Pro Free edition as below:
Step1. Free download data recovery tool and run it well on your PC.

Free iCare Data Recovery pro download
Step2. Select Deep Scan Recovery modes when it comes to Scan Mode Window.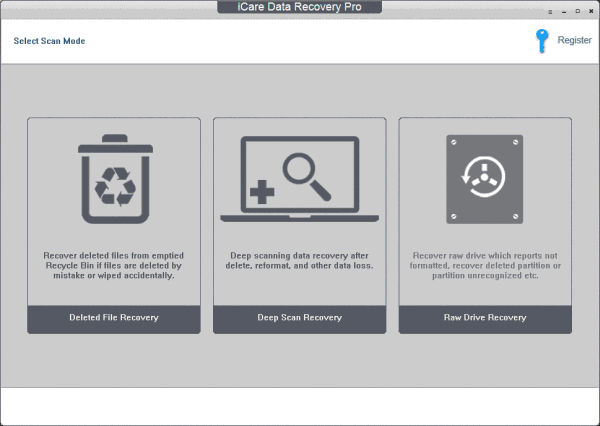 Step3. Preview and recover desired raw format usb hard drive files after scanning.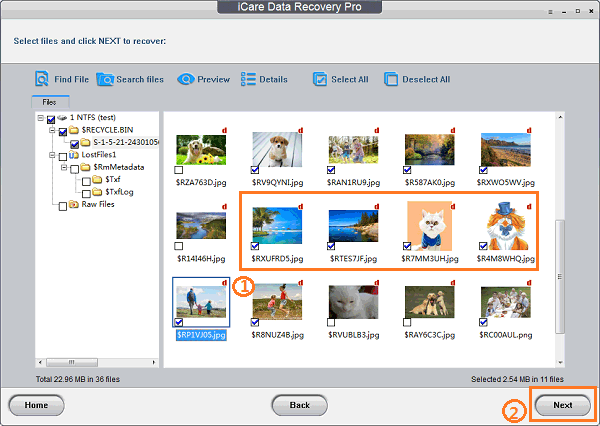 Please Note: Save the retrieved data to another external drive or device in case of data recovery failures.
Tutorial to Convert/Format/Repair USB/Removable HD from RAW to NTFS in Windows 7/8/10
When USB/removable HD/HDD becomes raw, without worrying about files left inside, you can always easily free download hard drive converting/formatting tools to convert/format/repair/fix external drive file system from raw to ntfs in Windows 7/8/10 PC like this:
Step1. Free download disk converter/formatter over the internet safely.
Step2. Install and launch software well on your PC.
Step3. Select the desired NTFS file system type and start the converting/formatting process.
Please Note: Always carefully choose the target file system type in advance so that you can smoothly restore the functional use of your NTFS external drive.
==>You can also convert/format file system from raw to fat32
Seagate/WD/Samsung NTFS HDD/HD in RAW Format
Seagate/wd/Samsung/Dell/Sony NTFS HD/HDD is in raw format and cannot be accessed now? No worry! No matter which brand your hard drive is, you can still rely iCare recovery software to retrieve data from raw not formatted external hard drive, since iCare Data Recovery Pro supports nearly all prevailed hard drive brands.
My External/USB Hard Drive Won't Format
While you are trying to quick/fully format external/usb hard drive with raw file system error, computer just warns "Windows was unable to complete the format" and your hard drive just won't format? No panic! Go check whether it is password protected. If not, also go try to perform a formatting process there with the help of CMD/Diskpart/disk format software.   
---
Hot Articles
Hot Articles