Is it Possible to Convert USB Hard Drive RAW to NTFS
Summary: this article introduces ways to repair raw file system on hard disk, programs to recover inside data, and method to format raw disk to ntfs with converter.
Video - raw disk drive recovery
Also read: how to convert raw drive ntfs
Last updated on 22/10/2020
Table of Contents
"My external usb drive suddenly turned to raw file system, and Windows reports you need to format the raw disk before you can use it. Is there any tool that can repair the raw disk? I need to change the raw disk to ntfs and make it work again."
Some users may encounter this problem if their disk was not used properly like unsafe removal, virus attack, or became corrupted all of sudden that made their file INACCESSIBLE, OR DAMAGED.
Ultimate solution recommended
Repair raw external disk with CMD command prompt
First of all, we would recommend you try some free mothod or free tool provided by Windows to repair the raw disk. Here are the steps:
find the property of your removable drive by right clicking it
find 'Tool' in the property window
use built in tool 'Error-checking' and select repair file system if it needs you to make a selection
See how it works in the following photo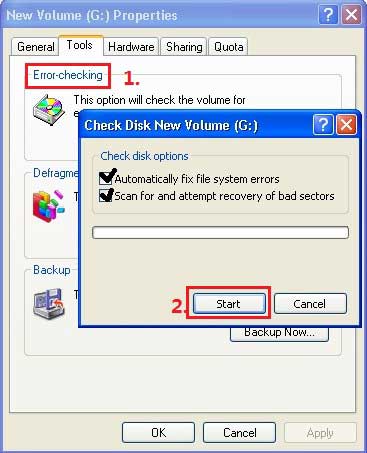 Convert raw external disk to ntfs with cmd
Type:format x: /fs:ntfs
and hit enter. or convert X(driver letter): /fs:ntfs and hit Enter (You may change ntfs to fat32 if you need.)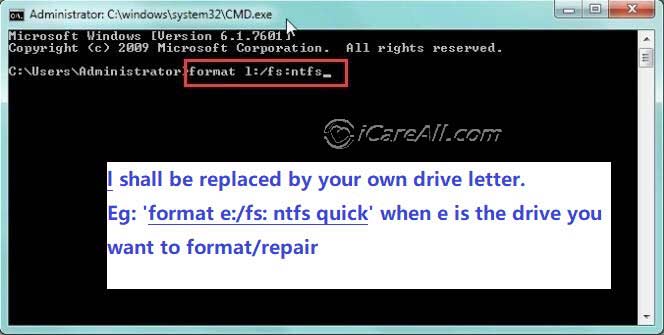 Recover Data from RAW Hard Disk
How to access data on raw external disk without formatting?
Answer: Free download raw external drive recovery software iCare Data Recovery Pro which is able to let you access the inside data on raw disk.

Steps to Recover RAW File System USB Hard Drive Data with iCare Recovery Pro
Before convertting/formatting raw to ntfs file system, you are supposed to recover raw file system hard drive files with iCare Data Recovery Pro as below:
Step1. Free download data recovery tool and run it well on your PC.
Step2. Select a Recovery modes when it comes to Scan Mode Window.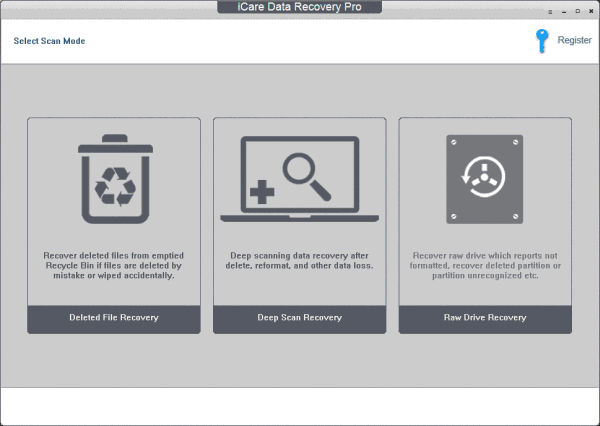 Step3. Preview and recover desired raw format usb hard drive files after scanning.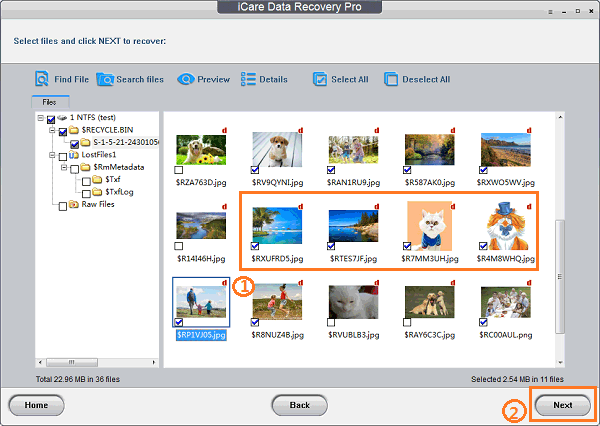 Please Note: Save the retrieved data to another external drive or device.
==>Also read more raw to ntfs converting/formatting tools here: raw to ntfs converter
==>And also go visit this page to format raw to ntfs using cmd/diskpart
No matter whether you have to format usb hard drive/flash drive/sd raw to ntfs, stop using this storage device to avoid permanent data loss and then download raw file system recovery programs to recover lost files.
Download the free raw file system recovery utility now to rescue inaccessible data, like pictures, music, videos, games and files back with success.
Convert/Format USB/Removable Drive RAW to NTFS with cmd
When removable HDD becomes raw, without worrying about files left inside, you can always easily free download hard drive converting/formatting tools to convert external drive file system from raw to ntfs in Windows 7/8/10 PC like this:
Step1. Use windows built-in format function to format disk.
STEP A: open 'My Computer'
STEP B: right click the disk, and see its 'format' option as following photo.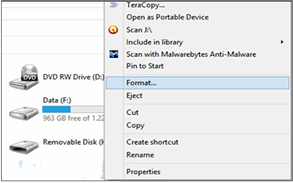 STEP C: format it
Or you may free download disk converter/formatter over the internet safely. For example, the hp format tool.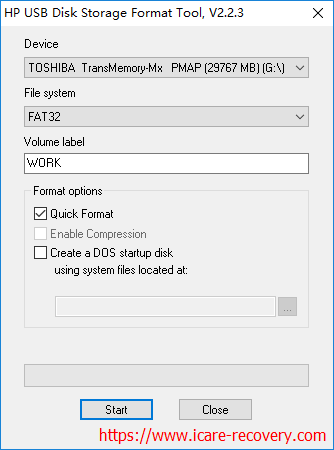 Install and launch software well on your PC. Select the desired NTFS/fat32 file system type and start the converting/formatting process.
Please Note: Always carefully choose the target file system type in advance so that you can smoothly restore the functional use of your NTFS external drive.
==>You can also convert/format file system from raw to fat32
---
Hot Articles
Hot Articles