What is raw file system, format external drive RAW to NTFS
Last updated on 11/11/2018
External USB hard drive suddenly reports The type of file system is RAW cannot be accessed without format now in Windows 7/8/10 computers? How to fix raw file system on the usb drive?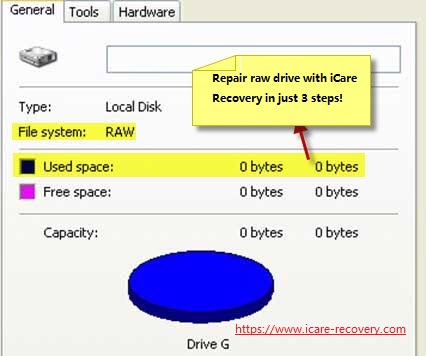 Table of Contents
What is RAW File System
Files system is a storage management with file naming, folder directories, access rules etc. according to Wikipedia.
And there are many common file systems for storage devices like hard drive, usb pen drive, memory card with fat, fat12, fat32, exfat, ntfs, and ntfs5 are the most commonly used file system types that you may simply right click the digital storage device and then check its property, you will find its file system with mostly ntfs for hard drives and fat32 for memory card.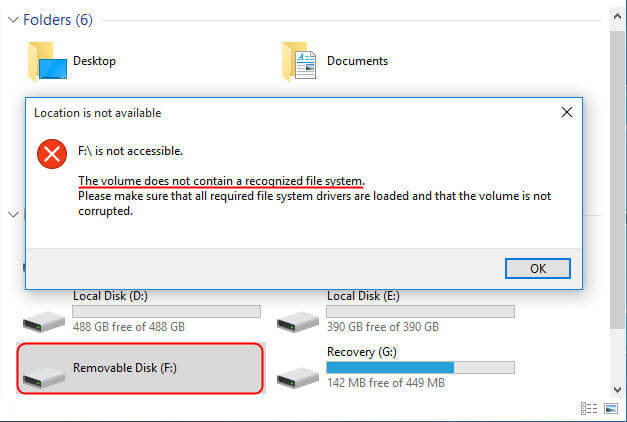 Causes for unknow/damaged file system
Virus
Unsafe removal
Unknown damage
Damaged mbr
When hard drive or removable disk reports J:\ is not accssible, the volume does not contain a recognized file system, which means the file system was damaged and now Windows cannot recognize it.
Recover files from raw file system
>> Download RAW File System Recovery Software

Download iCare Data Recovery Pro to restore documents/videos/songs/files from memory card/hard drive/flash drive with raw file system error.
RAW File System Recovery Tool Free Download
Free download raw file system recovery software iCare Recovery Pro to rescue inaccessible files from external drive/usb flash drive/sd memory card changing into raw.

And, its Deep Scan Recovery mode always help scan the allocated raw format hard drive/memory card thorouhgly and retrieve inaccessible files as you wish.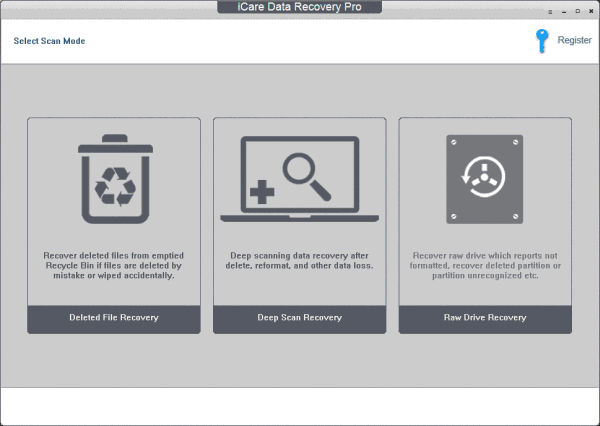 Format RAW USB Drive using cmd even with Write Protected
When a USB drive/sd memory card in raw file system could not be formatted from raw to fat32 due to write protection, you can easily remove write protection, recover raw format flash drive/memory card files and format/convert raw to fat32 at last.
Steps to operate formatting raw file system with cmd as follows
Open cmd by typing 'cmd' after Windows -> 'Find&Search' and a cmd window would pop up.
[format x:/fs:fat32]
x can be replaced by the raw memory card that shows on your PC; ntfs/fat32/exfat are most common file system for a good memory card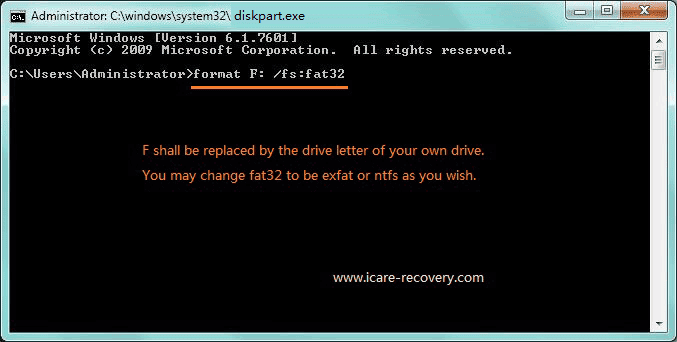 RAW File System Error on iPhone/Android
Cannot access raw file system Micro sd/sd memory card on iPhone/amdroid phone now? Without data message/phone/file backups saved elsewhere, copy them all back. Without data backups saved, also perform raw sd memory card file recovery on a PC and format/convert Micro sd memory card from raw to fat32.
==>Tips: Also learn a lesson to back up iPhone/android phone data online
No matter whether your raw external hard drive/flash drive is corrupted, please immediately stop using this USB disk in case that any newly added photo and file will completely destroy the original device information and let you lose data permanently.
Download raw recovery software to restore inaccessible data you need including pictures, videos, audios, offcie documents and files, etc from hard drive in raw format.
---
Related Articles
Hot Articles