Recover files from damaged RAID 5 disk
iCare Data Recovery - the right solution for RAID 5 file restore
When hard disk partition has problems and lost files, iCare Data Recovery can efficiently restore lost files including photos, files when it has been formatted, reformat by mistake, damaged and cannot be read by computer, deleted files by mistake or due to human errors...
iCare Data Recovery will search all possible data on the disk and then list them and show them for you to save. All you have to do is to download a free trial and search lost files now.

---
RAID 5 Data Recovery
RAID or Redundant Array of Inexpensive Disks is used to increase the availability and access of network, and to enhance system uptime. There are many functions involved in RAID which work side by side to enhance the performance of the system. In these functions, multiple disks are involved. Many a times, the RAID functionality becomes faulty or less efficient, so its recovery becomes vital for professional users. The RAID recovery is equally important for any organization, whether big or small. The careful IT managers or PC users are always concerned and ready about RAID recovery.
In the functionality of RAID, there are many hard disks involved, which work as one unit in a combined form. There are many problems which are possible and are regularly faced by hard disks which result in loss of valuable and expensive data. These may include crash of any sensitive software, unplanned or sudden shutdown of system, loss or damaging of any partition, or virus or malware attacks. 
Many storage systems, including NTFS and FAT file systems are also equally vulnerable to such risks. Many a times, it happens that the files from partitions are accidently deleted from server. In all such cases, RAID recovery is required to undo the deletion process of data and to restore such files.
In all RAID applications, RAID 5 arrays are most popular applications. They have a high degree of tolerance to risks and malfunctioning, and are very cost effective. All they require are care at regular basis and adequate maintenance. If RAID 3 is failed then hard disks can be crashed, which will result in loss of important files and data. Such damage can be unaffordable for businesses. To regain the data and to recover the files, there are many popular solutions available which are widely used by professionals all over the world. Such softwares are quick and efficient in RAID recovery. iCare Data Recovery is one such application which has been a priority choice among IT users to mitigate such risks. This iCare Data Recovery application recovers files from damaged RAID 5 disks, more efficiently and easily than any other application reviewed.
The most common RAID 5 array problems that people encounter are bad disks due to which the array goes offline. Similarly there are many viruses which directly affect the array and make it corrupt. Most commonly there are scratches on disk tray surface, which result in data lost. The repeated overwriting of files stored may also result in such disk problems. Since RAID 5 is combination of many disks, so even if one disk is faulty, it will cause malfunctioning of the whole array. The performance may decrease, or the lost disk may become unreadable. The try to still use the faulty disk may result in bad effects to the whole array. A common complaint is accidental deletion of data. Data can also be misplaced or lost due to failure of controller or missing partitions. A whole partition may become unreadable or unstable due to a single corrupt partition in array.
In all such risks and failures, iCare Data Recovery application are used for best results to regain lost data. It is considered a vital tool nowadays to recover files from damaged raid 5 disk.
Data Recovery from deleted partition, lost partition, formatted partition, damaged partition
Here is how data recovery was performed to restore files.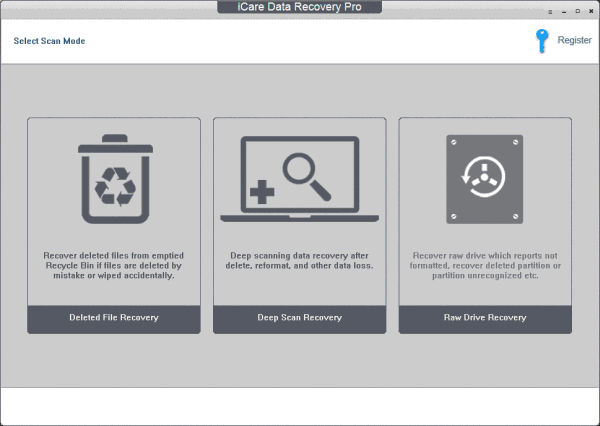 Select a possible drive that contains your files and let it build file structures for recovery.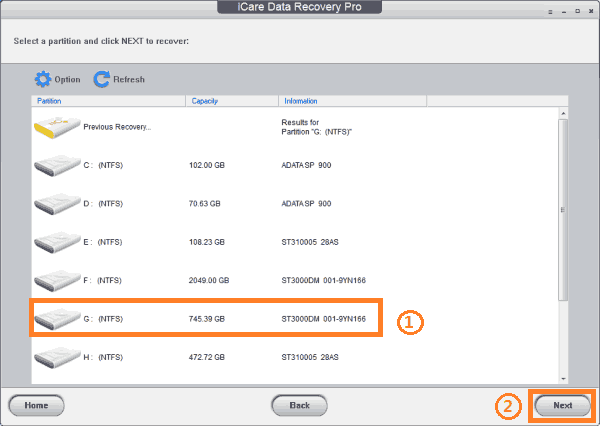 Preview lost files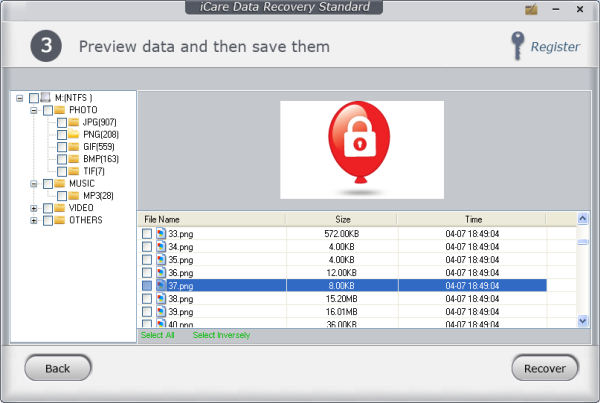 Download Free | Read More about iCare Data Recovery
What's more?
As we know, RAID5 is one of most used RAID constructed by RAID card for data fast reading and disk data safety. Besides RAID recovery provided by iCare Data Recovery, this program is also able to help you restore deleted photos from SD card, undelete xd card photos, taking cf card photos music etc. in just a few clicks. It works professional but is easy to use.
---
recover files from damaged raid 5
Related Articles