Quick Format Partition Recovery

Recover Files with Quick Format Partition Recovery provided by iCare Data Recovery to restore files from quick formatted partition.
Quick formatted external drive?
Quick formatted sd card?
Formatted memory card by accident?
Quick format wrong partition when reloading Windows XP, Vista, 7?
Don't worry, all your files are still recovable. Just download the program for free and it will scan and search you lost files for free!

Do not panic if you accidentally performed quick format on a disk which contains a lot of useful data. Why? The truth is that quick reformatting a disk does not erase the data on the disk, only the address tables. It is not your fault if you accidently performed quick format or complete format on a hard disk drive or removable drives like removable hard drives, usb drives, pen drives, flash drives or even with your cameral sd card. We tell you, you can get your foramtted data back. In fact, a computer geek should be able to recover most of the vital information from the quick or full reformatted disk with some special recovery utilities. Here we recommend you to try some easy to use recovery tool like iCare Data Recovery Pro, to recover data from reformatted disk. Here are the steps to get your files back.
Step One: Download free iCare Data Recovery
You can download iCare Data Recovery to search and find out your files from formatted partition.
Download and install notice: please download and install the exe file on a partition where there is no data loss, ie if you formatted E drive and then it is a must to download and install the software onto a non-E partition, like D drive etc. You could suffer permanent data loss by overwriting the formatted drive, so never touch the formatted drive with new data. (It is safe to search files, since it won't write a byte when searching formatted files.)
Step Two: Start iCare Data Recovery from the desktop icon once you have finished the installation or you might also be able to start it from "Start-->Programs-->iCare Data Recovery"

Step Three: Select "Deep Scan Recovery" which is on the right corner to recover lost files from formatted drive.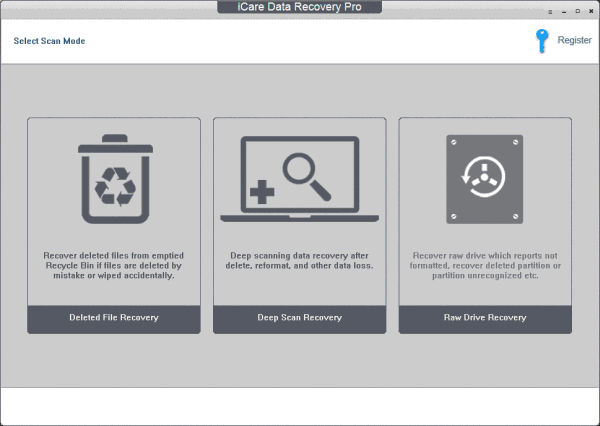 Step Four: Select the partition which was formatted and then click "Next" to search. Here I formatted H partition and then rebooted the computer for unformat test. And a box showing scanning devices will turn up.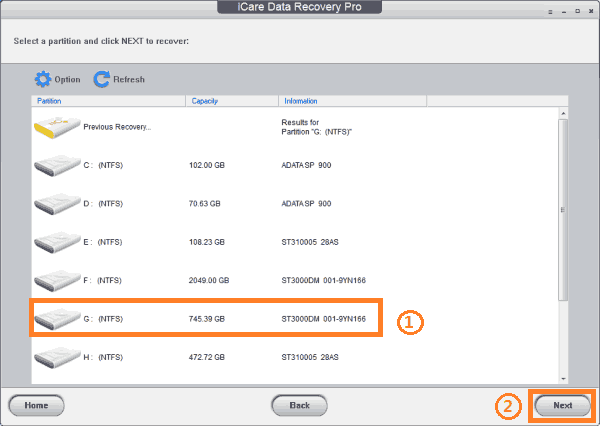 Step Five: When scanning device finished, there would be a partition which is formatted, be free to click "Show Files" which would list your lost files from your formatted hard drive.

Step Six: You can preview photos and office files to check whether it is your lost files. Here I found my formatted lost files in this test.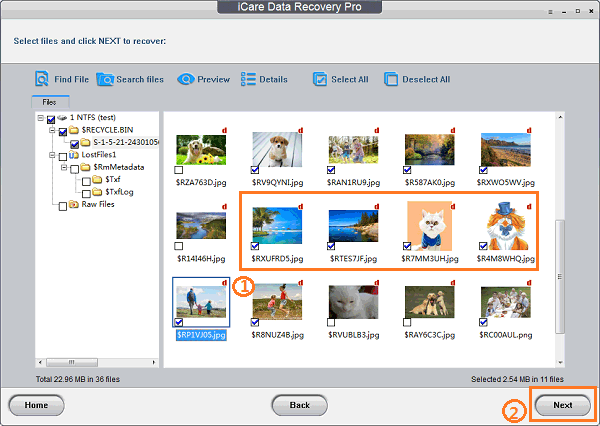 Free download iCare Data Recovery to recover your files from formatted partition now!
Download | Read More about iCare Data Recovery
iCare Data Recovery Key Features:

Quick or complete format recovery on FAT16, FAT32, and NTFS partitions.
Data recovery from quick or full formatted usb drive, camera sd card, flash card, memory card, removable drives etc.
Recover files & folders formatted through the Windows Command Line or from DOS.
Recover files & folders formatted through disk manager tools, such as Partition Magic.
Support localized and long filenames.
Compressed files recovery, encrypted file recovery supported.
Preview your lost files before register the full version.
Windows 7/Vista/XP/2000 professional supported.
"Format Recovery" module of iCare Data Recovery is speciallized developed for any kind of disk formatted and it can recover data from various files types and storage media including:
Hard Drives.
Zip Disks.
Digital camera cards.
USB Drives.
Any other storage devices whose drive letters are displayed in Windows "My computer".
Related Knowledge
Differences between a Quick format and a regular format during a "clean" installation of Windows XP.
During a "clean" installation of Microsoft Windows XP, you are prompted to choose from the following format options:

Format the partition by using the NTFS file system (Quick)
Format the partition by using the FAT file system (Quick)
Format the partition by using the NTFS file system
Format the partition by using the FAT file system
Leave the current file system intact (no changes)

There describes the differences between a Quick format and a regular format.
When you choose to run a regular format on a volume, files are not removed from the volume that you are formatting and the hard disk is scanned for bad sectors. The scan for bad sectors is responsible for the majority of the time that it takes to format a volume.
If you choose the Quick format option, format removes files address from the partition, but does not scan the disk for bad sectors. Only use this option if your hard disk has been previously formatted and you are sure that your hard disk is not damaged.
If you installed Windows XP on a partition that was formatted by using the Quick format option, you can also check your disk by using the chkdsk /r command after the installation of Windows XP is completed.
Download Free | Read More about iCare Data Recovery
Related articles