Windows XP Unformat Software
Are you wondering if it is possible to undo format a hard disk drive on Windows XP by using unformat software? It is a bad experience when all important data gets lost after reformatting a disk drive on Windows XP. You probably reformat a hard disk drive on Windows XP by mistake. Or you probably format a removable disk on Windows XP by accident. You might also reformat a disk drive when receiving unformatted error on Windows XP. For whatever reason, you are able to get back lost files after reformat by using Windows XP unformat software.
How to Use Windows XP Unformat Software?
iCare Data Recovery Pro is able to work on Windows XP operating system to unformat disk drive after reformat by mistake or due to other reasons:

Step1. Free download and install iCare Data Recovery on Windows XP PC. Launch the data recovery software and select a proper scan mode.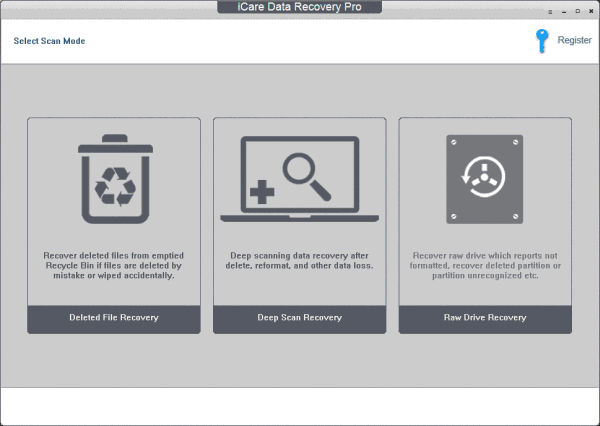 Step2. Select the reformatted disk drive and then wait patiently when the software is scanning to search lost files.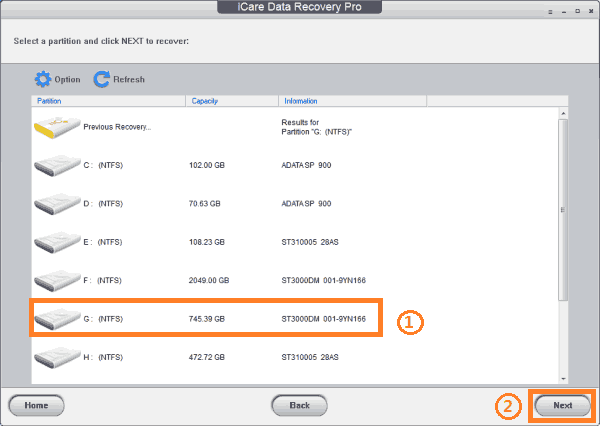 Step3. Preview files when software shows all found data after scanning and then save the lost files to another drive.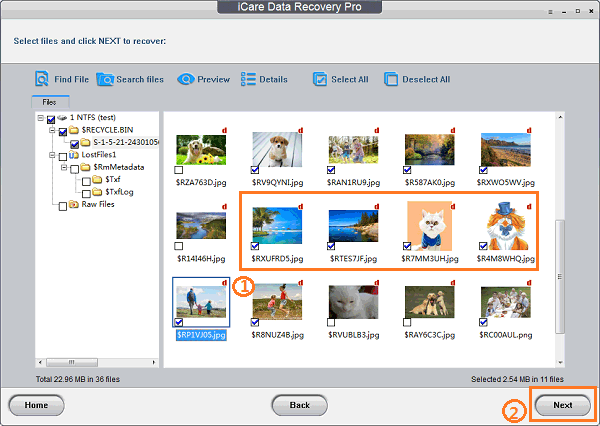 Situations That You Need Windows XP Unformat Program
Usually, an unformat program aims to undo format a disk drive to help recover lost files after format or reformat. You might need an unformat program for Windows XP in following situations:
When you need to recover data in the similar situations on Windows XP, you can use iCare Data Recovery. This data recovery software is able to unformat any device when you quick format or full format a disk drive on Windows XP. This software also supports to unformat HFS+ external hard drive when you reformat it due to mistake or other reasons.
Unformat Hard Drive on Windows XP
Hard drive is an important part on every computer. Usually, you divide a hard drive into several partitions on a Windows XP computer so that you can save different kinds of files on each partition. However, sometimes you might reformat a disk partition which will lead all data stored on this partition to be lost. iCare Data Recovery is able to unformat hard drive partition on Windows XP for permanentnly deleted files recovery without causing any damage to the disk or operating system.
What Does Reformat a Disk Drive Mean on Windows XP?
Reformat is a process which usually erases a disk drive quickly. If you want to erase a disk drive on Windows XP, you can choose to reformat it. However, if you reformat a disk drive by mistake on Windows XP, you may lose all data permanently unless you can use an unformat tool. iCare Data Recovery works on Windows XP operating system to unformat any brand of hard drive. This software is able to unformat NTFS partition and FAT32 partition with all lost data back.
Undo Format External Hard Drive on Windows XP
Sometimes, you might reformat an external hard drive mistakenly when you attempt to format another drive on your computer that runs Windows XP operating system. Once you confirm to reformat external hard drive, Windows XP system will erase this drive immediately. Even if you realize the mistake at once and stop formatting, you are unable to get back lost files. It is an unaffordable loss if you mistakenly reformat an external hard drive which contains too much important data. The good news is that iCare Data Recovery is also able to undo format an external hard drive on Windows XP to recover any type of files after reformat.
Windows XP Unformat Software for Formatted Memory Card Photo Recovery
A memory card is a tiny flash drive which is often used in digital cameras and mobile phones. You may reformat a memory card in a digital camera or mobile phone sometimes, in which situation all photos, videos and other types of files will be erased immediately. A memory card is also compatible with Windows XP operating system. You may connect a memory card to Windows XP computer in order to copy and transfer some data, and you probably accidentally reformat a memory card on your Windows XP PC. Whether you format a memory card on digital camera, cell phone or Windows XP computer, you need to connect it to a computer in order to undo format and recover lost files. iCare Data Recovery enables you to recover lost images (BMP, JPEG, GIF, PNG, etc), videos (MPEG, MP4, MOV, 3GP, AVI, etc) and audio files (MP3, MIDI, WMA, etc) and more other types of files from reformatted memory card on Windows XP.
Windows XP Reports Unformat Error
Windows XP will report unformat error on a disk drive when it cannot recognize the file system of the drive. You may receive unformat error on Windows XP computer when you attempt to access a hard disk drive, portable hard drive, USB flash drive, pen drive, SD card, micro SD card, CF card, XD card and any storage media. The reason why you need to an unformat program when getting unformat error message on Windows XP is that you may reformat the disk drive when it shows the error. Many people simply believe that they can get back all inaccessible data after reformat the disk drive which shows unformat error. However, reformat is only able to fix the error, but all previous data will be erased due to reformat. You can use iCare Data Recovery to restore all inaccessible data any storage media when Windows XP system shows unformat error on it, but you had better not reformat the storage media before data recovery. You might lose the best chance for data recovery after reformat the media to fix the unformat error.

---
Related Articles