Windows XP Says RAW File System on Hard Drive
Windows XP Says Hard Drive Is in RAW Format. How to Recover Data?
Disk shows raw filesystem when connected hard drive is not accessible for RAW file system and reports: "The drive is not formatted. Do you want to format it now…", when Windows XP computer doesn't recognize your external hard drive and tells you: "CHKDSK is not available for RAW drives" after running the Windows error-checking tool to test it there.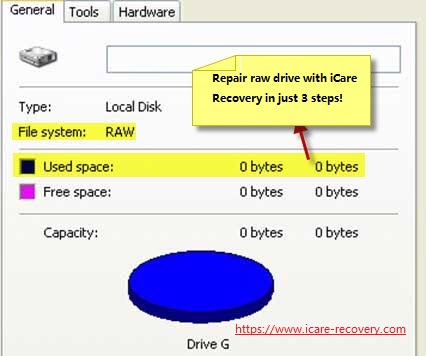 DISK file sytem raw 0 bytes

Also read: how to recover raw external hard drive
It keeps asking you to format RAW to NTFS when Windows XP PC/laptop detects an unsupported RAW file system on hard drive, or you cannot open your drive due to blank or unsupported file system error.
Video - usb disk raw file system recovery without data loss

Also read: how to repair raw disk or repair raw drive Windows 10
Do not rush to perform any formatting process on this Windows XP hard drive to avoid any unwanted drive data loss problem. What you are supposed to do now is only keep this hard drive away from any farther operations, like drive data rewriting, drive formatting, drive file system converting and even drive repairing processes and merely go run hard drive data recovery software to rescue your lost Word files, PPT files, PDF files, videos, music, games, TXT files, mails, applications and more files back with ease.
Recover Files from Hard Drive That Suddenly Changes into RAW and Needs Formatting
No matter why your Windows XP computer reports your hard drive becomes RAW and inaccessible, the best bet for you right now is to stop using this RAW format hard drive and recover missing original contents with external hard drive RAW file system recovery software which often is able to perform a deep scanning process from one drive sector to another and take all possible recoverable files, photos, videos and mails, etc, back before you convert external hard drive RAW to NTFS. Hence, from now on, leave this drive alone for a while, download and install needed data recovery tools on your PC and then, reconnect this drive to your computer for data recovery. Here is the step-by-step guide for you to take your inaccessible drive information back:

Step1. Find and double click this data recovery software shown on your desktop. And then, check its main screen to choose a fixable data recovery mode.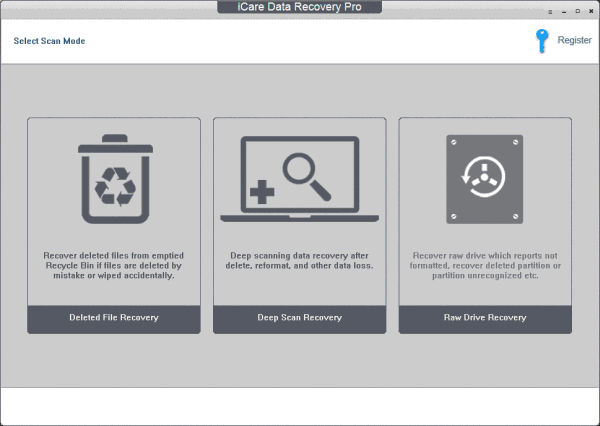 Step2. Highlight this RAW format hard drive out from other listed Windows XP storage devices and start scanning process there.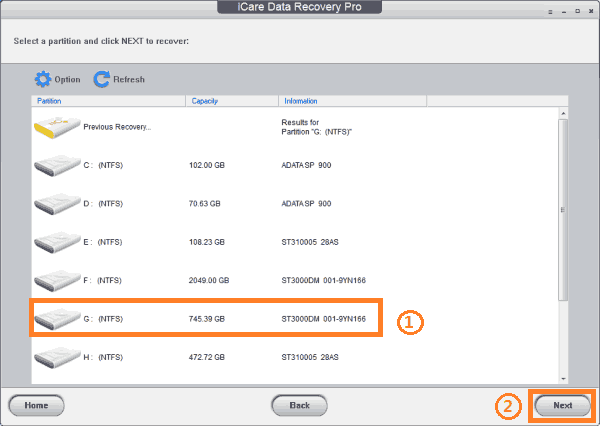 Step3. Preview the found files, documents, videos and other information to choose the recoverable ones out.
Step4. Recover chosen data to another storage device or local partitions in case of data recovery failures.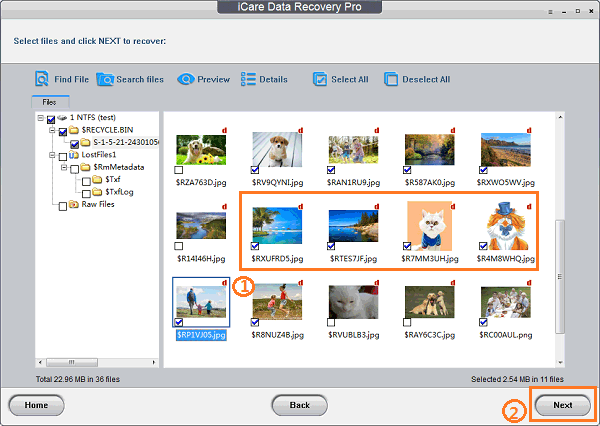 Notes:
*No matter whether this RAW hard drive is able to be rewritten or not, move no new data there to avoid worse data loss troubles.
*No matter whether you do have enough money or not, purchase data recovery software after trying more found ones and select the best one after checking data recovery scanning results.
*No matter whether you plan to restore the common use of this RAW format drive, back up all retrieved computer information on a different USB hard drive or storage device.
Convert Hard Drive RAW to NTFS without Losing Data
Are you also wondering whether your installed data recovery software helps convert external hard drive from RAW to NTFS? OK! It seems that you really do not know much about computer hard drive RAW file error problems. In these days, the RAW file system hard drive problems often means that your Windows XP computer finds your connected hard drive has an unsupported file system, cannot not be read as the common used NTFS or FAT32 file system storage device and needs to be formatted back to the recognizable NTFS or FAT32 file system format. In others words, if you want this Windows PC to read your RAW hard drive as it recognizes other devices with compatible file system type, you are also supposed to firstly format this drive for converting RAW to NTFS. Hence, if you still hope that you can use this RAW hard drive effectively as before on this Windows XP computer, do not rush to disconnect it out and merely perform a formatting process on this drive after successful data recovery processes.
Windows XP/ 7/8/10 Computers Asks to Format Hard Drive for RAW File System Error?
You are still stuck in such RAW file system external hard drive problems since your computer is using Windows 7, Windows 8 or Windows 10 or more Windows versions, not the above mentioned Windows XP version? OK! The computer OS issues often are not a big deal. Why? In fact, except such Windows XP data recovery, many related hard drive data recovery tools searched online support almost all common version of Windows OS, like the common Windows XP, Windows 2000, Windows 7, Windows 8, Windows 10 and other Windows server versions, etc. Hence, when trying to make a decision on whether your selected data recovery tool works for your cases, also take the Windows OS version into the considerations and choose a compatible one. Of course, except such Windows OS version, also consider more elements according to your own conditions, like the regular software price, the free data recovery size of its trial version, data recovery software features and data recovery scanning results, etc. Overall, no matter what happens, always calm down and make a rational, not emotional decision to avoid worse troubles. 
Download Data Recovery Software to Deal with More Hard Drive Data Recovery Problems:
After recovering data smoothly from a RAW file system hard drive on your Windows XP, do not uninstall or remove this data recovery software off from your computer, especially when you do have spent much money for it, for it may also help you cope with other data loss troubles in the future. For example, when you do have deleted some important file folders off from that hard drive with shift delete, the hard drive data recovery software also can help recover deleted data from hard drives or computer Recycle Bin. Merely apply it again to undelete external hard drive there. And when you accidentally do a quick or full format on your RAW hard drive or not formatted hard drive, this data recovery software is also your chance to unformat hard drive and take the lost stuffs back with simple steps. Overall, in the future, always make drive data backups well and also choose effective data recovery software to retrieve lost information, if it is necessary.
---
Related Articles