USB Flash Drive has Not Formatted Error on Windows PC
Windows computer reports not formatted error when you attempt to access your USB flash drive after inserting it to your computer? Usually, the error message shows disk drive is not formatted do you want to format it now. Sure! You want to format it, but the problem is that you are afraid of data loss after formatting the USB flash drive. Then, what can you do to fix the not formatted error on your USB flash drive on Windows XP without losing any data? Well, you can use iCare Data Recovery, a read-only data recovery tool, to get back all inaccessible data from any type of USB flash drive when Windows XP operating system reports not formatted error.
How to Recover Data from Unformatted USB Flash Drive on Windows?
iCare Data Recovery Pro is a Windows data recovery program, which enables you to recover kind of files from USB flash drive when Windows XP says it needs to be formatted:

Step1. Free download and install iCare Data Recovery on Windows computer. Launch the software and select a proper scan mode.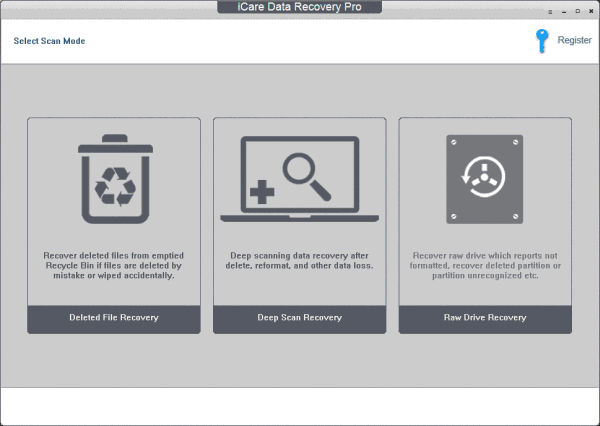 Step2. Choose the USB flash drive and then you only need to wait when the software is scanning to search lost files.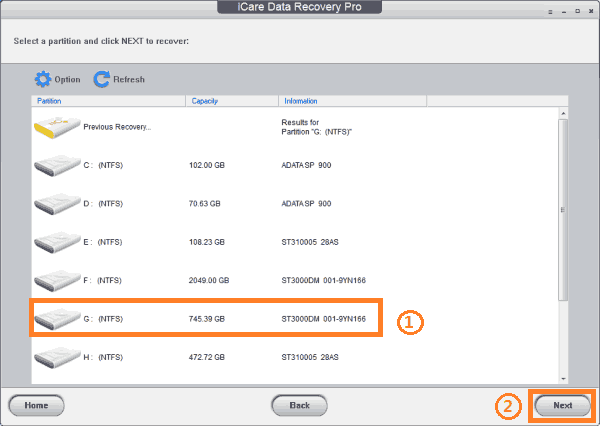 Step3. Preview files after scanning and then save the lost files to another drive.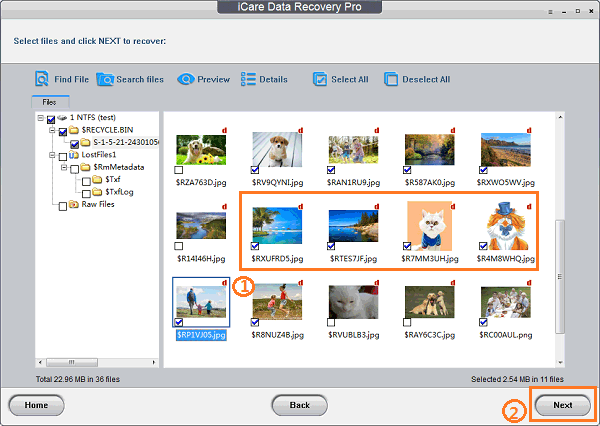 Solution to Fix USB Drive Error When Windows XP 7 8 10 Says Not Formatted
iCare Data Recovery enables you to extract all inaccessible data on unformatted USB flash drive without causing any damage to it. You can try following methods to fix the error on USB flash drive on Windows XP:
1. When you are sure that all needed data has been restored, the first thing you can do to fix USB flash drive not formatted error on Windows XP is to format it. Simply, you can quick format the USB flash drive on your Windows XP computer. Or you can also full format it if you doubt that there are bad sectors on the flash drive.
2. If the USB flash drive contains bad sectors, you can also run Windows XP built-in Error-checking tool to check and repair bad sectors on it so as to prevent the USB drive from showing the same error message again in the future.
==>> Related Article: CHKDSK is not available for RAW USB>>
3. Sometimes, if you are unable to complete format USB flash drive on Windows XP, you might also rely on professional format tool to format it.
USB Drive Requires Formatting due to Windows XP Blue Screen
Recently, somebody reflected that Windows XP shows blue screen and reboots automatically when they plug their USB flash drive to computer. When they reboot their computer, they find that USB flash drive requires formatting and becomes inaccessible. Probably, blue screen appears on your computer running Windows XP operating system because the USB flash drive is not compatible with the system or the USB flash drive contains virus. It might cause not formatted error or other problem on your USB flash drive due to sudden shutdown of your computer. You need to make sure that the USB flash drive is compatible with Windows XP computer and it does not contain any virus when you plug it to your computer in order to prevent such kind of problem.
Other Reasons for Flash Drive Not Formatted on Windows XP
In addition to what mentioned above, USB flash drive might asks to format on Windows XP due to following reasons:
1. USB flash drive is corrupted due to improper operation. Usually, you need to connect the USB flash drive properly to a computer when you need to read or write data on it. You should safely remove it from PC when you need to disconnect it to computer. USB flash drive might be corrupted if you often unplug it to computer without safely removing it.
2. Your computer shuts down all of a sudden due to power surge when you are writing data to USB flash drive. Flash drive shows not formatted error due to power outage or power surge of computer.
3. Sometimes, if USB flash drive contains bad sectors, Windows XP will also say not formatted error message on the flash drive. Every Windows PC has a built-in Error-checking tool with which you are able to check if there is any bad sector on a hard drive or USB flash drive any time you like.
USB Drive RAW Asking to Format on Windows XP
Does your USB flash drive change to RAW file system when Windows XP reports not formatted error? Windows XP is unable to recognize RAW file system and it asks you to format the flash drive so as to convert RAW to FAT32 NTFS. Generally speaking, if your USB flash drive shows NTFS file system or FAT32 file system, Windows XP does not ask you to format the disk drive when you attempt to read any data on it. If it is a new USB flash drive that says RAW file system asking to format on Windows XP, you just need to format it to proper file system.
How to Prevent Not Formatted Error on USB Flash Drive on Windows?
Today, you may find different brands of USB flash drive in market. Popular USB flash drive brands include, SanDisk, Toshiba, Samsung, PNY, Transcend, Kingston, Silicon Power, and more. When you buy a new USB flash drive, you had better buy a good one since some cheap USB flash drive might a bad quality, which is prone to be corrupted. In daily usage of your USB flash drive, you should use it properly to prevent it from being damaged:
1. Put your USB flash drive in safe place when you do not need to use it to protect it from suffering unexpected water damage, fire damage and other similar damages.
2. Avoid connecting your USB flash drive to public computer which may contain virus. When you need to save some programs or files on the USB flash drive, you should make sure they do not contain any virus.
3. Do not remove USB flash drive from Windows XP computer when you are writing or transferring any data.

---
Hot Articles
Related Articles