Recover Permanently Deleted File in Windows XP/7/8/10 - 100% Free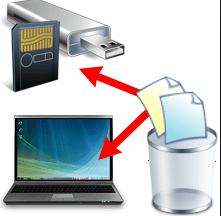 Background
Did you permanently delete any file on Windows XP/7/8/10? Usually, files seemed be permanently deleted after emptying recycle bin or pressing Shift + Delete keys.
Files never went into the recycle bin if you delete files from a memory card, external hard drive, pen stick on Windows OS whether by Delete option or Shift + Delete, all data will be deleted permanently without being moved to recycle bin.
Files would also permanetly deleted if you mistakenly reformat a disk drive. This article will tell how to recover permanently deleted files on Windows for free.
Ultimate deleted file recovery solution
Table of contents
Recover Permanently Delete Files on Windows after Emptying Recycle Bin
Note: This is under the condition that files were saved on the internal disk of Windows, not the portable disk nor removable usb. For recovering files from the later one, go to the solution 2.
Step 1: Open the drive that you deleted the files.
The route may be My Computer -> Disk -> Drive -> Folder name
And then right click the name of the folder and then find 'Restore previous versions' option on the menu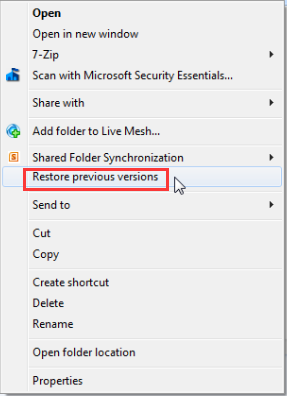 Open the possible available editions of this folder and check whether it saved the deleted files.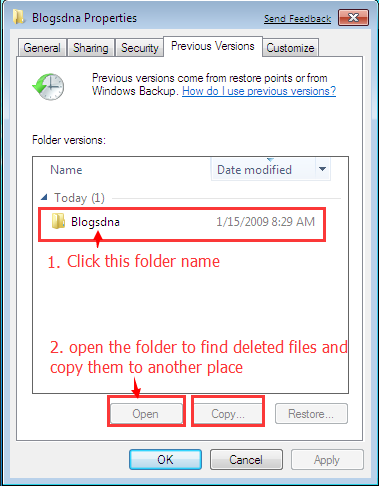 If files were not saved a session or you failed to find the correct files that were deleted, then go to solution 2.
The above function is actually provided by system restore in the operating system.
Solution 2 - Recover permanently deleted files with freeware
iCare Data Recovery Free works on all Windows OS and it is a completely free tool for recovering deleted files from hard drive when your files were emptied from recycle bin or files removed permanently.
Step 1: Download this free tool and select an option to start recovery.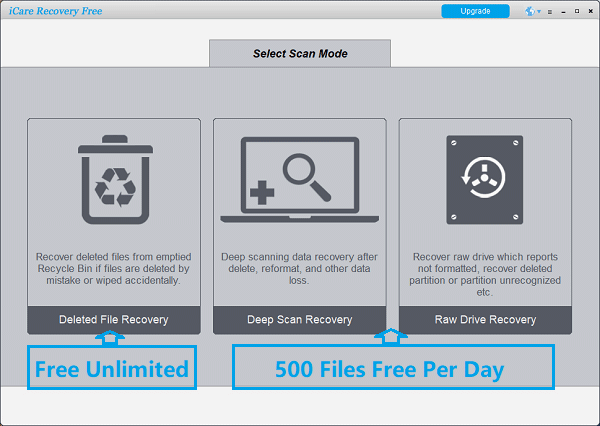 Step 2: Select the disk volume that you lost your files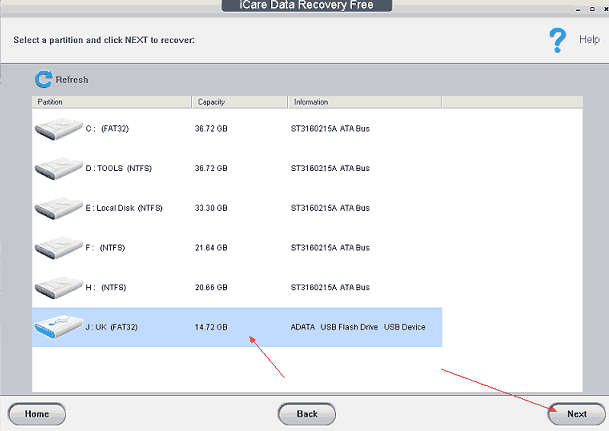 Step 3: Save found data onto another volume.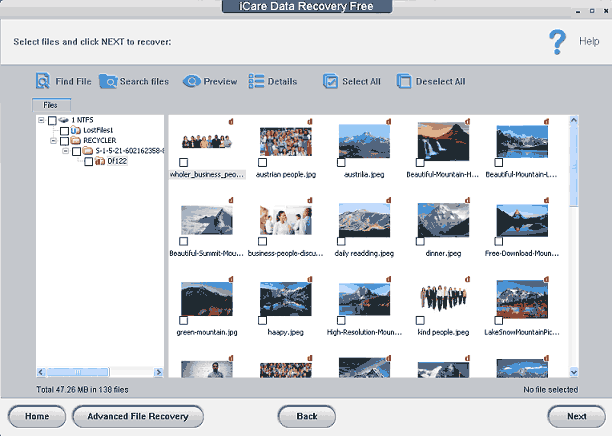 Recover files from hard drive due to other reasons like reformat, raw file system, drive not recognized and more with iCare Data Recovery Pro to fix the problem.
Solution 3: Recover files with professional recovery tool
Sometimes, if your delete files were not found in the previous steps, then you may use the following program for help.
Step1. Free download and install iCare Data Recovery Pro, the professional edition.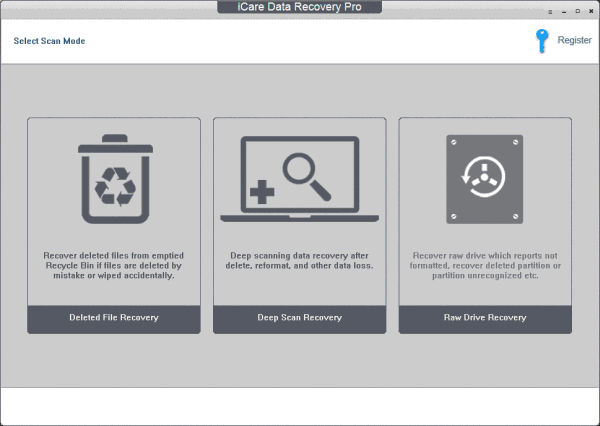 Step2. Choose the disk drive where data got permanently deleted and then you only need to wait when the software is scanning to search lost files.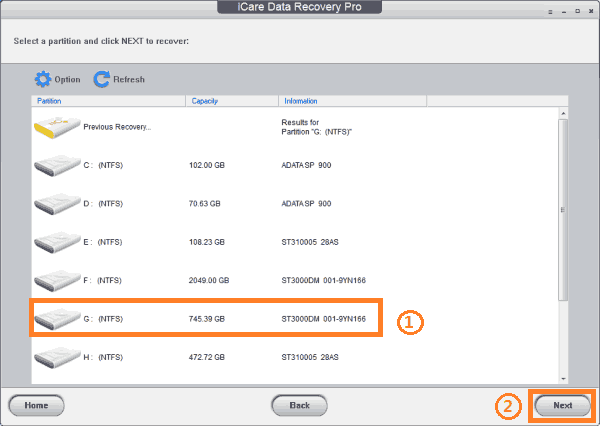 Step3. Wait until the end of the scanning.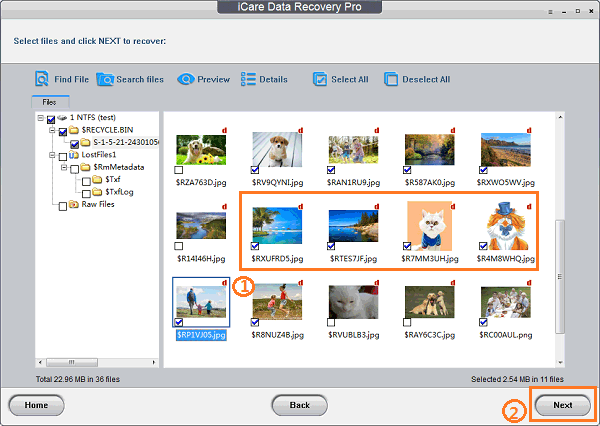 Step4. Save your files.
Also read: How to recover permanently deleted files in Windows 10
Other Knowledge
Windows XP Shift Deleted File Recovery
People usually believe that files have been permanently deleted when they cannot find the deleted data in recycle bin. When you delete one or more files on Windows XP disk drive by pressing Shift + Delete keys, the deleted data will not go to recycle bin. In this situation, you may think that all deleted data has been permanently deleted.
It is true that all data will be deleted immediately without going to recycle bin when you delete it by pressing Shift + Delete keys on Windows XP, but the data will not be permanently deleted before you write new data to the disk drive. As the deleted data is not overwritten by new data, you are able to undelete files on Windows XP by using iCare Data Recovery. This software helps shift deleted files recovery on Windows XP before all deleted data being overwritten.
Why Data Got Deleted on Windows XP without Going to Recycle Bin?
Recycle bin only stores files deleted from Windows internal hard disk drive, so deleted data will not be moved to recycle bin when you delete it from a removable disk like memory card, thumb drive, pen drive, portable hard drive, etc. Sometimes, you may run into the situation that deleted files do not go to recycle bin even when you delete them from Windows XP internal hard disk drive. Why? Here are some possible reasons:
1. The recycle bin is full. Deleted files will no longer move to recycle bin if it is full and has no enough free space to store any delete file. Therefore, you should regularly check recycle bin on Windows XP and delete unnecessary files.
2. Deleted files will not be moved to recycle bin if you set "Do not move files to the recycle bin. Remove files immediately when deleted".
Antivirus Software Erased Folders Permanently on Windows XP
You might install antivirus software on your Windows XP computer in order to protect it from being attacked by virus or spyware. If your Windows PC is infected with virus, you can also run the antivirus software to erase viruses. However, sometimes antivirus software might mistakenly remove some important folders on your Windows computer. Usually, all files stored in the folder will be erased permanently when anti-virus software removed the folder because it considers it as virus.
When you are unable to find some important folders or files after running an anti-virus program on Windows XP computer, you had better stop writing new data to the disk drive where data got lost and then use iCare Data Recovery to restore all lost files.
Also read: how to recover permanently deleted files from recycle bin
Last updated on 04/12/2020
Related Articles