Windows Detected a Hard Disk Problem
Table of Contents
Windows Detected a Hard Disk Problem Warning
A pop up message appears on desktop of Windows after booting computer, which says "Windows detected a hard disk problem"?
This is a problem might be caused by two common reasons, namely hard disk failure and system problem.
Today, this article will guide you to resolve this problem on different Windows operating systems.
The contents of the hard disk problem message are a little different on different Windows.
1. Windows 7 Detected a Hard Disk Issue
If PC runningWindows 7 operating system found a hard drive problem, it shows as the image showing below: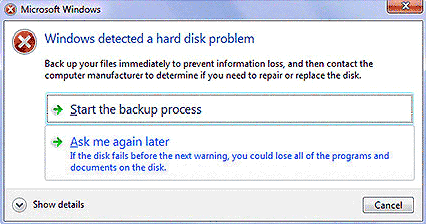 The alert contains following two basic contents:
1. Backup hard disk
As the message alert, you can click the"Start the backup process" option to back up files to prevent data loss.
2. Ask me later
If you click this option, the alert window will be closed but it would frequently show the same message a few minutes later. If the disk fails without any backup before you get the next warning, all data on the disk would be lost.
2. Windows 8 Has a Hard Drive Error
On Windows 8 operating system, the alert window contains one more information, namely "Don't ask me about this problem again", in addition to the two contents mentioned in the above Windows 7 operating system (As the following picture). Therefore, you can select this option to disable Windows 8 to pop up the message anymore.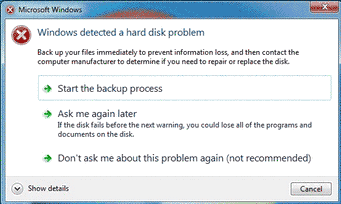 Selecting this option, Microsoft will no longer pop up this window in the future until your hard disk become completely corrupted or inaccessible.
3. PC Found Hard Disk Issue in Windows 10
In Windows 10, Microsoft provides quick solution for fixing the problem instead of backing up the disk, so you will see following contents when hard disk shows problem on Windows 10: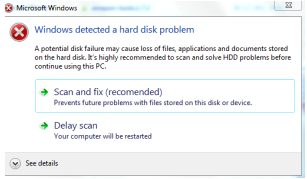 1. Scan and fix
Clicking this option, it would automatically scan and fix the existing problem in case of further disaster (Please be carful to use this option if you still have not made a backup for the disk drive).
2. Delay scan
You can delay scan to fix the problem and your PC will reboots selecting this option.
As the images show, the error messages have some differences in each Windows OS, but the solutions for the problem fixing are similar.
Possible Results from Failing Hard Disk
When PC reports the hard disk problem on any Windows, Following disaster might strike if you do not resolve the problem as soon as possible:
1. All data on the hard disk gets lost if the HDD becomes inaccessible or stops working since you do not resolve the problem as soon as possible.
2. PC frequently freezes up or runs into other problems like blue screen of death.
3. The system file might be corrupted or lost, which leads your PC to be unbootable and stop response.
Disable Windows Detected Hard Disk Alert
You don't think it a problem when PC reports the alerting on your hard disk and you just want to disable it? Seeing the following user:
"I recently installed Windows 7 on my computer, after which it often says Windows detected a hard disk problem on my Samsung computer. I don't think there is anything wrong with the hard drive or system, so I want to know how to disable this message and prevent it showing." – A user from answers.microsoft.com
If your computer runs Windows 8, you can click the "Don't ask me about this problem again" to disable the issue. For PC running other Windows operating system (including Win8), you can use following methods:
Method 1: Disable the error under Task Scheduler
Step1. Click Start button > Control Panel > Administrative tools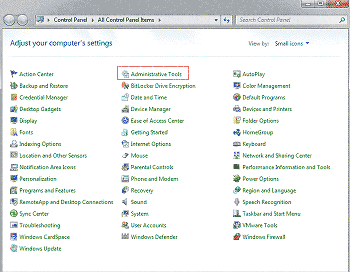 Step2. Double click Task Scheduler to open it and then click Task Scheduler > Microsoft > Windows > Disk Diagnostic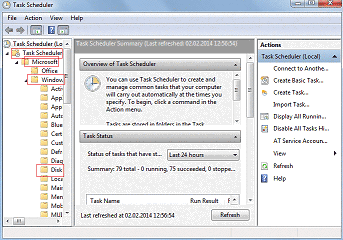 Step3. Right click the title named Microsoft-Windows-DiskDiagnosticResolver and select Properties > click Triggers tab > Edit button > Unselect the Enable option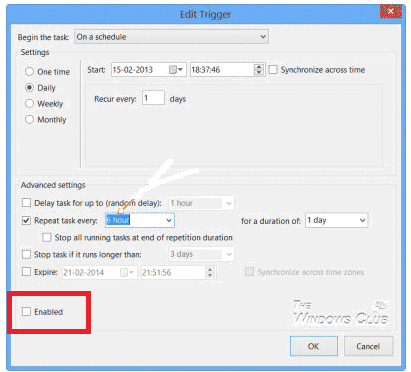 Method 2: Disable the alert message from Local Policy Editor
Step1. Press Win + R to open Run > type gpedit.msc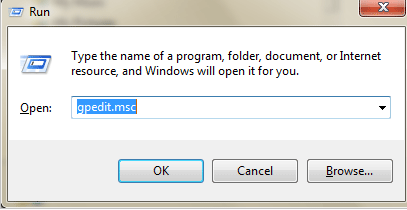 Step2. Click Administrative Templates > System > Troubleshooting and Diagnostics > Disk Diagnostics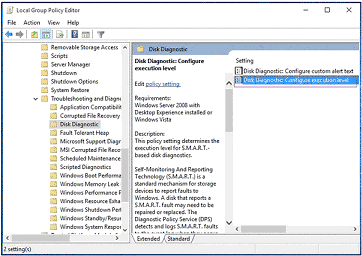 Step3. Double click Disk Diagnostic: Configure execution level showing on the image in Step2 > click Disable > click Apply button.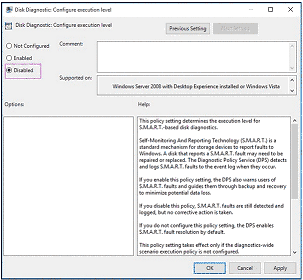 With the two methods above, you can disable the error alerting on Windows hard disk after rebooting your computer.
Method 3: Disable SMART in BIOS to disable the alerting
SMART, namely Self-Monitoring Analysis and Reporting Technology, is a technology used in most of today's hard disk. You can switch off the SMART in BIOS to prevent Windows from reporting the alerting.
Step1. Restart computer and access BIOS setup when PC shows the screen as following image: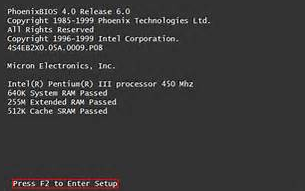 The methods to access BIOS settings are different when the computer is in different brand. It depends on the motherboard of your computer. Usually, there are 4 basic ways to access BIOS settings, namely press Del, ESC, F1 or F2 key. Please follow the alert to press the proper key when restarting your computer to enter BIOS setup.
Step2. Find the SMART in BIOS and switch the Enabled option to Disabled.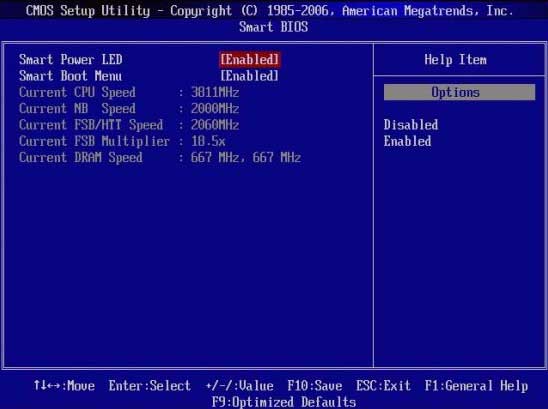 Note: Disable SMART will not only get rid of hard disk warning message, but also stop other SMART attributes to your hard disk.
Backup Hard Disk When PC Reports It Detected Hard Disk Problem
When computer says the problem on a hard disk which has many precious data, the first thing is to backup the hard disk. Disable the error message can only prevent computer from reporting any alert, but it does not resolve the problem on disk. If you are not 100% sure that there is no problem with the hard disk or system, at least you should make a backup for the disk.
To backup hard disk, you have following choices:
1. Windows detected a hard disk problem start the backup process
On Windows 7 / 8, you can click "Start the backup process" option when seeing the hard disk problem window, after which it will ask you to select a location to backup all program, files and documents. Since the hard disk might be failing, it is recommended you to back up the disk to another hard disk or external hard drive.
2. Manually make backup by copying data
If you only have some essential files like photos, videos, documents, programs, etc stored on disk partition, you can attach a removable hard disk to PC and copy those files and move them to the removable disk.
3. Backup software to make a backup for whole disk
To backup the hard disk, you can also use some backup tool. Usually, you can use backup software when you have a large amount of data to backup or you need to backup system partition. If you need any backup application, you can search on Google to get some free one.
Here, we would like to alert you that backup drive and clone drive have some difference, so you should be careful to choose any backup software. If you choose to clone a hard disk to another one, the bad sectors on the hard disk might also be cloned to another disk, in which situation the new hard disk may still have problem.
Analyze & Find the Reasons / Solutions for Hard Disk Problem
You can ignore this error message or skip over to fix the problem directly if you do not concern about the data on the disk.
Which disk is failing?
PC contains more than one disk? And the running hard disk has several volumes? Clicking the "Show details" to show in details about which disk is failing.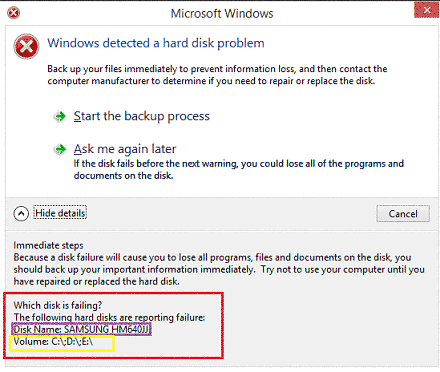 For example, from the details showing on the picture, you can see that name of failing disk is Samsung HM640JJ and the volumes include C, D and E.
To fix the problem, it is necessary to know why the problem occurs. As saying at the beginning, the problem can result from two general reasons – Hard disk problem & system problem.
1. Hard drive issue
When Microsoft pops up such a message, one possible reason is that the hard disk really has some problems (e.g. it has bad sectors). A hard disk would be physically damaged or logical damaged in many cases, such as improper operation, virus infection, bad quality, bad clusters and more.
>> Fixing hard disk physical failing
If hard drive is physically damaged, the only way is to replace it with a new one. Otherwise, you can send it to manufacturer to repair it.
>> Solutions for disk logical failure
If hard disk is logical damaged, you can make a try with following solutions:
Solution 1: Run antivirus software
Please run antivirus software to scan and see if the hard disk is attacked by virus or spyware.
Solution 2: Check disk to repair bad sectors
Run CHKDSK from CMD and type chkdsk [drive letter]: /f or use Windows Error-checking tool to scan and repair bad sectors on each volume showing in the details of the disk problem window (For example, the above image shows C, D, E drive have problems, you should check / repair bad sectors on all of them).

Recommend:
Please refer to
How to fix bad sectors>>
Solution 3: Repartition hard disk
You can repartition hard disk to resolve this problem, too. Please use a reliable partition magic tool to perform partition resizing in case of further problem.
To know clearly what detailed problems your hard disk has, you can also use a hard disk check tool to check the hard drive heath.
Best hard drives online
Sometimes, choosing a good-quality hard drive is very important to prevent hard disk failure. Today, some popular branded hard drives have Seagate, Western Digital and Samsung. Although it is cheaper to buy a generic hard drive, the HDD which has bad quality is easier corrupted.
If hard disk does not have any problem, another reason that Windows shows the error might be system issue. System problem is a complex disaster that can cause many errors. For example, many Windows 7 users often reflect that their PCs like to report the hard disk failure problem. This is a bug in Windows 7 OS.
Solution for system problem
Before trying any method to fix the system issue, please run anti-virus program to scan and kill possible viruses at first because potential viruses would causes future disasters. Then, here are some methods you can use to fix system problem:
Fix 1: Run System File Checker (SFC) to fix system
System File Check, also called SFC, is a tool which began to use in Windows operating system from Win98. This tool enables Windows users to scan for corruptions in Windows system files and replace the incorrect Microsoft programs with correct ones.
Therefore, you can run SFC to fix system corruptions:
Step1. Click Start button > Run > type CMD
Or you can also open SFC by clicking Start button > Programs > Accessories > Command Prompt
Step2. In CMD window, please enter sfc /scannow and press Enter
Fix 2: Reinstall system
For almost any system problem, you are able to resolve the problem by system reinstall. Therefore, just simply reinstall Windows system to fix it.
To reinstall operating system, you must make sure there is enough free space on system partition. Otherwise, PC might report Windows needs more space during Windows reinstalling or even causes some unexpected disaster during system reinstalling failure.

Recommend: How much space needs for Windows installation
Tip:
Whether Microsoft Windows gives the error message about hard disk problem due to hard drive failure or system corruption, you have a good chance to backup the disk before it gets completely failed and becomes unreadable / inaccessible.
If it is too late to make a backup when hard drive stops working, only data recovery software can help you get back the lost things.
Please free download iCare Data Recovery Pro if you want to use a data recovery utility for failed hard drive recovery.

Free download iCare Data Recovery
---
Last updated on Aug 30, 2021
Related Articles
Hot Articles