Windows Computer Data Recovery
In addition to Macintosh computer which usually runs Mac OS, all other brands of computers are compatible with Windows PC. Windows computer is widely used by different people all over the world, but you might meet data loss on Windows PC due to following reasons:
Today, this article will tell an easy way to recover data on Windows computer when you lose data due to similar reason as above.
How to Recover Data on Windows PC?
iCare Data Recovery Pro is a data recovery program, which is compatible with all Windows operating system. Therefore, you can follow the steps below to recover lost data on any Windows PC:

Step1. Free download and install iCare Data Recovery on Windows PC. Run the data recovery software and select a proper scan mode.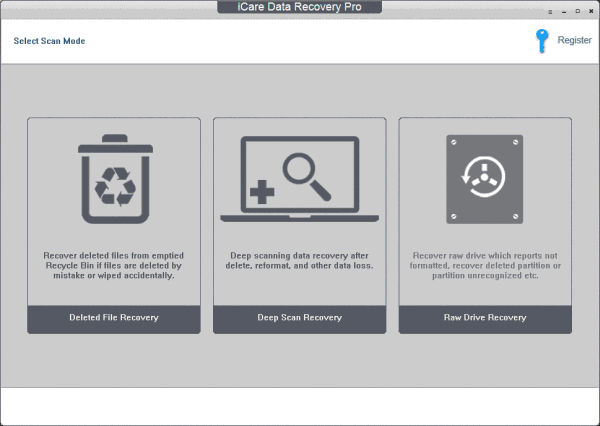 Step2. Choose the disk drive where data got lost and then wait the software to scan it to search lost files.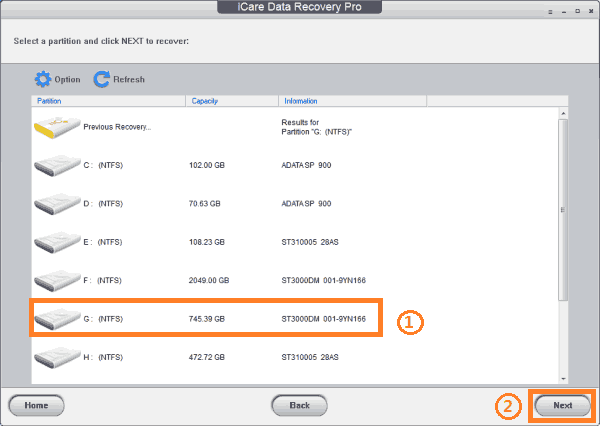 Step3. Preview files after scanning and then save the lost files to another drive.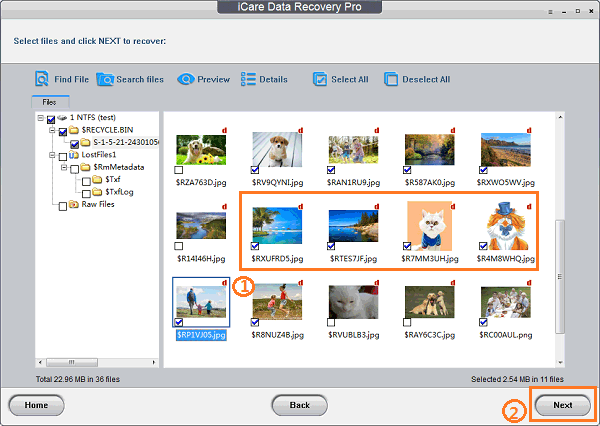 Support All PC That Runs Windows OS
iCare Data Recovery provides read-only data recovery solution for data recovery on all brands of computers that run Windows operating system, so you can use this data recovery software to:
Recover data on Dell computer
Retrieve files on Sony laptop
Rescue photos videos on HP PC
Lost file recovery on Lenovo computer
This data recovery software works on all Windows operating systems such as Windows XP, Vista, 7, 8, 10 and Windows Server 2003, 2008, 2012, etc for PC data recovery.
Restore Files after Emptying Recycle Bin on Windows PC
Probably, many times you have restored mistakenly deleted files from recycle bin of your Windows computer. However, have you ever run into the situation that recycle bin is emptied when you attempted to recover some mistakenly deleted files? If you lose some important data after deleting, please remember not to write new data and then use iCare Data Recovery to get back what you need.
Windows Computer Format Recovery
Do you want to recover data after formatting disk drive on Windows computer? Formatting will mark the disk space as empty, but it does not erase all data completely and permanently. With help of iCare Data Recovery, you are able to unformat any media like memory card, USB thumb drive, pen stick, etc on Windows computer when you performed format due to mistake or other reasons.
Windows Laptop Disk Drive Is Inaccessible
Disk drive is not accessible on Windows laptop? You might meet this problem on Windows PC internal hard drive or other removable disk when you connect it to your Windows computer. You probably receive message disk drive is not formatted do you want to format it now, file or directory is corrupted and unreadable, access to disk drive is denied, etc. When any disk drive is not accessible because Windows laptop reports such kind of error message, you had better not make any measure to fix the problem before running iCare Data Recovery to get back all inaccessible data.
Windows PC Shows Low Memory on C Drive
On a Windows computer, operating system is usually installed on C drive. When C drive runs on low space, Windows system might reports error message to alert you that C drive has low disk space. If C drive keeps running out of disk space, it might cause unexpected disaster to your computer. Sometimes, low disk space on C drive will lead to data loss, in which situation iCare Data Recovery provides a solution for lost file recovering.
Windows Computer Hard Drive Failure Fixing
On the one hand, hard drive failure might cause data inaccessible. And on the other hand, it might even cause system crash. Hard drive failure might be caused by virus infection, bad sector, file system corruption of hard disk drive, etc. Here are some symptoms of hard disk drive failures on Windows computer:
Hard disk drive becomes not accessible or readable
Windows computer shuts down without any warning
Windows PC shows blue screen or black screen
Cannot enter Windows operating system when you attempt to start your computer
If you want to get back any data when you encounter hard drive failure problem on your Windows computer, iCare Data Recovery is also helpful as long as the hard drive is not physically damaged.
Prevent OS Crash to Windows PC
A Windows PC might crash due to hard drive failure, virus infection and more other reasons, in which situation it will have influence on the performance of your Windows computer or even cause data loss. Therefore, it is important to protect your Windows PC from suffering system crash:
1. If you use a Windows laptop and often take it to many place, you should take good care of it to avoid unexpected damage like heat, water damage, fire damage, etc because it might cause hard drive failure and result in system crash.
2. You should install antivirus software on your Windows computer and make sure that that the software works normally. Without any antivirus software, your Windows PC is prone to be infected with virus. Virus infection might cause system crash on your computer.
3. If your Windows PC often freezes up with unknown reasons m, you had better make it clear the reasons for this problem and resolve it. It might also cause system crash if a Windows PC stops responding frequently due to virus infection or other reasons.

---
Related Articles