Windows 7

Windows 7 is a part of Windows NT family of operating system released by Microsoft for home and business computers. The internal version number of Windows 7 is Windows NT 6.1. Windows 7 operating system is able to work on personal computers including desktops, laptops, tablet PCs and multiple-media center and so on. Windows 7 is the successor to Windows Vista, which was released in 2009, about three years after the release of Windows Vista. Windows 7 continued the Windows Aero of Windows Vista and had some improvements.
---
Important Moments of Windows 7 History
Here are some important moments in the Windows 7 operating system development history:
>> On July 14, 2009, Microsoft has accomplished the development of Windows 7.
>> On October 22, 2009, Microsoft announced the release of Windows 7 operating system. And the next day, Windows 7 was released in China.
>> On January 31, 2014, Microsoft stopped the sale of new OEM licenses for Windows 7 Home Basic, Windows 7 Home Premium and Windows 7 Ultimate. And In October 2014, Microsoft stopped selling new retail copies of Windows 7 OS.
>> On January 13, 2015, Microsoft stopped the mainstream support for Windows 7, but the corporation still provides service pack support for Windows 7 users. All support for Windows 7 OS will end on January 14, 2020.
>> On July 29, 2015, Microsoft announced the news that all editions of Windows 7 (except Windows 7 Enterprise Edition) are able to upgraded to Windows 10 for free in a year.
Windows 7 Editions
Windows 7 has six different editions which include Windows 7 Starter, Windows 7 Home Basic, Windows 7 Home Premium, Windows 7 Professional, Windows Enterprise and Windows 7 Ultimate.
1. Windows 7 Starter – It is stripped-down Windows 7 version, which is usually available in emerging markets but not available for retail. Windows 7 Starter edition only supports some easy functions, so it does not have a high demand for hardware. On Windows 7 Starter, users are not allowed to change the desktop wallpaper or theme.
2. Windows 7 Home Basic – It is also only available in emerging markets. Users can pre-load the Windows 7 Home Basic on their notebooks or branded computers. The new features of Windows 7 Home Basic include unlimited applications, visual experience improvement (without "Aero Class" theme), advanced network support and Mobility Center.
3. Windows 7 Home Premium – It is usually available for home computer enthusiasts, which is sold all over the world. Windows 7 Home Premium enables the "Aero Class" theme, advanced navigation, media center, multi-touch, multimedia, handwriting recognition, etc.
4. Windows 7 Professional – It is usually used in business, which supports Domain Join, Advanced network backup, networking and security, etc.
5. Windows 7 Enterprise – It is the highest edition of Windows 7 operating system, which functionally similar to Windows 7 Ultimate. Windows 7 Enterprise has the functions of Branch cookies, DirectAccess, BitLocker, AppLocker, Virtualization Enhancements, Management, Compatibility and Deployment and VHD, etc.
6. Windows 7 Ultimate – Windows 7 Ultimate contains all features of Windows 7 Home Premium and Windows 7 Professional.
Windows 7 OS Features
The features of Windows 7 focus on following points:
1. Easy to handle
Windows 7 has simplified many designs, which makes it quite easy to handle. For example, Windows 7 improved its features in quickly maximizing a window, showing half-screen, jump list, quick system malfunction fixing and more.
2. Simple
Compared to previous Windows operating system like Windows Vista or Windows XP, it is simpler to search files or other information whether on local disk of your computer or online. It provides intuitive user experience.
3. Efficient
In Windows 7, the search function of systems integration is very powerful. Users only need to run "Start" menu and type the information they want to search. Windows 7 users can find what they need efficiently no matter they want to search for applications, txt files, Microsoft office files or other type of files.
4. Desktop gadgets
Windows 7 users can put some applications on desktop so that thy can do tasks more conveniently. Those applications on Windows desktop are known as desktop gadgets, such as calendars, clocks, search tools, etc. Microsoft stopped providing downloading for desktop gadgets in September 2012 because it has serious vulnerabilities. Hackers can make use of those desktop gadgets to harm your computer, access files on your computer, show objectionable contents or change the function of the desktop gadgets. A hacker can even completely control your computer with those desktop gadgets. Therefore, the function of desktop gadget was removed completely in Windows 8.
Windows 7 Shortcuts
Knowing following shortcuts on Windows 7, you can handle your computer much easier:
Press Right Shift for 8 seconds – turn on / off the Filter key
Press Left Alt + Left Shift + PrtScn (or PrtScn) – turn on / off High Contras
Press Left Alt+ Left Shift + Num Lock – turn on / off Mouse key
Press Shift for 5 times – turn on / off Sticky key
Press Num Lock for 5 seconds – turn on / off Toggle key
Press Ctrl + Shift + ESC – quick open Task Manager
Windows 7 Error Fix
Along with the development of Windows operating system, Windows 7 has a better performance and improves more than its previous version. However, everything has its shortcoming. You may still meet this or that kind of problem on Windows 7. Useful methods to fix different problems on Windows 7 will be introduced in following situations that Windows 7 has malfunctions as below:
1. Windows 7 Blue Screen of Death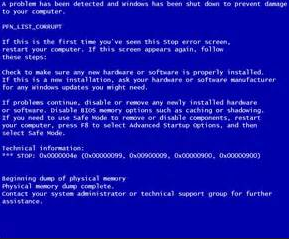 Blue screen of death is also known as a stop error because there is no choice but Windows 7 freezes up and stop responding and your computer reboots immediately after showing the blue screen When PC shows blue screen, you usually find that the screen of Windows 7 changes to blue on which there are some error messages.
"A problem has been detected and Windows has been shut down to prevent damage to your computer…. Technical Information: *** stop:0×0000008E (0×0000005,0×805F91E2,0×B3EE79A8,0×00000000"
As you see, it will show some stop codes at the end of the error message. Usually, it shows different stop codes when Windows 7 blue screen of death problem is caused by different reasons.
Below are some possible reasons that lead Windows 7 to show different stop codes on blue screen:
0x00000012 – an unknown exception has occurred
0x00000018 – the reference count of an object is illegal for the current state of the object
0x00000019 – a pool header is corrupt
0x0000001A – a severe memory management error occurred
Possible solutions:
For many people who do not have too much specialized computer knowledge, it is not an easy thing to know the reasons for each stop error. Therefore, you can perform some easy operations to fix the blue screen of death issue on Windows 7, such as remove the new added hardware which may be not compatible with the Windows 7, uninstall the new installed software which might be unable to compatible with Win7, run antivirus software to check if there is spyware or virus on your computer, check and scan if there is bad sectors on Windows 7 internal hard disk.
2. Disk Partition Convert to RAW in Windows 7
When a hard disk partition shows RAW file system in Windows 7, you are unable to read or write any file. Most of time, this kind of problem occurs because the hard disk is corrupted due to virus infection, bad sector, improper operation, etc. In most case, there is no problem with Windows 7 operating system, so you just need to fix the problem by formatting the hard disk after getting back all data you need.
3. Windows 7 boots slowly or fails to boot
Computer cannot boot normally or boots quite slowly on Windows 7? You may fix the problem by booting your computer in Safe Mode. If you are not sure the reasons why this problem occurs, the best way to resolve the problem thoroughly is to reinstall system.
4. Windows 7 does not see external HDD
External hard disk provides many conveniences for computer users for data backup, storage or transferring. Sometimes, you probably encounter problem that Windows 7 does not show flash drive, portable hard drive, etc when you connect it to your computer.
Windows 7 Deleted Files Recovery
Have you ever permanently deleted any file on Windows 7 by reformatting or emptying recycle bin? How to recover permanently deleted files from Recycle Bin on Windows 7? Or how to restore deleted files after formatting? iCare Data Recovery allows you to recover any deleted file on Windows 7 no matter how data got lost.
Windows 7 Format Recovery for Free
Can you restore data after formatting on Windows 7? It depends on whether you have written new data to the formatted drive or not. You can use free format recovery software to undo format on Windows 7 for file recovery if the formatted device is not overwritten.
---
Related Articles
More Articles That You May Be Interested
External Resource