Windows 7 File Recovery
If you are running into data loss problem on Windows 7 OS, you must want to get back lost important data. Usually, you might meet data loss problem on Windows 7 operating system in following situations:
…
No matter you lose data on Windows 7 internal hard disk or you need to recover data from external device like memory card, flash drive, external hard drive, pen drive, etc on Windows 7, you need to use a data recovery tool. Today, this article will introduce a Windows 7 data recovery tool which is able to recover data in all data loss problems.
Windows 7 Data Recovery Software Download
Whenever data gets lost from any device, you should remember not to write new data to the device. Then, you can free download iCare Data Recovery, a data recovery for all Windows PC, to perform lost file recovery. You can this software on Windows 7 computer and then run it to deep scan the drive where data got lost. This data recovery software is able to search all lost files including photos, videos, music, documents, etc in a short time. iCare Data Recovery provides a read-only solution for deleted lost file recovery after deleting, formatting or even when Windows 7 reports some error messages on the computer.
Steps to Recover Data on Windows 7

Preparation: Free download and install iCare Data Recovery on Windows 7 computer. You should not install the software on the drive where data get lost. Then, you can launch the software and follow the guide below to recover files on Windows 7:
Step1. Select a proper scan mode after running the software.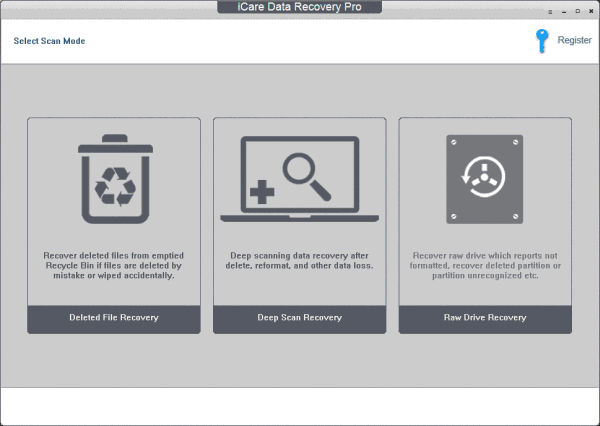 Step2. Choose the drive from which you need to recover files and then you only need to wait patiently when the software is scanning.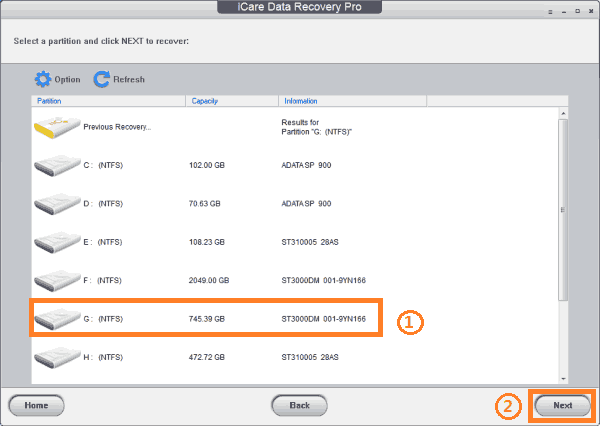 Step3. You are allowed to preview files after scanning and then save the lost files to another drive.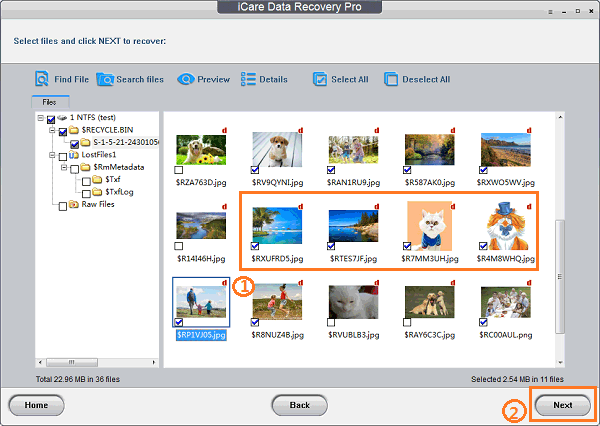 How to Recover Permanently Deleted Files from Windows 7?
You can permanently delete files from Windows 7 after formatting or emptying recycle bin. iCare Data Recovery is able to recover permanently deleted files from Recycle Bin or formatted drive on Windows 7.
Format Recovery for Windows 7
iCare Data Recovery works on Windows 7 for format recovery from any digital device like external , USB, memory card and more.
Windows 7 Hard Disk Drive Not Formatted Error
Disk drive not formatted error is a common problem on Windows operating system. Usually, Windows XP operating system pops up the error message like "Disk drive is not formatted do you want to format it now", while Windows 7 operating system usually shows "You need to format disk drive before you can use it". Although the error message shows differently, you are unable to read or write any data when receiving such kind of error message. Disk drive usually shows RAW file system on Windows 7 operating system when it has not formatted error. When you meet the problem that Windows 7 says not formatted error either on internal hard drive or other storage media, you can run iCare Data Recovery to recover all inaccessible data without formatting the disk drive.
Windows 7 Blue Screen of Death
The same to Windows XP, Windows 7 operating system shows the same error message when you meet blue screen of death problem. Usually, your computer will shut down automatically when you see the blue screen of death. Windows operating system shuts down automatically in order to prevent damage to your computer. Blue screen of death problem occurs in different situations. Sometimes, you might encounter the problem when booting Windows system, while sometimes you might meet the problem when running some software on your computer. Here are some possible reasons that might cause blue screen of death on Windows 7:
Windows operating system crash due to improper operation on the computer. In this situation, you are usually unable to enter Windows system when boot the computer in safe mode.
You might meet blue screen of death problem when disk drive contains too many fragments. You can resolve the problem by defragment files on disk drive.
Sometimes, Windows PC might show blue screen of death result from hard disk drive bad sectors.
In some situations, you might encounter blue screen problem on Windows after running some program. Probably, the program contains virus or it is not compatible with the Windows 7 OS. In this situation, you can run antivirus software to check and clean virus. If the program is not compatible with Windows 7, you can uninstall the software and your computer will no longer meet blue screen problem.
Windows 7 PC Runs Slowly
A new PC usually runs fast because it has the best performance. However, you might find that your computer runs more and more slowly day after day. For example, after installing Windows 7 operating system on your computer, you might find that your computer runs fast. However, the computer runs slower and slower. Why? Well, this kind of problem might be caused by many reasons, such as:
1. C drive is running out of disk space on Windows 7 OS. Usually, users install Windows OS on C drive, so C drive is also known as system partition. When more and more data is stored to the drive day by day, the free space on C drive will become less and less. If C drive is running on low disk space, it might have influence on the performance of your computer and lead your PC to run slowly. You can extend the C drive space if your PC runs slowly due to C drive low disk space.
2. Sometimes, virus infection will also lead a PC to run slowly. Therefore, you should install antivirus software on your computer to prevent virus infection to the PC.
3. PC will run slowly due to many other reasons.
More Windows 7 Malfunctions
You might meet various kinds of malfunctions on your computer time to time. For instance:
Programs in Windows 7 system shows not responding
Cannot boot Windows operating system
Windows 7 Operating system shuts down all of a sudden
Windows 7 computer reboots automatically
Windows 7 PC shows black screen of death
Windows 7 system crash
Cannot open settings and documents because system shows that it is protected by system
Windows 7 computer cannot recognize USB devices
Cannot install software on Windows 7 computer
…
About Windows 7 Operating System
Developed by Microsoft, Windows 7 is also a personal computer operating system which is usually available in business and home desktop, notebook, tablet PC, multiple-media center, etc. Windows 7 operating system belongs to Windows NT family of operating systems, which was released on October 22, 2009. Windows 7 OS series include Windows 7 Starter, Windows 7 Home Basic, Windows 7 Home Premium, Windows 7 Professional, Windows 7 Enterprise and Windows 7 Ultimate. Windows 7 operating system has the following features:
1. Easy to use
Windows 7 has a user-friendly interface and it has simplified many designs.
2. High efficient
Windows 7 provides a much more efficient solution to search for different kinds of information.
Compared with the previous Windows operating system like Windows Vista, Windows XP, etc, Windows 7 operating system has many improvements.

---
Related Articles