Windows 2000 Data Recovery
Windows 2000 Data Recovery Software
Whenever you run into any problem on Windows 2000 operating system, you should remember not to perform any operation to fix the issue if you do not want to lose any data. You had better run a reliable data recovery program to get back all needed files first of all.
iCare Data Recovery Pro is a Windows-based data recovery tool, which provides a read-only solution for data recovery in different data loss situations. With this data recovery software, you are able to retrieve all kinds of files including photos (BMP, JPEG, GIF, PNG, etc), videos (MP4, 3GP, MPEG, AVI, etc), audio files (MP3, WMA, MID, etc), Microsoft files (PowerPoint, Word, Text, Excel) and more.
Steps to Recover Files on Windows 2000

Preparation: Free download and install iCare Data Recovery on Windows 2000 computer. You should avoid installing the software on the drive where data got lost. Then, you can run this software and follow the steps to recover lost files:
Step1. Select a proper scan mode after running the software.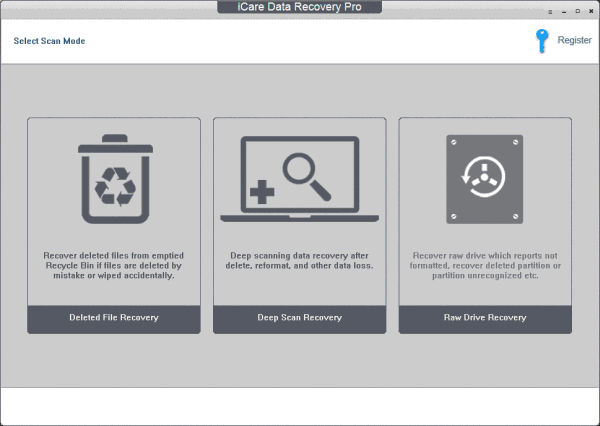 Step2. Choose the drive where data got lost and then you only need to wait patiently when the software is scanning to search lost files.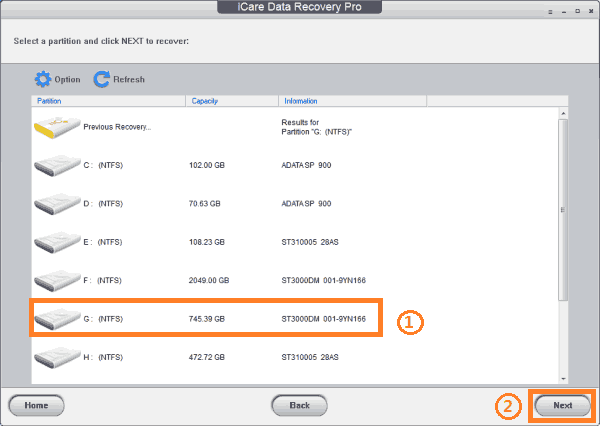 Step3. You can preview files after scanning and then save the lost files to another drive.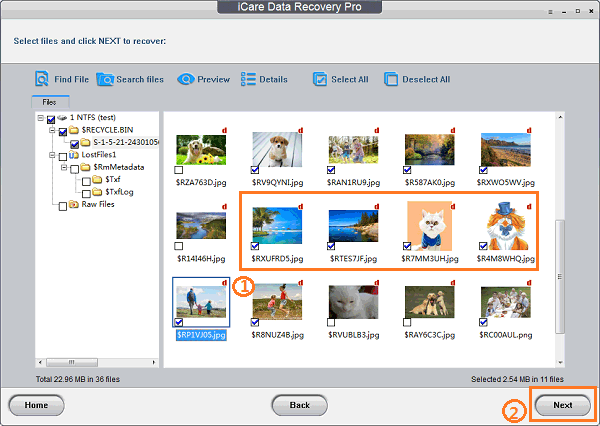 Windows 2000 Data Loss Situations
Windows 2000 has 4 editions. For personal computer users who install Windows 2000 operating system, they might meet data loss problem on their computer due to following reasons:
1. Accidentally format disk drive on Windows 2000
You might mistakenly format an external hard drive, memory card, flash drive or internal hard drive, etc on your computer that runs Windows 2000 operating system. System will erase the selected drive immediately whether you perform a full format or quick format.
2. Delete data on Windows 2000 by mistake
Another possible reason is that you might mistakenly delete some files on your computer which runs Windows 2000. You might delete files permanently from Recycle Bin.
3. Windows 2000 reports error message to prevent y you from accessing any data
Probably, sometimes you find that you cannot access disk drive on your computer because system reports some error message, such as:
Disk drive is not accessible. The file or directory is corrupted and unreadable
Disk drive has I / O device error
Disk drive is write-protected
…
Tip for Windows 2000 File Recovery
When files got lost on your computer that runs Windows 2000 operating system, you should pay attention to following point:
Do not write new data to the disk drive after formatting or deleting
Do not format the disk drive when Windows 2000 says it needs to be formatted
iCare Data Recovery is able to recover files in all those data loss situations before the disk drive is overwritten or physically damaged. This data recovery software supports to recover data from internal hard disk drive or removable disk like SD, XD, CF, portable hard drive, USB thumb drive, pen drive, etc.
Windows 2000 Server Data Recovery
Windows 2000 Server is used on small enterprise computers, which supports up to 4 processors and 4GB of RAM. Windows 2000 Server has many improvements in its functions, but you might meet the similar data loss issues. In addition to deletion and formatting, it will be worse if a computer which runs Windows 2000 operating system has malfunctions. Usually, Windows 2000 Server will stop working normally when you meet the problem, in which situation all data stored on the Server might be lost or corrupted. In this situation, you had better transfer all important data to another place. You can run iCare Data Recovery to perform data recovery if you are unable to access files since Windows 2000 Server stops working normally.
Windows 2000 Blue Screen of Death
Message about Blue screen of death on Windows 2000 shows the same to Windows 7. It usually reflects that a problem has been detected and Windows has been shut down to prevent damage to your computer. When a computer has blue screen issue, many users will think that the system is corrupted because the system itself it not good or has some troubles. As a matter of fact, there is nothing wrong with the operating system itself, but the problem is caused by some other reasons. The reason why Windows system shuts down is to prevent damage to your computer. Similar to other Windows OS, Windows 2000 has blue screen of death problem due to same reasons like "some programs you install on the computer are not compatible with the operating system", "computer is infected with virus", "there are bad sectors on hard disk drive", "there is something wrong with drives or hardware", etc.
Windows 2000 Server RAID Volume Recovery
Windows Server users often like to create RAID array in order to provide a better solution for data storage. It is true that RAID array provides a safe and efficient way to read and write data, but data loss problem still exists on RAID volume. For example, you might lose data due to failure of rebuilding RAID array. Or you might lose data because RAID hard drive is corrupted on Windows Server 2000. If you lose any data on RAID volume, you had better not rebuild the array before getting back all data you need.
About Windows 2000
Windows 2000 is an operating system developed by Microsoft, which is a Windows 32-bit operating system belonging to Windows NT family. Microsoft released Windows 2000 on February 17, 2000 in USA. Windows 2000 is an operating system for both personal and Server computers.
Microsoft released 4 editions of Windows 2000 in order to meet different personal and business needs:
1. Windows 2000 Professional
Windows 2000 Professional is usually used on workstations and desktops. Windows 2000 Professional supports up to 2 processors. It supports 64MB RAM at least and 4GB RAM at most. Windows 2000 Professional also has 4 editions including Windows 2000 Professional SP1, SP2, SP3 and SP4.
2. Windows 2000 Server
Windows 2000 Server usually works in small enterprises. Windows 2000 Server supports up to 4 processors and up to 4GB RAM.
3. Windows 2000 Advanced Server
Windows 2000 Advanced Server usually works in medium and large enterprises, which supports 8 processors and up to 8GB RAM.
4. Windows 2000 Datacenter Server
Windows 2000 Datacenter Server is usually available in large businesses, which supports 32 processors and up to 64GB RAM.
---
Related Articles