How to Make RAW Drive External Disk Work
What can you do to make a RAW drive external disk work as a usable drive so that you can get back all inaccessible files from the disk drive? If you want it to work normally when an external hard drive has RAW error, you should stop it from suffering any possible physical damage. Then, you can free download iCare Data Recovery, a read-only data recovery tool, to extract files from the RAW external disk. This software is available for RAW drive recovery in following situations:
"I have an external hard disk showing as a RAW drive whenever I plugged it to my computer. What should I do in order to recover data from the RAW drive and make the external disk work normally again?"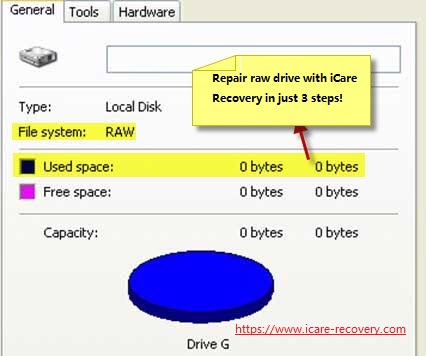 DISK file sytem raw 0 bytes
"Is there anything I can do to make a RAW external hard disk drive accessible with all data back? My 3TB external hard drive says RAW and needs to be reformatted when connecting to my computer. I just want to access the RAW external and copy all needed data to another place. What should I do?"
"Windows XP says my external HDD should be formatted since it changes to RAW format. I am wondering if there is any other thing I can do to fix the RAW format error except formatting."
"It seems that my 1TB external hard drive is corrupted because it is not accessible on my computer. System detects the external as a RAW device instead of NTFS. What to do to make the RAW external hard drive usable?"
Video - usb disk raw file system recovery without data loss

Also read: how to repair raw disk
RAW Drive External Disk Data Recovery
If you only want to make a RAW external hard disk usable again so that you can save new data, you merely need to format the disk drive from RAW to NTFS. If you need get back those inaccessible files from the RAW drive, you need to use data recovery software like iCare Data Recovery Pro . This is a read-only data recovery utility, which is available for data recovery from all brands of external hard drive that turns to RAW. Follow the steps below for RAW external hard disk data recovery for free:

Step1. Download and install iCare Data Recovery on your computer. Launch the software and choose a proper scan mode.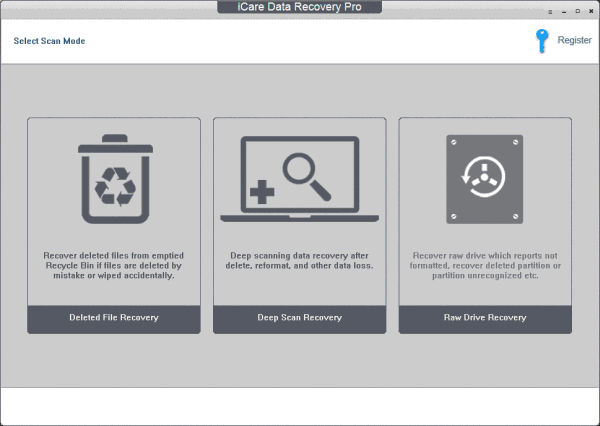 Step2. Select the RAW external disk and then wait patiently when the software is scanning the RAW drive for lost data.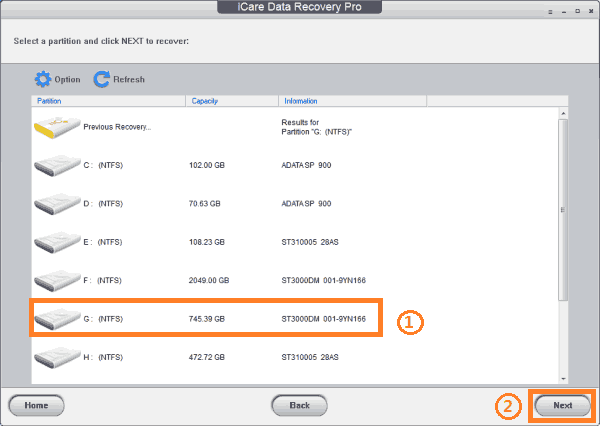 Step3. Preview the files when scanning is completed and then save the lost files to another drive.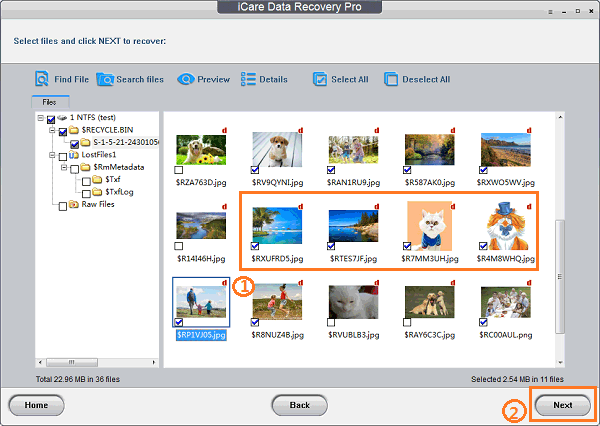 In order to make RAW drive external hard disk into a usable drive, you can perform format on the external after data recovery so as to convert RAW to NTFS. If it is an external hard drive that has large storage capacity, you had better not convert RAW to FAT32 because FAT32 only supports to save single file that is less than 4GB.
CHKDSK Is Not Available for RAW External Disk
CHKDSK is able to scan the RAW external hard drive and check if it has any error or bad sectors. It is also able to fix the errors on your external HDD.
==>> If you are unable to run CHKDSK for RAW external hard drive fixing, please go to this page - CHKDSK is not available for external USB hard drive>>
---
Related Articles