What Are the Steps to Recover Pictures from Camera SD Card
"What are the steps to recover pictures from a camera SD card? I was editing pictures from my SD card after connecting it to my computer, but all of a sudden I mistakenly deleted several pictures from this SD card. Is it possible to retrieve deleted pictures from SD card for digital camera? It is not possible to restore those pictures from recycle bin because I find nothing there. Please show me step-by-step guide to restore camera SD card deleted pictures if anybody knows the solution."
"I tried several photo recovery software for SD card photo recovery after deleting on my digital camera, but all the data recovery software I got is difficult to handle and I failed to get back what I need. So I am wondering if anybody is able to recommend an easy-to-use data recovery tool to help recover my photos from SD card for digital camera after deleting. Can somebody show the detailed steps for camera SD card deleted file recovery?"
More and more people like to use a digital camera to take pictures because it is more convenient than traditional film cameras. Using a digital camera, you no longer need to use film; instead, you only need to insert a memory card in the camera. Compared with traditional film camera, digital camera photos will keep good quality even after a long time, but photos take by film camera might become blurring with the passage of time. However, photos stored on a memory card might be lost due to other reasons,some sd card may get corrupted. This article will share how to recover photos from SD card for digital camera in different data loss situations.
Photo Recovery from Digital Camera SD Card
Simply say, photos stored on an SD card for digital camera might get lost due to human mistake or SD card error. You only need to use a data recovery tool for SD card photo restore whether data gets lost due to human mistake or SD card errors. iCare Data Recovery Pro is a data recovery program which is specially designed to resolve data loss problems from various kinds of storage media in different situations. Therefore, you can free download this data recovery software if you lose any data from SD memory card for your digital camera. This software is capable of photo recovery, video recovery, audio files recovery, etc for different types of SD card.
Steps to Recover Pictures from Camera SD Card

Preparation: Connect the digital camera SD card to a computer via card reader. Then, free download, install and run iCare Data Recovery on this computer.
Step1. You need to select a proper scan mode after running the data recovery software.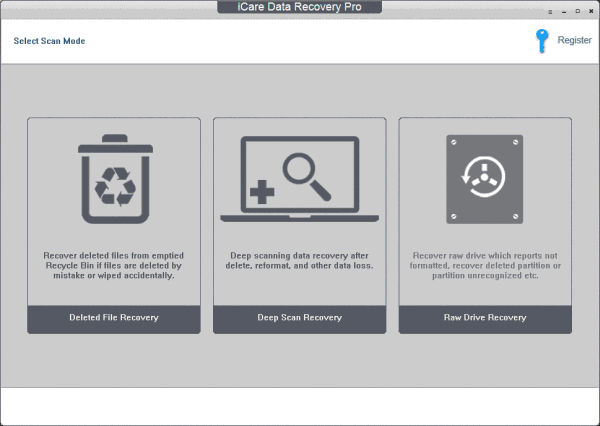 Step2. Choose the SD card where data got lost and then the software will begin to scan. You just need to wait patiently when the software is scanning to searching lost files.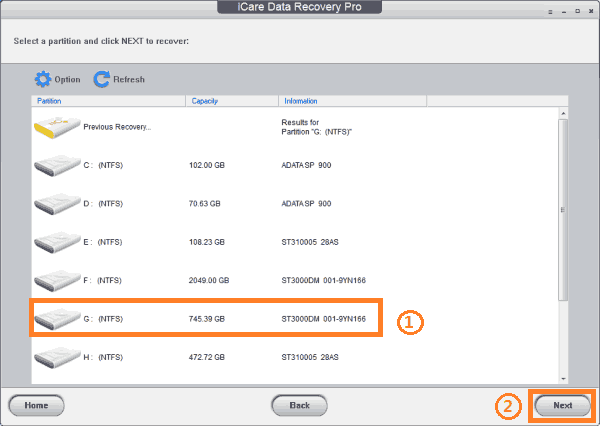 Step3. You can preview files after scanning and then save the lost files to another drive.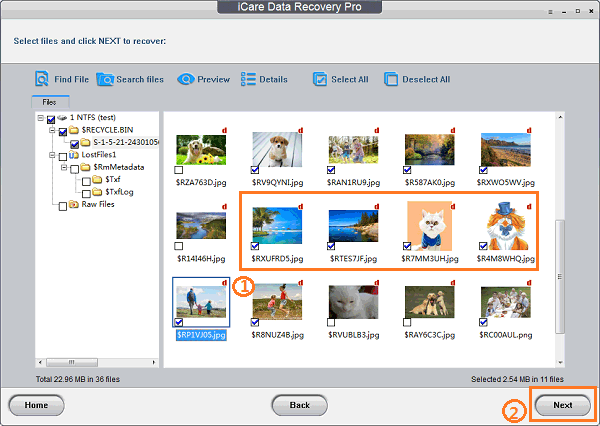 Reasons for Camera SD Card Data Loss
As mentioned above, data might get lost from an SD memory card due to human mistake or SD card error. Well, human mistakes include: format SD card by mistake and accidentally delete files from camera SD card. When you make a mistake to format or delete SD card, only file names get erased from the card and you can use iCare Data Recovery to restore formatted or deleted SD memory card files for any digital camera.
If you run into data loss issue since SD card has errors like SD memory card has RAW file system requires formatting, SD card has read / write error, SD card is not recognized, SD card is not accessible, SD card is blank or has unsupported file system, etc, you should never perform any operation to fix the error before getting back all files from this card. iCare Data Recovery is able to extract files off an SD memory card for digital camera even if you are unable to open the card.
Retrieve Pictures off SD Card for Different Cameras
Nowadays, you can find different brands of digital cameras, while some popular brands include Canon, Nikon, Kodak, Samsung, Sony, Olympus, Panasonic, etc. Based on the type of digital cameras, there are Compacts digital cameras, Action digital cameras, bridge digital camera, mirrorless interchangeable-less digital cameras, modular digital cameras, digital single lens translucent cameras and more. iCare Data Recovery allows you to recover photos from any digital camera SD memory card after formatting, deleting, SD card RAW format, and other data loss problems. This data recovery software for digital camera SD card file recovery provides read-only solution without causing any harm to the memory card. The software is easy to handle to retrieve files from different brands of SD card such as SanDisk, Samsung, PNY, Lexar, Transcend, and Toshiba and so on.                               

---
Related Articles
Hot Articles
Hot Tags