WD External USB Hard Drive Data Recovery Software Free Download
You may never think that you need WD external USB hard drive data recovery software until important data got lost due to this and that kind of reasons.  However, we all hate those times when something important get accidentally deleted from our hard drives, or our external hard drives. It can create some nasty things at work or for school and there is never a fast and easy way to get it fixed. You either have to hire the professionals, or go without the important file or files that you needed. There is now an easier way to do it. Download yourself iCare Data Recovery Pro for free to help you out of the crisis.
WD External Hard Drive Data Recovery Software Download
iCare Data Recovery Pro is able to recover any and all of your files from a WD external USB hard drive. This can be any files that have been deleted by mistake or if you accidentally formatted external hard drive and you lost something. This happens a lot as well, and it can be a pain to go through the recovery process, but with iCare Data Recovery Pro, it is a quick and easy fix that will get you on your way in no time.

Process of WD USB Hard Drive Recovery
When you find that you need something important recovered, it is a simple process of getting it back. All you need to do is plug the hard drive into the computer and download the software from iCare to get going. The software will then open up and you can choose how you want to find the files on the hard drive. Scanning it is usually the fastest option, and you will be able to see everything on the hard drive when it is done. Once it is done, you should be able to see all of the files on there and you can then chose which files are the ones that you want to save and recover. Once you do, your work is done.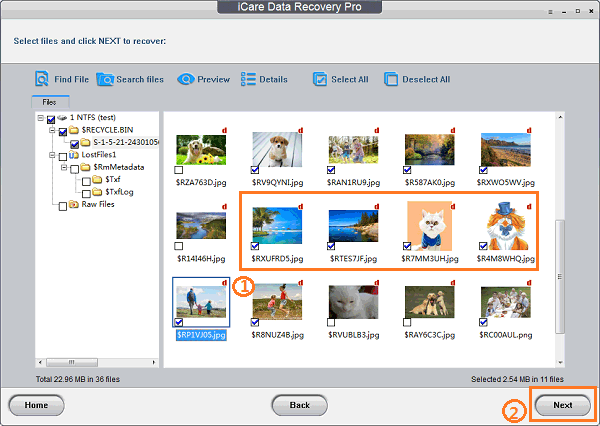 Why Use iCare for WD USB HDD Data Recovery?
Using the Western Digital file recovery freeware from iCare is one of the best ways of recovering lost data. Why pay extra money when you can download the software for free and get started on fixing the problem. Technology can be fickle sometimes and no matter the reason you lost any data, you should be able to easily get it back. Once you have gone through this process once, you will know how to do it again later. And hopefully, you never have any problems with lost data in the future again. Even if you do, this software will be there to help you out of any bind you find yourself in again.
The Bottom Line for WD External USB HDD Deleted File Recovery
iCare Data Recovery is a user-friendly and safe WD external USB hard drive data recovery software which is free download for all Windows users like Windows XP, Windows Vista, Windows 7 and Windows 8, etc. If you need to recover data from your WD external hard drive, free download the software now!

---
Related Articles
Hot Tag: usb recovery