Recovering files from USB Drive Not Formatted
Nowadays most of us use USB drive to store our data, and it's a useful fransfer. But somestimes we may meet different kind of problems and USB drive not formatted is one of a very serious problems.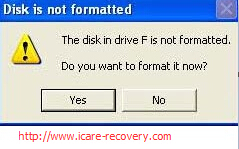 Questions :
      USB memory stick is not formatted?
      USB data lost, cannot be read?
      USB need to formatted?

What is USB drive not formatted error?
USB drive not formatted is a headache to us all, because most of us do not know how to solve it effectively, we spent hours to do with it but without result.
"USB drive not formatted, do you want to format it now?" is a problem that may come to you when you access your USB drive to your PC, what's worse, you can't read your data, if you want to read, system will tell you that you need to format it, if you don't, you can't get you're your information, but if you format it ,system will tell you that USB not formatted, it's really very  tuugh to deal with it.
Don't worry, now we have iCare Data Recovery to help us.
iCare Data Recovery is a fast effective software which can help us with different kinds of data lost problems. Not only can it solve USB drive not formatted error, but also these problems such as data lost, CF card deleted file recovery, SD card photo recovery, USB flash drive deleted files recovery and memory stick RAW drive recovery, etc.
Steps to Recover Data from usb drive when reports not formatted error

Step1. You need to plug the usb drive to a computer. Then, download the program. choose a recovery option.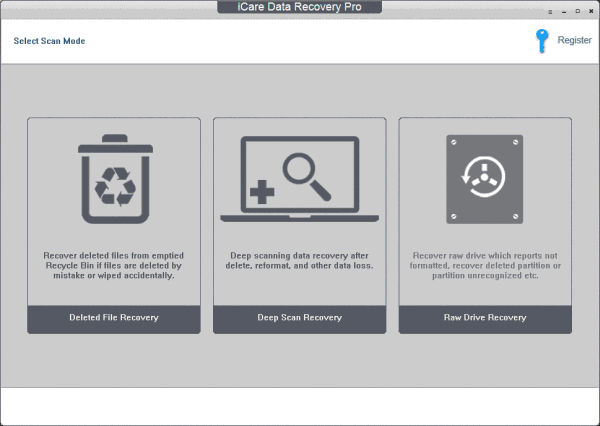 Step2. Select the unformatted usb drive to let the software scan.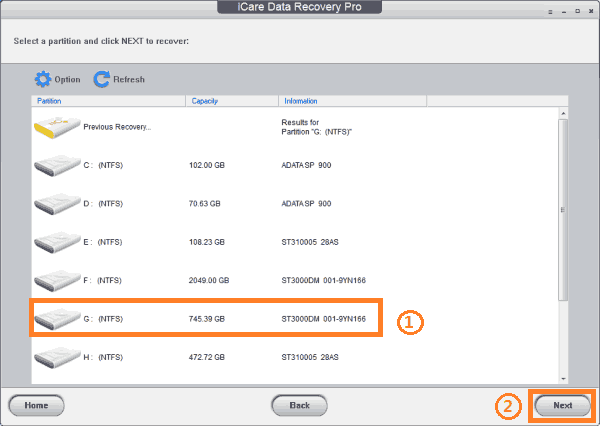 Step3. preview some files. choose the files needed.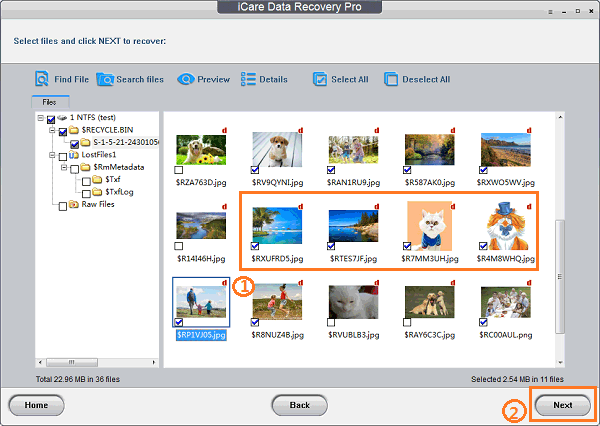 Attention: The software would show all found files, but you only need to select the files you need to restore instead of all.
Fix USB Format Error
Firstly, you can connect the flash drive to a Windows computer and use CHKDSK tool to check the USB drive to see if it contains bad sectors or has other errors.
If CHKDSK is not available for RAW USB, you can try to format the drive to convert RAW to NTFS file system or FAT32.
Users experience:
I'am using USB drive to store some informations, I have stored a lot of files in it, my work materials, mp3 music, photos, office files and so on. But one day when I pluged it into my computer, problem came. Windows XP can't raed it, it assigned a drive letter, I tried to format it, but I can't do that, the system said that USB drive got not formatted, I felt confused, I tried again, but still useless, I have soent hours to do with it, but the result is that I can't solve it.
After a few days, a friend of mine told me that I can use iCare Data Recovery Pro to have a try, I followed his advice, it worked excellent. So I reserve it for futher use.
Not formatted error can occur on other storage media too. If your memory card reports not formatted error, can you recover data from RAW memory card? The answer is yes by using iCare Data Recovery software. The software enables you to rescue pictures after formatting SD card, CF card, XD card, etc when it has RAW file system, but you should remeber not to put new data to the memory card.

---
Related Articles