Unformat SD Card to Recover Files
Best unformat software for SD card format recovery
Want to unformat an SD card to recover mistakenly erased files due to reformatting? If you know what does format an SD card mean, you will no longer have any doubt in formatted SD card recovery with an unformat tool. iCare Data Recovery Pro has the ability to undo format SD card to help find all lost files after quick format / full format on any device such as mobile phone, digital camera, Mac, Windows, etc.

Free download iCare Data Recovery Pro
What Does Reformatting an SD Card Do?
When you buy an SD card, the card has been formatted so that you can use it for data storage. During the usage of SD card, you might reformat the SD card due to some reasons. For example, in some situations, you may reformat an SD card when sd card is corrupted ro.when it is full because you want to free up space on the card. Or sometimes, you might reformat an SD card by mistake. Finally, you may reformat your SD card when it requires formatting.
For all situations above, reformatting SD card does not lead all data to be erased permanently. Therefore, it gives you an opportunity to unformat the SD memory card for file rescuing.
Undo Format SD Card to Recover Data
It is possible to unformat SD card as long as you have not add any new data to the card after reformatting. What you need is to download a data recovery tool. iCare Data Recovery software, a read-only data recovery program, is able to undo format SD card and recover all types of files such as images, videos, music and more. This software enables you to free recover deleted files from SD card after reformat within about 3 steps:

Step1. Run iCare Data Recovery and choose a recovery module.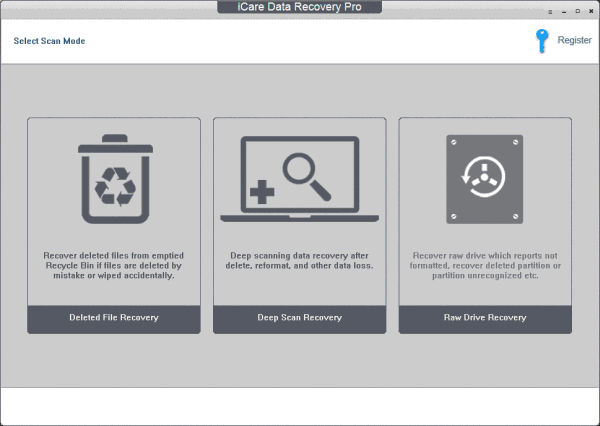 Step2. Choose the SD card and let the software scan it for lost files.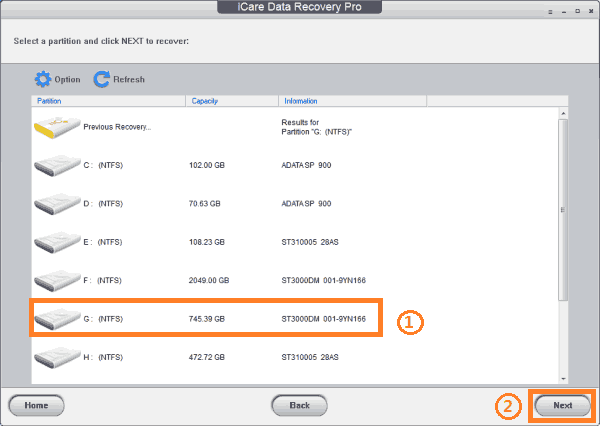 Step3. You can preview the found files and recover the files you need.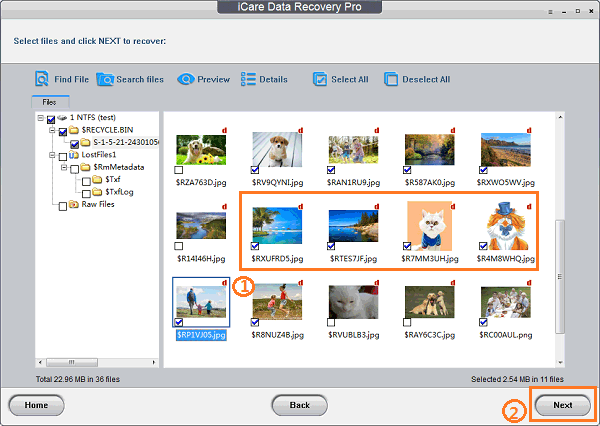 Tips: SD Card Unformat Attention
Knowing the following notes, you will find it useful for data recovery from reformatted SD card with the unformat program:
1. No matter how much data you have lost from the formatted SD card, you have chance to recover all types of files including videos, audios, images, documents, etc in batch.
2. It is worthy of waiting no matter it takes only a few minutes or several hours (usually scan a large capacity of SD card which contained several GB data before formatting). If scanning is stopped during the process, the software probably only finds a part of lost files without showing original names. The software produces all found files in a list with the previous names when they got lost as long as you can wait patiently before the scanning is completed.
Undo Format SD Card Android
SD card can work in almost all Android phones like Samsung Galaxy, HTC, Blackberry, etc. Undo format an SD card is a process to restore the SD card files lost after reformatting, but it cannot restore the SD card to previous state. For example, you reformat an SD card from RAW to FAT32 file system, you can undo format it to get back lost data but you cannot restore the SD card from FAT32 back to RAW. You may format SD being inserted in your smartphone, but you need to connect the SD card to PC when you want to unformat sd card for Android for search lost files.
Unformat SD Card Windows XP 7 8 10
It is easy to plug an SD card to any Windows PC via a proper card reader or USB cable. When you connect an SD card to Windows, it often shows as a removable device in Windows Explorer and Disk Management. Running iCare Data Recovery Pro, it can also recognize the formatted SD card as a removable disk. You can undo format any SD card like PNY, SanDisk, Samsung, Transcend, Lexar, Kingston, etc using the software on Windows XP, Vista, 7, 8 and 10.
Related Case for Reformatted SD Card Recovery
"I mistakenly formatted SD card in my digital camera and erased all data on the card. I am wondering if I can unformat SD card and get back lost files from the card. If possible, what should I do to unformat SD card for data recover?"
"It said disk drive is not formatted do you want to format it now when I was attempting to open the SD card by connecting it to my computer. I cannot format it because it contains many files, but I need to recover files from the SD card. How can I restore data from unformatted SD card?"
"Can I unformat SD card if I reformat it from RAW to FAT32? My SD card turns to RAW file system with unknown reason and I want to format the SD card to changes it file system, but I am afraid that I will lose everything on the card forever after formatting. What can I do?"
"How to recover reformatted SD card files? Just now, I accidentally reformatted SD card instead of the external hard disk, so I want to know if it is possible to unformat SD card by relying on any software."
Please free download iCare Data Recovery Pro to unformat SD card whatever why you perform format on it.

---
Related Articles
Hot Articles