Unformat SD Card after Reformat in Digital Camera
Last updated on 06/02/2018
"How do I unformat SD card after reformat in digital camera? I format SD card by mistake when I inserted it to my digital camera. There are lots of pictures on this SD card before formatting, but SD card shows nothing after formatting. I want to know if there is any way to unformat SD card for my digital camera and restore all lost files due to formatting."
"Can anybody recommend an unformat tool for reformatted SD card photo recovery? I have an SD card for my digital camera on which I have saved many precious photos. Recently, I reformatted SD card when using the camera. Is it possible to undo format SD card in digital camera so as to get back the files deleted by reformat? Please tell me what to do if anyone knows any useful unformat software."
You might reformat an SD card in digital camera due to various reasons, while one of the most common reasons is to format the card by mistake. There are various unformat programs for reformatted digital camera SD card data recovery, but you should remember that all unformat software is only available for data recovery from formatted SD card before it gets overwritten. Therefore, it is very important to remember not to write any new pictures or other data to this SD card before you get a useful unformat tool. This article will share a read-only unformat program for SD card format recovery for digital camera.
Unformat SD Card after Reformat in Digital Camera
iCare Data Recovery Pro is a data recovery program with which you are able to unformat SD card for digital camera by connecting it to a Windows and corrupted sd card. This data recovery works on Windows OS such as Windows XP, Vista, 7, 8, 10 for data recovery in various kinds of data loss situations. iCare Data Recovery provides read-only solution to undo format SD card for camera such as Canon, Nikon, Samsung, Kodak, etc. This software works on different brands of SD memory card including SanDisk, Samsung, Kingston, Toshiba, Lexar, etc for lost file recovery when you perform format due to mistake or other reasons.
Steps to Undo Format SD Card for Digital Camera

Preparation: Free download and install iCare Data Recovery on Windows computer. Connect the SD card to this computer and launch the software.
Step1. Select a proper scan mode after running the data recovery software.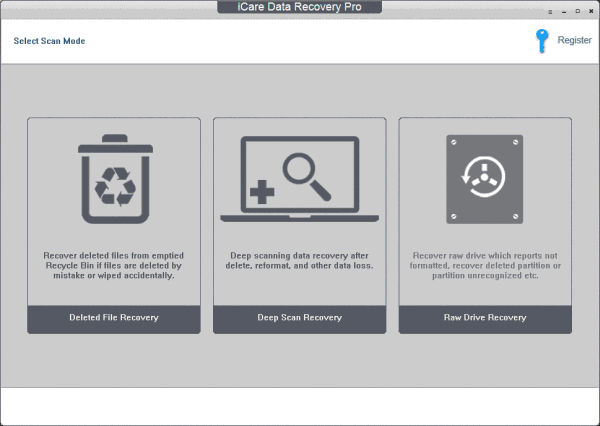 Step2. Choose the formatted SD card as aim disk and then wait patiently when the software is scanning to search lost files.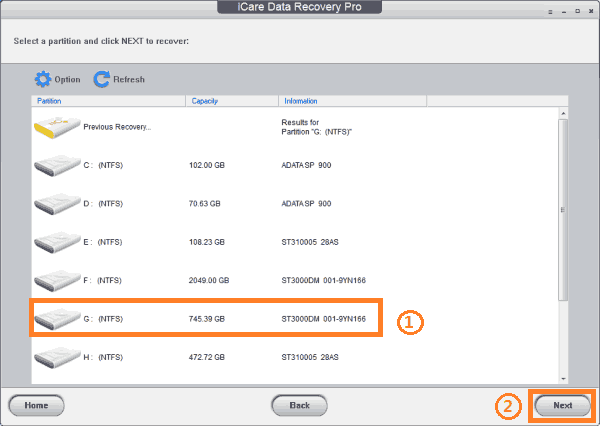 Step3. You can preview files when scanning is over and then you can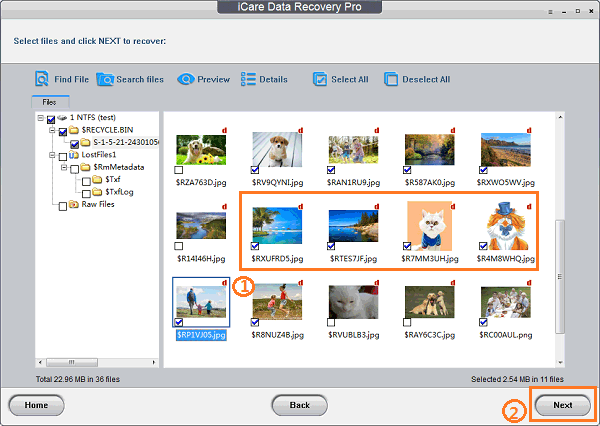 Why Use Unformat Software for Digital Camera SD Card?
Why is it possible to use unformat software for recover deleted pictures from SD card after reformat in digital camera? When you reformat an SD memory card whether in camera or computer, it only erase the data from the table address but the true data is still stored on the card. Therefore, it is possible to rely on an unformat tool to undo format SD card and restore all lost files. As mentioned above, the only chance to unformat SD memory card for digital camera is to use the unformat software before the SD card gets overwritten by new added files. Therefore, you should always keep in mind that you had better not write any file to the reformatted SD card before getting the files you need.
Unformatted Error on SD Card in Digital Camera
Accidental formatting is a possible reason for SD card data loss, in which situation you need to use unformat software to recover data. Another situation that you may also use unformat software to restore data is you receive unformatted error on an SD card in digital camera. Digital camera reports unformatted error to say SD card is not formatted because the file system of the card is corrupted. iCare Data Recovery is not only helpful with reformatted SD card data recovery, but also allows you to restore data from unformatted SD card for digital camera. When SD card says unformatted error on camera or computer, you had better run iCare Data Recovery to extract inaccessible files before formatting it.
Unformat SD Card after Reformat due to Virus Infection
You reformat SD card because it is attacked by virus? Many people believe that it is possible to remove all viruses by reformatting an SD card. As a matter of fact, simple formatting does not help remove all viruses. If your SD card is infected with virus and stops working on digital camera, the best solution is to run antivirus software. If you have reformatted SD card due to virus infection, iCare Data Recovery also helps recover data from the SD card.
In conclusion, iCare Data Recovery offers different recovery modes to help users recover data when they encounter various data loss issues. This software allows you to get back what you need when you full format or quick format SD card for digital camera for whatever reasons.

---
Related Articles
Hot Articles