Unformat LaCie External Hard Drive
"Hi! How do I unformat LaCie portable hard drive to get back files? I have some videos and programs stored on my LaCie portable hard drive, but all data has been erased due to formatting. So I want to know if anyone knows the method to unformat portable hard drive so that I can recover the lost videos and programs."
"How can I restore accidentally formatted external hard drive? I formatted my LaCie external hard drive when I was attempting to transfer some data from the disk to my computer. Although I realized the mistake immediately after clicking format button, I did not escape from data loss problem. Can you tell me if it is possible to restore lost files due to reformatting?"
"My LaCie external drive is not formatted and it disables me to access any file. If I reformat the LaCie external HDD to fix the not formatted error, can you undo format the external to retrieve lost files?"
"I need unformat software to recover files after quick format my LaCie removable hard disk. I copied all data to another external HDD and then reformatted my LaCie removable HDD. However, the problem is that I cannot find any data on another external hard disk, so I want to undo format my LaCie removable hard disk and get back files."
Unformat Software for LaCie External HDD Recovery
When you reformat your LaCie external HDD, it only erases the entries to files but the real data still remain on original place. In this situation, you can use iCare Data Recovery to unformat LaCie external hard drive for data recovery as long as the external disk is not overwritten by new data. This data recovery software enables you to recover files like photos, music, videos, office files, etc off reformatted LaCie external hard drive easily and efficiently.

Steps to Undo Format LaCie Removable Hard Disk
Preparation: Download and install iCare Data Recovery on your computer. Connect the LaCie removable hard disk to your computer and run the software.
Step1. Select a proper scan mode after running the software.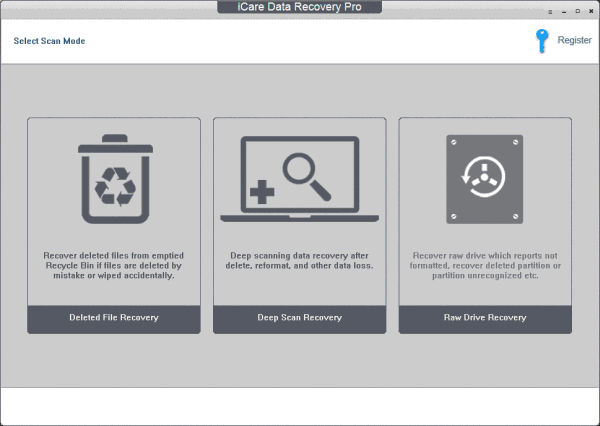 Step2. Choose the LaCie removable hard disk and wait the software to scan it for lost files.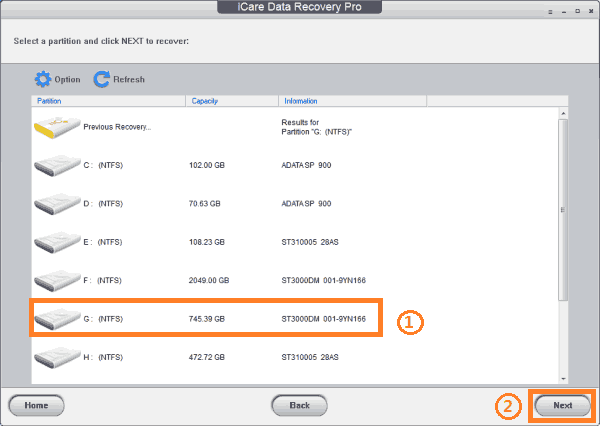 Step3. Preview the found files and then recover the files you need.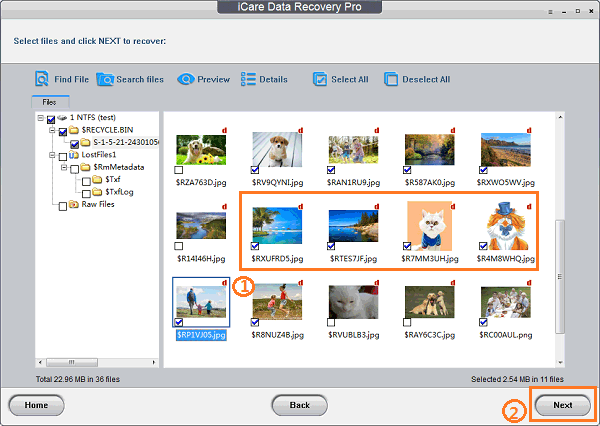 Related Unformat Issue on LaCie Portable HD
Reformatting can erase all data on your LaCie portable HD quickly, in which situation you can use iCare Data Recovery to unformat the portable HD and retrieve lost data. In addition to reformatting, there is another situation related to unformat problem, namely unformatted error. When you plug your LaCie portable hard drive to PC, system reports unformatted error which prevents you from opening the disk. In this situation, you can also employ iCare Data Recovery to recover data off unformatted LaCie portable HD.
The Bottom Line for Unformat LaCie USB Hard Drive
It is an easy task to unformat LaCie USB hard drive for file recovery by using iCare Data Recovery, so you do not need to worry about data loss anymore if you reformat LaCie USB HDD by accident or due to other reason. This unformat utility can work on Windows PC such as Windows XP / Vista / 7 / 8 to recover any type of files from not only LaCie USB hard drive but also other brands of USB hard drive. Free download iCare Data Recovery now!

---
Related Articles