Unformat External Hard Drive
"Can I unformat external hard drive after formatting it by mistake? I accidentally click the Format option after connecting my external hard drive to my computer. There were many important files on this disk before formatting, but all data was erased and my external hard drive became empty. Thanks for any advice to help recover files from formatted external hard drive."
"I received error message that my external hard drive is not formatted. Windows system asked me to reformat my external hard drive when I attempted to access the disk. I do not know if I can unformat the external HDD to get back lost files if I reformat it to fix the error, so I have no idea what to do."
"I want to look for a format recovery freeware because I mistakenly reformat my portable hard drive just now. Can somebody recommend any useful and free format recovery software for my reformatted portable hard disk drive data recovery?"
"I performed a quick format on my removable hard disk and lost everything, so I want to know if it is possible to unformat the removable disk with any tool. If anybody met the similar problem, please tell me the solution."
Unformat Software for External Hard Drive Recovery
Formatting does not erase the data completely on your external hard drive, but it only erases the file name and entries to the data. After reformatting external HDD, the first thing you should do is to stop using the disk, especially you cannot write new data to the disk. Then, you can free download iCare Data Recovery to unformat your external hard drive with all data back. With this data recovery software, you can recover all types of files after reformatting external HDD by mistake or due to other reasons.

Steps to Undo Format External HDD
Preparation: Download and install iCare Data Recovery on your computer. Connect the external hard drive to the computer and launch the software.
Step1. Select proper scan mode after running the software.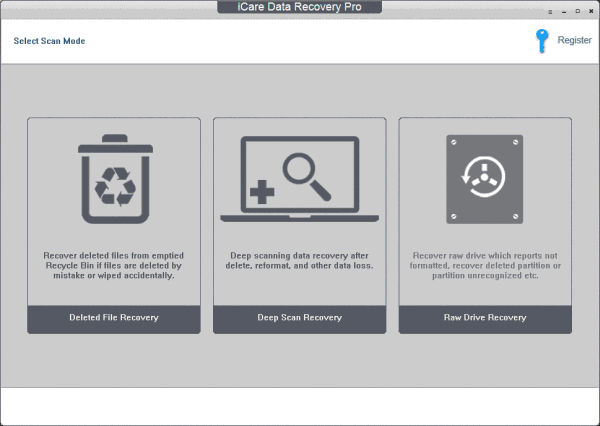 Step2. Choose the external hard drive and wait the scanning to be finished.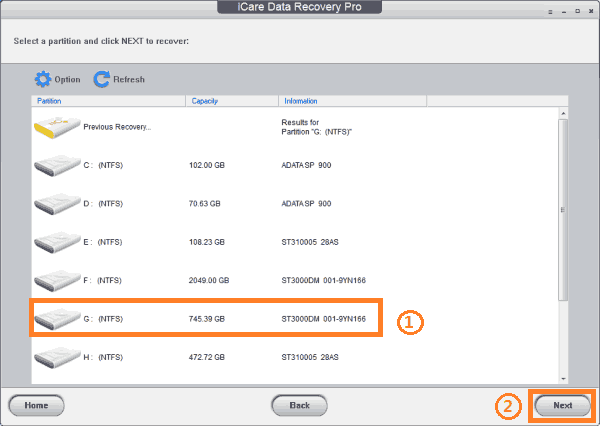 Step3. You can preview found files after scanning and save all needed files to another place.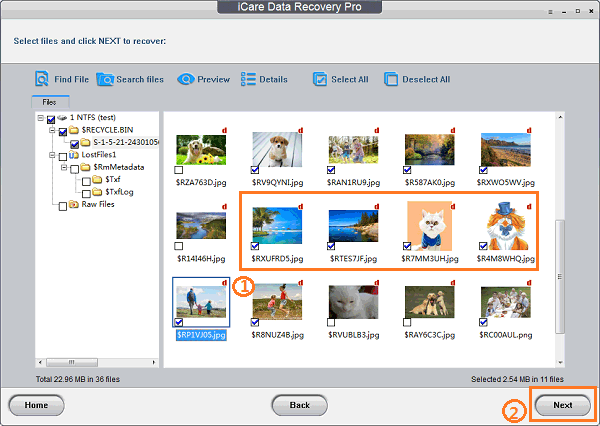 iCare Data Recovery is able to recover different types of files including deleted excel file recovery, word file recovery, ppt file recovery, photo recovery, video recovery and email recovey asn so on.
Unformatted Portable Hard Drive Recovery
Sometimes, you may reformat portable hard drive by mistake. Even worse, portable hard drive requires reformatting by frequently popping up error message disk drive not formatted. In this situation, you can also use iCare Data Recovery to recover data off unformatted portable HDD without formatting the disk.
The Bottom Line for Unformat External Disk
iCare Data Recovery helps undo format external hard disk after reformatting by accident or when external disk reports unformatted error message. By using this software, you can unformat any removable hard disk for file recovery such as Western Digital external drive recovery, Seagate external hard drive recovery, Samsung removable hard drive recovery, Adata portable hard drive recovery, Maxtor USB hard drive recovery and Toshiba portable HDD recovery, etc. This software is read-only data recovery software, which does not having any influence on your disk. Download it now to unformat external hard drive so as to recover files after format Windows 8, 10, 8, XP, Vista, etc.

---
Related Articles