Unformat Digital Camera SD Memory Card
"Hi! I need some help to unformat digital camera SD memory card for deleted photo recovery. I bought a new digital camera several days ago. Today, I inserted my old SD card to this digital camera because I wanted to use it to take some pictures. However, I mistakenly formatted SD card when using the camera. Is there any way to unformat SD card for lost photo recovery from the digital camera?"
"Hello! Can somebody tell me how to unformat an SD card after formatting in digital camera by mistake? I was viewing photos on my SD card in digital camera, and then mistakenly I click Format option on my camera. I lost thousands of pictures from this SD memory card. What can I do in order to recover photos off formatted SD card in a camera?"
Unlike smartphone, digital camera has no internal memory, so you need to insert a memory card in a digital camera in order to use it to save pictures. SD memory card is able to be used in many digital cameras like Samsung, Canon, Nikon, etc. An SD memory card can be used to save lots of photos, videos, etc on digital camera, but all data will get lost immediately when you format the SD memory card. If you want to unformat SD memory card after formatting it in camera by mistake, please stop using the SD card for data storage. This article will tell how to undo format for deleted files recovery from SD card for digital camera by using format recovery tool.
Unformat Software for Digital Camera SD Memory Card Recovery
iCare Data Recovery Pro is data recovery software which enables you to unformat digital camera SD memory card after formatting by mistake. What is more, this software also allows you to recover files off unformatted SD card corrupted  and and becomes not accessible on digital camera. You need to connect the SD memory card to a Windows computer in order to use this data recovery software to restore lost files because iCare Data Recovery Pro is compatible with Windows OS including Windows XP, Vista, 7, 8, 10, etc. With help of this unformat software, you are able to recover any type of lost files from SD memory card such as SanDisk, Samsung, Toshiba, Lexar, etc.
Steps to Unformat Digital Camera SD Memory Card

Preparation: Free download and install iCare Data Recovery on a Windows computer. Connect the SD memory card to this computer and launch the data recovery software.
Step1. Select a proper scan mode after running the software.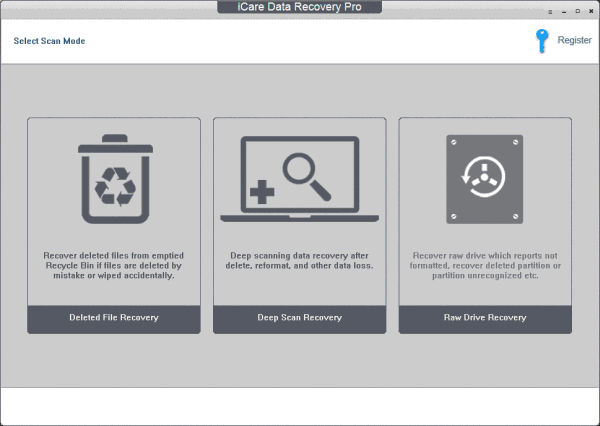 Step2. Choose the formatted SD memory card and then you just need to wait patiently when the software is searching to lost files.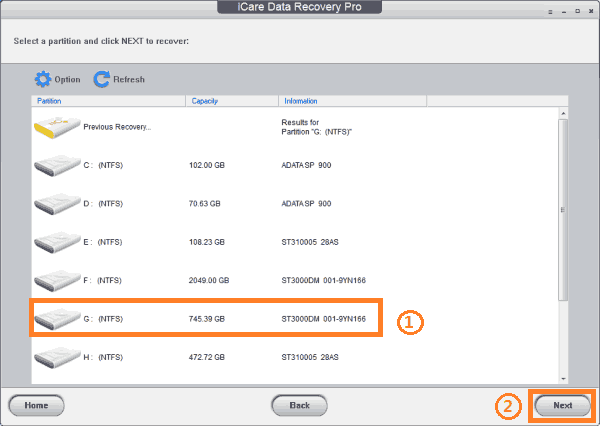 Step3. Preview files after scanning and then save the files you need to another storage media.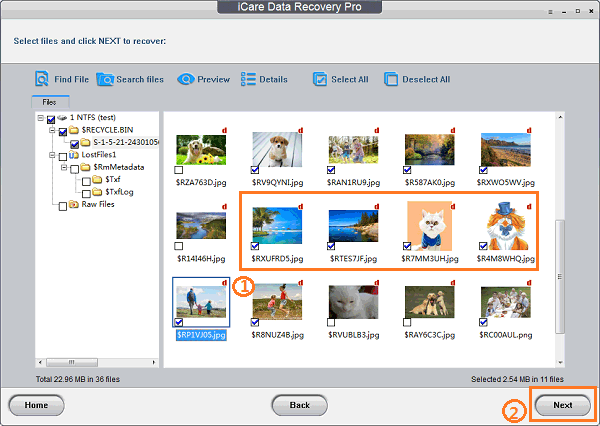 Undo Format SD Card for Camera for Photo Recovery
Photos usually mean a lot to a digital camera user. You must want to keep those photos forever when you use your digital camera to record some meaningful moment of your life. Probably, you have spent lots of time in taking those photos, but every picture can be lost only within a few seconds due to a mistaken formatting. Nobody is confident enough to say that he will never make mistake to format an SD card which contains many important data. However, the difference is that somebody will take it easy because they know how to undo format the SD card camera with all data back, while somebody will feel quite panic because they have no idea for SD card deleted data recovery card after formatting. If you do not know the solution for undo format an SD card after formatting or reformat in digital camera by mistake, now you can use iCare Data Recovery to perform photo recovery for free. This software is able to help undo format digital camera SD card with all data back.
==>> If you need more help for SD memory card photo recovery in other data situations, please go to this page - Photo recovery from memory card>>
Unformatted SD Card for Digital Camera File Restore
Has your digital camera ever reported unformatted error on an SD card when you wanted to save or read pictures on the card? SD card unformatted error is a situation in which digital camera does not allow you to open the card unless you can format the card. Even you connect the SD memory card to a computer, but Windows system will also report the same error message saying SD card needs to be formatted. Many people consider is as a situation that data is not recoverable when SD card reports unformatted error, so they might format the card to fix the error. Well, if you still think that it is impossible to recover data off unformatted SD card, you can free download iCare Data Recovery before formatting the card. This software helps recover files when digital camera SD memory card says unformatted error and becomes not readable.
iCare Data Recovery is compatible with all Windows OS for Windows 7 format recovery, Windows 8 format recovery, Windows 10 data recovery after format, formatted Windows XP / Vista data recovery.

---
Related Articles
Hot Articles