Unerase Files with Free Undelete Software
Free Unerase Software for Deleted Files Recovery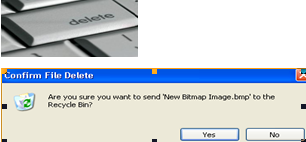 You probably erase some files from your USB flash drive, portable hard drive, flash memory SD card, etc due to carelessness. To delete files from personal computer, two different ways include using Delete or Shift + Delete on desktop / laptop.
You could restore files after erasing with best unerase software download.
iCare Data Recovery is able to reclaim deleted files from any storage:
Unerase photos, videos from memory card SD, XD, CF, etc

Unerase data from USB flash drive, external hard drive

Unerase smartphone for deleted files recovery

Recover erased items off recycle bin

Retrieve files which were removed by antivirus software

Unerase deleted files Windows 10 / 8 / 7 / XP / Vista

>>Quick Solution for Unerasing Files
Download iCare Data Recovery >> to unerase photos, videos, music, documents, etc from external HDD, thumb drive, memory card and more.
Guide to Unerase Data with iCare Data Recovery
With iCare Data Recovery, you can unerase all kinds of files from any storage device on Windows computer within 3 steps:
Step1. Free download and install the software on any drive except for the one where data got lost. Run the software and select a mode used to scan the device.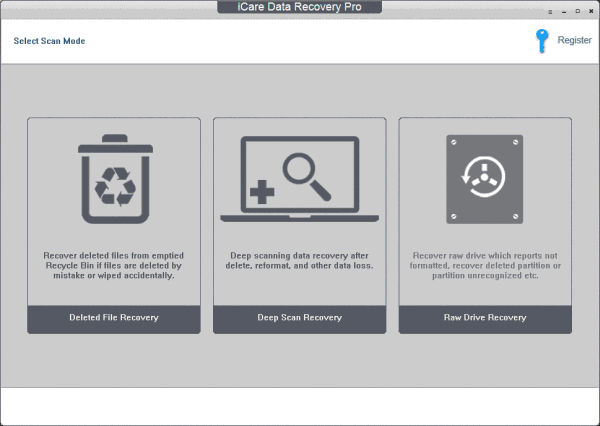 Step2. Choose the drive where you erase files and then wait the software to scan.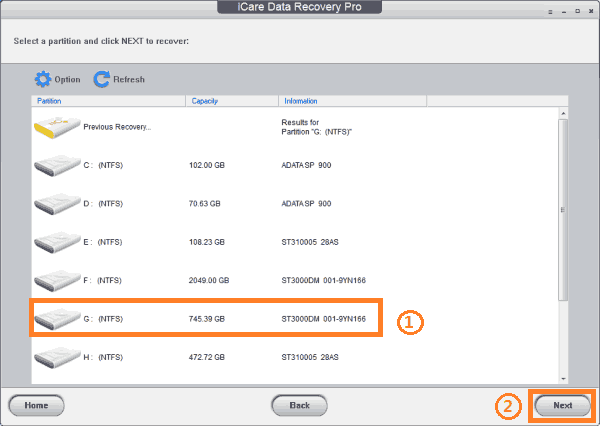 Step3. Preview found files after scanning and then save all files to another drive.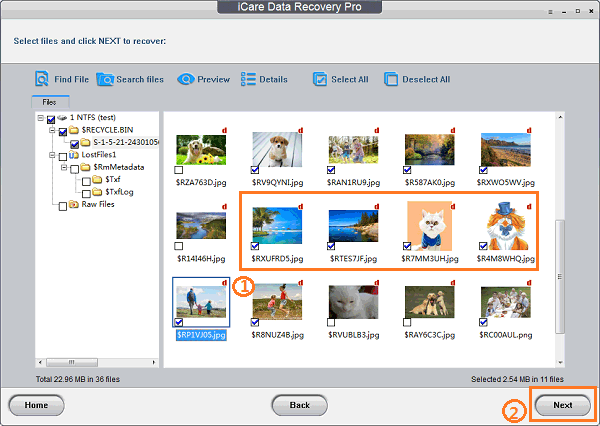 Unerase Files Free from Recycle Bin / Hard Drive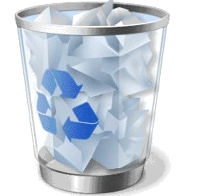 Recycle Bin is system folder in Windows OS for saving deleted items in hard disk volume. Simply say, whenever you delete a file from any partition on an internal hard drive, you do not permanently delete it from the filesystem, but it's merely removed from the file manager of Windows. Therefore, you can unerase files you like to original place as long as you do not empty recycle bin.
Even though recycle bin has been emptied or all contents have been deleted one by one from the recycle bin, you are able to unerase files from recycle bin with the free undelete tool.
Sometimes, files are not moved to recycle bin after deleting from hard drive on PC when you delete them from internal hard drive in following cases:
Erase files using Shift + Delete keys

Erase files after using anti-virus software for virus scanning

Files got erased during sing Cut and Paste command to send data

Remove contents from deleted volume or wiped disk
Recovery for Erased Photos Videos from SD Memory Card, XD, CF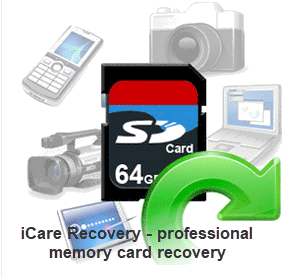 SD card (including micro SD, mini SD, SDHC, SDXC, etc), CF card and XD card are different types of flash card. A micro SD card has the smallest size, which is often suitable for mobile phone. An SDHC / SDXC card have the same size with microSD card but they have larger storage capacity. CF card (compact flash card) and XD-picture card are specialized in digital cameras.
Using a memory card, you can put many files on it and you may also erase photos, videos, music and other data from the card due to mistake.
Though they have differences, those memory cards also have some same features. All kinds of memory cards can be recognized by Windows computer. You can restore erased data from SD card as well as other memory card by connecting the card properly to Windows OS.
Rescue Contents from Wiped USB Pen Drive / External Hard Drive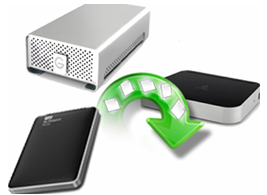 USB flash drive (sometimes called flash drive, thumb drive, USB memory stick or pen drive) and external hard drive are two different removable storage disks. They can be used to save and transfer data from one media to another. A thumb drive has smaller size and storage capacity than an external hard drive, but many persons like to use usb thumb drive due to its tiny size. When you delete files from an external HDD or USB drive, it is the same to that of deleting files from an internal hard drive. The only difference is that data deleted from removable disk does not go to recycle bin, so you need to unerase deleted files from USB pen stick or external removable disk with a tool.
Unerase Freeware for Android Recovery
Have you erased any file form a cellphone? Today's Android phone is designed with high-tech, which may already take place of computer to some extent. You can erase an Android mobile phone like Samsung, Blackberry, HTC, LG, Nokia, etc to delete files. Then, do you know how to unerase Android phone for deleted files recovery for free? Since there is no recycle bin on any mobile phone, you cannot recover erased data directly without software. You need to attach the phone to your computer in order to perform data recovery with the unerase freeware for mobile phone.
Unerase Files Windows 7 / 8 / 10 / XP / Vista
It is easy to erase any type of data on a Windows PC no matter it is Windows XP which are no longer supported by Microsoft Corporation or new released Windows 10. Although each Windows OS has some difference in their user-interface and features, it is the same when you delete any file from each of them. Therefore, you can use the same unerase tool to unerase files from Windows XP, Vista, 7, 8 and 10 whether you clcik Shift and Delete keys or simply click Delete on your computer.

Free download iCare Data Recovery
---
Related Articles
Hot Articles