Undelete Windows 8 Recycle Bin
Do you want to undelete recycle bin after emptying it on Windows 8? Every Windows PC provides Recycle Bin for its users to store files deleted from hard disk drive on their computer, so does Windows 8 computer. Recycle Bin always gives you one more chance to restore mistakenly deleted files to original place. However, nothing is even worse than the situation that you have no chance to recover deleted data because you accidentally deleted files in Recycle Bin or emptied Recycle Bin. What can you do when you find that Recycle Bin shows empty on Windows 8? Please calm down! You still have chance to undelete Recycle Bin on Windows 8 after emptying it by mistake or on purpose.
How to Undelete Recycle Bin on Windows 8?
After deleting files from recycle bin on Windows 8, you can use iCare Data Recovery Pro and follow the steps below to recover permanently deleted files from Recycle Bin Windows 8:

Step1. Free download and install iCare Data Recovery on Windows 8 computer. Then, launch the software and choose a proper scan mode.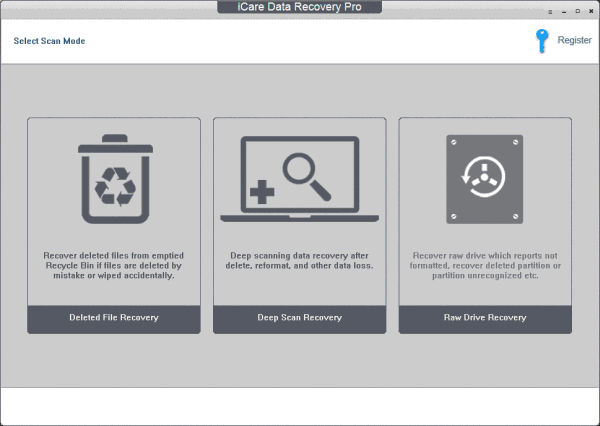 Step2. Select the disk drive where data got deleted and then the software will scan it to search lost files.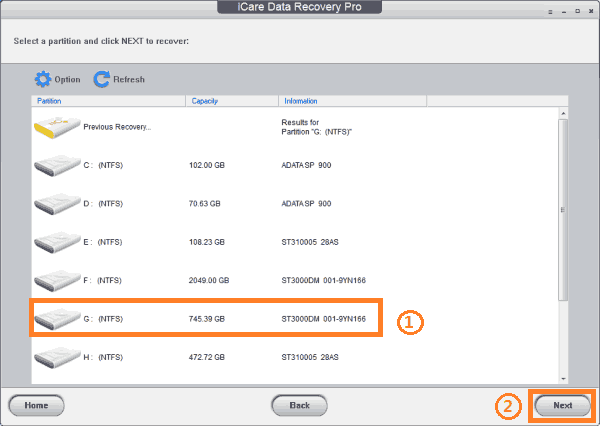 Step3. Preview files after scanning and then save the lost files to other drive.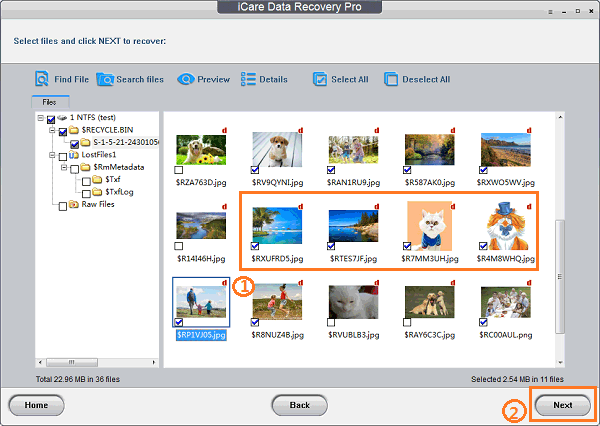 Why Empty Recycle Bin in Windows 8?
Files will not be permanently before empting Recycle Bin on Windows 8. Then, why do you empty Recycle Bin on your Windows 8 PC?
1. Emptying Recycle Bin in order to free up disk space
When you delete a file on Windows 8 hard disk partition, the delete data goes to Recycle Bin. Before you delete the data in Recycle Bin, the data will still occupy the hard disk space on Windows 8. Therefore, you might empty recycle bin in order to free up disk space on Windows 8.
2. Delete files from Recycle Bin by mistake on Windows 8
Probably, you mistakenly click "Empty Recycle Bin" option after which you erase everything stored in the Recycle Bin. Or you mistakenly deleted selected files in Recycle Bin when you attempted to restore them.
You may empty Recycle Bin due to some other reasons, but you should remember not to write new data to the hard drive where data got deleted in order to undelete files after emptying Recycle Bin on Windows 8.
Undelete Files after Emptying Recycle Bin on Windows 8
If you want to undelete files after emptying Recycle Bin on Windows 8, you can run iCare Data Recovery to deep scan the hard disk partition where data got deleted. For example, you mistakenly delete files from D drive on Windows 8 and then empty recycle bin, and then you can run the data recovery software to deep can D drive so as to search every single deleted file. iCare Data Recovery supports to recover deleted data on Windows 8, such as:
Recover data from different brands of hard disk drive including Seagate hard drive, Hitachi hard drive, WD hard drive, Toshiba hard drive, Samsung hard drive, Maxtor hard drive, etc
Undelete files from NTFS partition, FAT32 partition and HFS+ external HDD on Windows 8
Undelete different types of files including videos, images, music, email PST files, documents, etc
Situations That Deleted Files Do Not Go to Recycle Bin on Windows 8
Have you ever encountered the problem that deleted files do not go to recycle bin? Here are some common situations that files might be not moved to recycle bin after erasing on Windows 8:
1. You delete files by pressing Shift + Delete keys on Windows 8. Usually, when you shift delete a file on any Windows computer, the data will be deleted at once without going to recycle bin. Therefore, you had better think it carefully when you attempt to delete some file by pressing Shift + Delete keys on your computer.
2. You have set "Do not move files to the Recycle Bin. Remove files immediately when deleted." on the Properties of the Recycle Bin. In this situation, when you delete files from hard drive on Windows 8, the deleted data will be erased immediately and the disk space which was used to store deleted data will be marked as empty at the same time.
3. You delete files from removable disk after plugging it to your computer that runs Windows 8 operating system.
Whenever you delete files from a removable disk on Windows 8 OS, the deleted data will not be moved to recycle bin but it will be deleted immediately once you perform the deletion operation. For example:
iCare Data Recovery allows you to recover data from any removable disk when deleted data does not go to Recycle Bin on Windows 8.

---
Related Articles