Undelete Toshiba External Hard Drive
"I am searching for an undelete tool with which I can perform external hard drive deleted file recovery. Today, I plugged my Toshiba external hard disk to my PC to download some programs, but I accidentally deleted some folders on the Toshiba external hard disk. At the beginning, I though that I can restore the deleted files from Recycle Bin, but I found nothing in Recycle Bin. Can you recommend any useful undelete tool for me?"
"I want to know how to recover deleted data after formatting Toshiba external HDD on my computer? I have some videos, music, documents and applications on my Toshiba external HDD, but I mistakenly formatted the external disk. Is it possible to undelete videos and applications after formatting external hard disk by accident?"
"I deleted some important data on my Toshiba portable HDD due to external hard drive is not formatted error. When I connected my Toshiba portable HDD to my computer, Windows system recognized it as a RAW device and it asked me to format disk drive when I attempted to open the disk. So I clicked yes button and formatted the portable HDD. Although I can open the Toshiba portable HDD now, all data is deleted on the disk. Now, I want to know if I have any chance to undelete files after formatting a not formatted Toshiba portable HDD."
"My Toshiba removable disk shows 0 byte space. Does it mean all data is deleted? I also got a message to say CHKDSK is not available for RAW drives on the Toshiba external. Please tell me the way to undelete external hard drive of Toshiba when it has 0 byte space and turns to RAW."
Undelete Software Download for Toshiba USB HDD Recovery
You can undelete files from Toshiba USB HDD by relying on iCare Data Recovery software. It is an advanced and read-only undelete program, which can works on Toshiba USB HDD to recover all types of deleted files such as images, videos, music, office files, etc. This data recovery software helps undelete your Toshiba USB HDD in all kinds of data loss problems. Now, you can follow the steps below to restore deleted files on Toshiba USB HDD:

Step1. Run the data recovery software and choose a scan mode.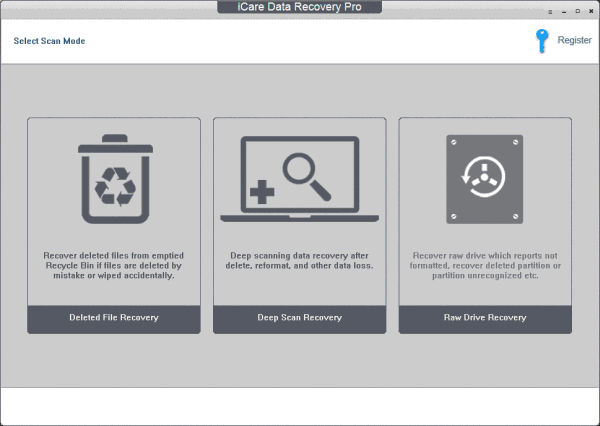 Step2. Choose the Toshiba USB HDD as aim disk and then the software will scan it for lost files.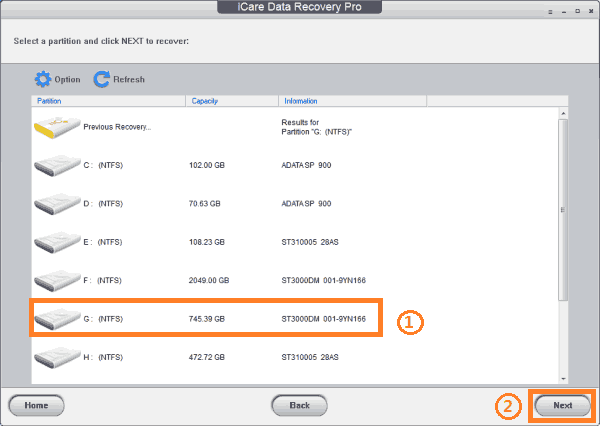 Step3. You can preview some found files like images and documents. Then, you can recover all files you need.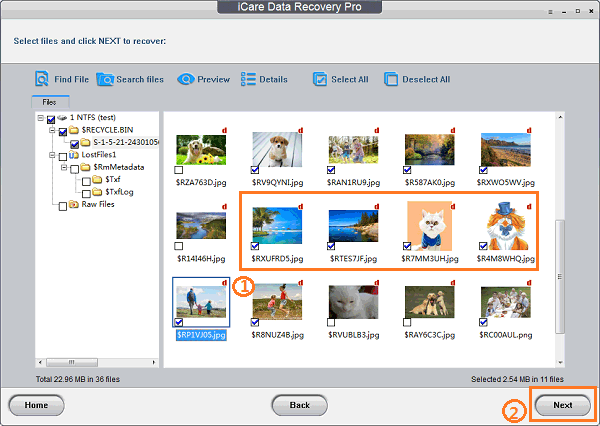 About Toshiba External HD
Toshiba external HDD is developed by Toshiba Corporation, which was founded in Japan in 1875. Like other brands of external HDD, Toshiba external HDD can be also called Toshiba external hard disk drive, Toshiba external hard drive, Toshiba portable hard drive, Toshiba portable HDD, Toshiba removable disk, Toshiba USB hard drive, Toshiba USB HDD, Toshiba removable HDD and Toshiba external disk, etc.

---
Related Articles