Undelete SD Memory Card Micro SD SDHC Card


SD memory card data deleted?
Recover deleted files/photos off SD Meory Card? How to recover deleted photos from memory card?
iCare Data Rcovery is able to undo delete SD card, undelete SDXC card files. iCare Data Recovery Pro is a kind of software that help us undelete our sd memory card. We use sd card to store our photos, but sometimes if we are not careful enough, we may lose our information, sometimes you may be using your cellphone to delete something, but if you do it in a wrong way, how can you do to recover the data?? iCare Data Recovery is an undelete tool for SD card deleted files recovery, CF card recovery and memory stick recovery after deleting.
You can use it to help you undo delete SD card, undelete micro SD card pictures and find the data you have lost for free download.
Download iCare Data Recovery to free recover deleted files from SD card now!

Steps to Recover deleted files off sd card

Step1. You need to connect the sd card to your computer. Download and install the data recovery software. Run the program and choose a recovery module.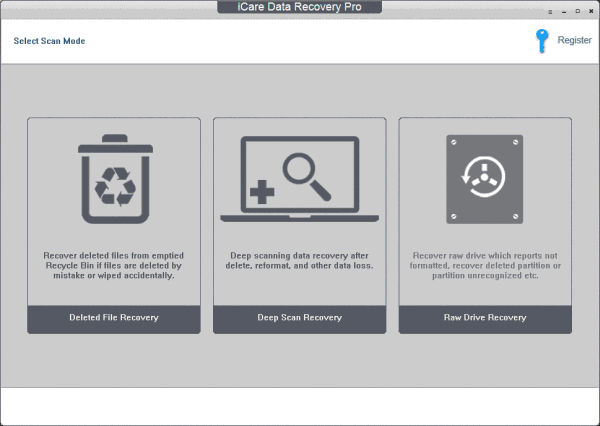 Step2. Choose the SD card and the software will scan it for lost files. You only need to wait when the software is scanning.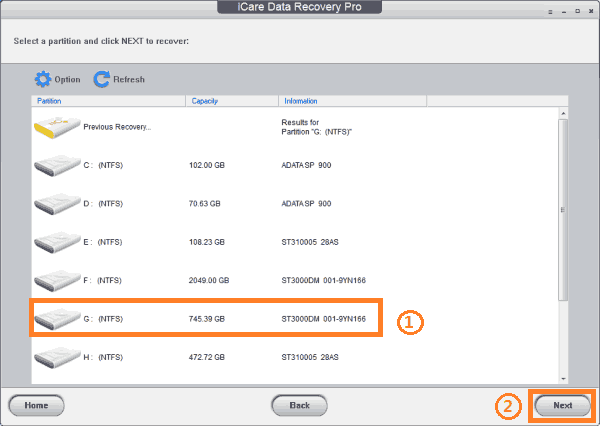 Step3. You can preview some files when the scanning is over. Then, you can choose the files you need and save them.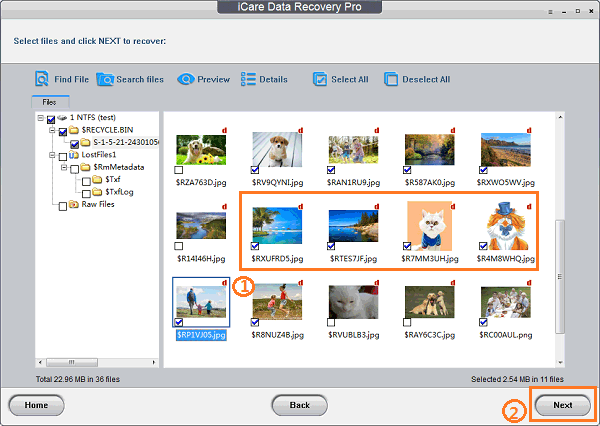 How useful iCare Data Recovery Pro is!!!
There's a user who used this software regaining his data..
"I am very happy that I have found out my photos, at the beginning, I don't know whether I can recovery my sd card, I like my photos very much, For me, it's my treasure.. I was very regretted that I did that fool thing, I delete it without attention.
But I must thank for the iCare Data Recovery Pro, becase of it, I found my data.    
It's really a good recovery software for SD card to undelete any file, It's really a good FORMAT RECOVERY SOFTWARE." If you want to undelete your sd memory card ,just try to use iCare Data Recovery Pro. Besides unformat data off sd card, this utility is also be able to undo quick format and perform a full recovery if there is no new data written to the quick formatted external.
Here is a user's experience related with undelete SD memeory card and solved his problem with iCare Data Recovery Pro
I bought my small camera for a long time, and I have a lot of beautiful pootos stoerd in it .in the camera, there's a 64MB Smart media chip, all my favorite photos are stored in it, one day after my joyful traveling, I came home and I wanted to appreciate my photos, but I'm so tierd that I even don't know what keyboard I have pressed, all the photos were deleted. I don't know whether I can recover deleted SD card photos.
Suggestions please!! Thanks in advance!!!
If you encounter data loss problem on an SD card due to RAW unformatted error, you can also use iCare Data Recovery software to recover data from RAW memory card. With the software, you can rescue files when you mistakenly format the SD card from RAW to FAT32 as long you there is no new data being written to the card. If you want to recover deleted files from pen stick, you can also rely on this data recovery software.

---
Related Articles
Hot Articles