Undelete SD Memory Card Micro SD SDHC Card
SD memory card files got deleted? How to undelete SD memory card for file recovery?
People like to use SD card to store photos, videos, music and more other files. However, sometimes if you are not careful enough, you may lose all contents on the card. For instance, you may use your android phone to delete something, but if you do it in a wrong way, you might delete everything on the SD card for your phone, sometimes, you may even make your sd card corrupted.
Video - Undelete sd card data
Also read: memory card data recovery
Undelete SD Memory Card Free Download Software

Step1. You need to connect the sd card to your computer. Download and install the data recovery software. Run the program and choose a recovery module.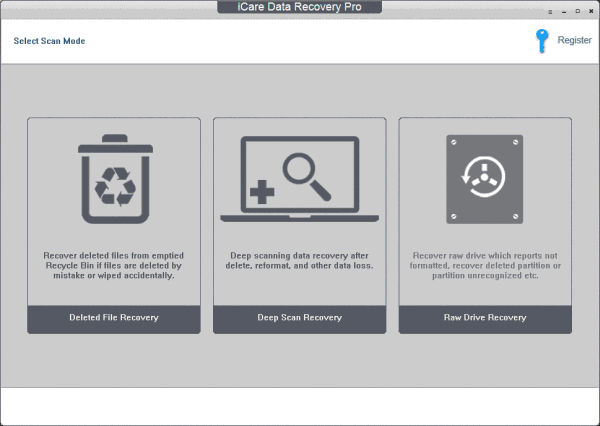 Step2. Choose the SD card and the software will scan it for lost files. You only need to wait when the software is scanning.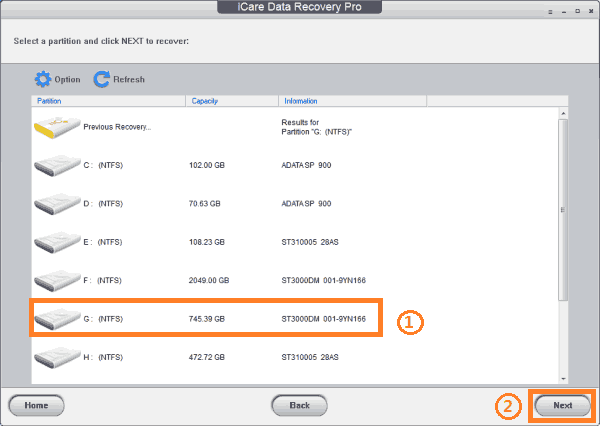 Step3. You can preview some files when the scanning is over. Then, you can choose the files you need and save them.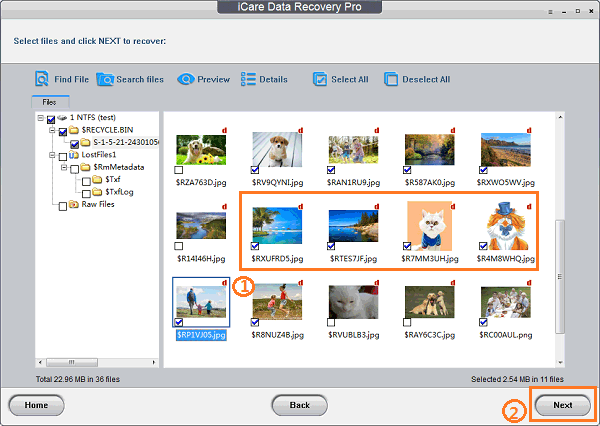 Users' Feedback – Recover Deleted Files from SD Memory Card
There's a user who used iCare Data Recovery to regain his data after deleting from SD memory card...
"I am very happy that I have found out my photos, at the beginning, I don't know whether I can recovery my sd card, I like my photos very much, For me, it's my treasure.. I was very regretted that I did that fool thing, I delete it without attention. But I must thank for the iCare Data Recovery Pro, becase of it, I undeleted SD memory card and found my data. It's really a good recovery software for SD card to undelete any file."
Here is another user's experience related with undelete SD card for digital camera and resolve his problem with iCare Data Recovery Pro...
"I bought my digital camera for a long time, and I have a lot of beautiful photos being taken with this nice camera. In the camera, there is an SD memory card, and all my favorite photos are stored to this tiny card. One day after my joyful traveling, I came home and I wanted to appreciate my photos, I am so tired that I even do not know what keyboard I have pressed, all the photos were deleted. After trying several freeware which did not work, I found iCare Data Recovery Pro. I helped me recover deleted photos from SD card for my camera within only a few minutes."
Undelete Files from SD Card in Various Brands
From the users' feedback, you know that iCare Data Recovery Pro has the ability to recover deleted files from SD card for smartphone and digital camera. In addition, iCare Data Recovery Pro has no limitation to undelete files from SD card in different brands:
Apart from what mentioned above, undelete software iCare Data Recovery Pro almost supports all brands of SD memory card such as Kingston, Kingmax, Panasonic, Maxell, etc.
It does not matter you delete files from SD card in your phone, digital camera or other devices, you can free download iCare Data Recovery Pro and insert the SD card to a Windows PC for deleted file recovery.
Also read: free memory card recovery
---
Related SD Articles
Other Articles
Hot Articles