Undelete SanDisk SD Card for Android Phone
"Is it possible to undelete SanDisk SD card for Android mobile phone? I bought this SanDisk SD memory card a few years ago and I have saved a lot of photos, videos, text files and music on the SD card. Recently, I found that the SD memory card is nearly full, so I want to move some files from the SD card to computer's hard drive. After connecting the SanDisk SD card to my computer, I mistakenly delete several photos from this card. I want to ask how to recover deleted files from sd card android."
"I delete a folder from my Android phone SanDisk SD card, so I want to search for an undelete program in order to get back all deleted files. The deleted folder contains many familiar photos. I deleted files from the SD memory card in my Android phone, and there is no trash bin to save the deleted data on my memory card. How can I recover deleted files from my mobile phone memory card?"
SanDisk SD card is widely used in Android phone, digital camera and more other electronic devices. When you delete one or more files from a SanDisk SD card whether on your Android phone or after connecting the card to a computer, the deleted data does not go to any recycle bin. The only chance to recover deleted files from SD card SanDisk is to use an undelete tool.
Undelete Software for SanDisk SD Card Recovery for Android Phone
When you delete data from a SanDisk SD card for Android phone, it only deletes the files from table address and makes all data invisible. An undelete program is able to deep scan the SanDisk SD card and show all invisible data, so that you can save those found data to another storage media. iCare Data Recovery Pro is an undelete program, which enables you to search all deleted files from a SanDisk SD card for any Android phone such as Samsung, Blackberry, HTC, etc. This software also supports other brands of SD memory card in addition to SanDisk, it even works for corrupted sd card.
Steps to Undelete SanDisk SD Card for Mobile Phone

Preparation: Free download and install iCare Data Recovery on computer. Connect the SanDisk SD card to the computer and launch the data recovery software.
Step1. You can select a proper scan mode after running the data recovery software.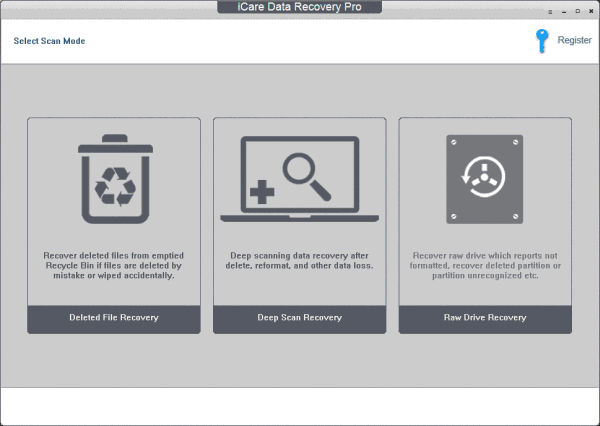 Step2. Choose the SanDisk SD card and then wait the software to scan it. You need to wait patiently before the scanning is completed.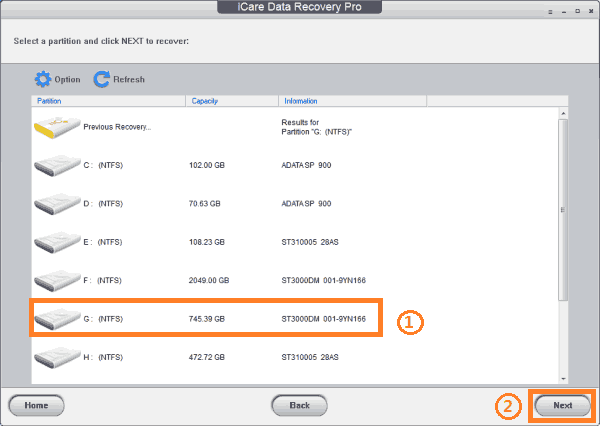 Step3. Preview the files after scanning and then save the lost files to another drive.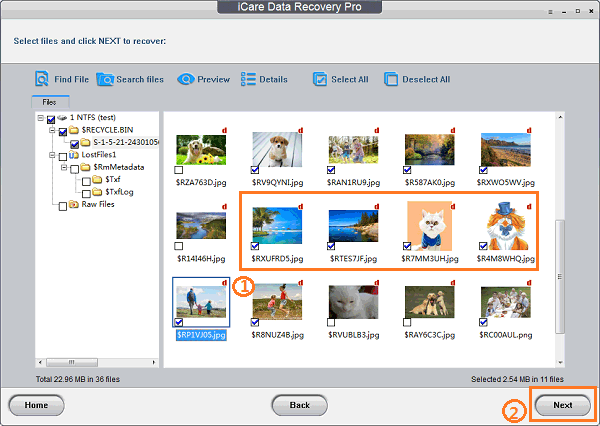 Undelete Photos off SanDisk SD Card for Android Phone
Many people like to take photos wherever they go. You do not need to buy a professional digital camera today because smartphone has a function of taking pictures. When you use a smartphone to take photos, the data will usually be stored on phone internal memory or memory card inserted in the phone. If all your photos are stored on a SanDisk SD card on Android phone and mistakenly you delete some or even all pictures from this SD card, what will you do? In this situation, you should not take more photos and then you can use iCare Data Recovery to recover deleted photos from SD card of SanDisk by connecting the card to your computer.
Undelete Program for Other SD Memory Card for Smartphone
As you know, there are different types of SD card including micro SD, mini SD, SDHC, SDXC, etc. All those types of memory cards are able to be used in smartphone. If you delete any data from any type of similar SD card by mistake or due to other reasons, iCare Data Recovery also allows you to undelete files from those kinds of SD memory card easily. With this undelete software, you are able to undelete pictures, videos, audio files, emails, documents, etc from any SD card for smartphone.
Antivirus Software Removes Data off SanDisk SD for Cell Phone
Antivirus software is able to protect your computer or Android phone from being attacked by unexpected virus, so people usually install an antivirus program on their computer or smartphone in order to protect computer or phone from suffering virus infection. However, sometimes, antivirus software might mistakenly delete some important data from memory card in your smartphone because the software considers the files as unsafe data. If you face the same data loss problem, you can use iCare Data Recovery to restore deleted files from SD memory card. As a professional and useful undelete program, iCare Data Recovery does not only allow you to recover deleted data from SanDisk SD card, but also from other brands of memory card such as Transcend, Lexar, Toshiba, Samsung and more.

---
Related Articles
Hot Articles
Hot Tags