Undelete Files from Huawei Phone Memory Card
"Hello! How do I undelete files from Huawei phone memory card? I accidentally deleted photos from memory card for my Huawei mobile phone just now. Can I do something to get back all deleted data? Would you like to share any undelete software which is able to recover files deleted from Huawei mobile phone memory card easily and effectively? Thanks!"
"I need to undelete some files from my Huawei smartphone memory card after formatting. I connected my Huawei smartphone to my computer to copy some data, but I mistakenly formatted memory card inserted in the Huawei phone. I lost all data including some videos, pictures, music and documents from the memory card. If possible, I just want to undelete lost pictures and videos. Can anybody tell me the solution for deleted file recovery after formatting Huawei mobile phone memory card?"
It is possible to undelete files from memory card for any type of Huawei mobile phone after mistakenly deleting, formatting or files got deleted due to other reasons. The only thing you need to do is to ensure not to overwrite the memory card. In order to protect the memory cad fro Huawei mobile phone from being overwritten, the most important point is not to add new data to the memory card. Then, you just need to rely on data recovery software to undelete Android for any lost file recovery from the memory card inserted in it.
Undelete Software for Huawei Phone Memory Card Recovery
iCare Data Recovery Pro is a read-only data recovery program that is able to undelete files when they get lost due to deleting, formatting or other reasons. This undelete software supports to recover data off any type of memory card for Huawei mobile phone. iCare Data Recovery software is capable of retrieving files including pictures, videos, music, etc for Huawei mobile phone memory card on Windows computer. This software is able to deep scan the memory card where data got lost so as to search all deleted file. By using this data recovery software, you do not need to worry about any damage to the memory card or computer because it is risk-from any virus or spyware.
Steps to Undelete Files off Huawei Smartphone Memory Card

Preparation: Free download and install the Android deleted file recovery software on Windows computer. Connect the memory card to your computer and launch the data recovery software.
Step1. Select a proper scan mode after running the software.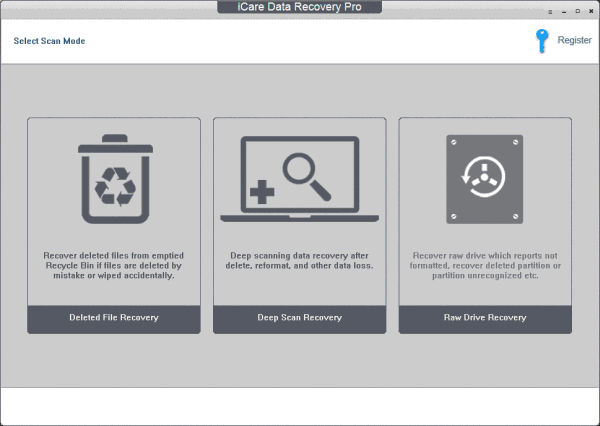 Step2. Choose the memory card and then you only need to wait when the software is scanning.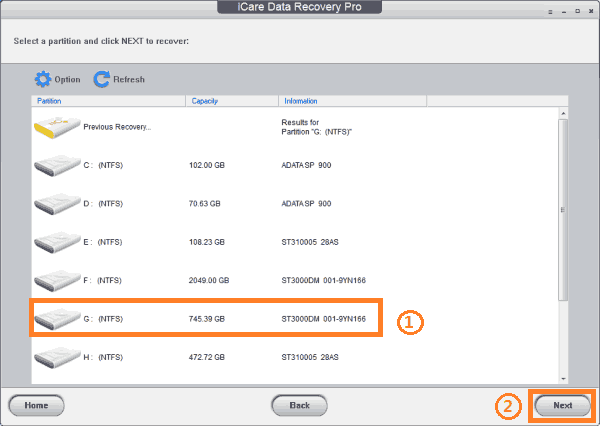 Step3. Preview files after scanning and then save the lost files to another drive.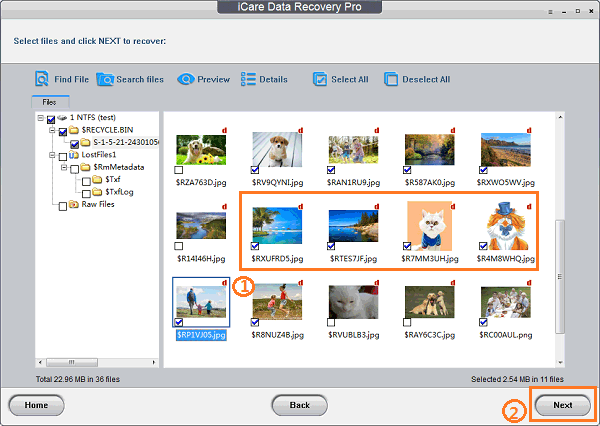 Important Points for Huawei Phone Memory Card File Recovery
With help of iCare Data Recovery, you are able to undelete any file off memory card for any type of Huawei Android phone. However, you should pay attention to following points in order to recover all data:
Never write new file to the memory card before getting back the deleted files
Put the memory card in safe place to protect it from being physically damaged
Do not connect the memory card to a computer which might contain virus or spyware
Never save the recovered files to the memory card where data got lost
Situations That You Need Undelete Tool for Huawei Phone Memory Card Data Recovery
An undelete tool aims to recover deleted or lost files from storage media. You may need an undelete tool for Huawei mobile phone memory card data recovery in following situations:
1. Undelete software for mistakenly deleted file recovery from memory card for Huawei smartphone
As an undelete tool, iCare Data Recovery is able to help recover mistakenly deleted pictures / files from memory card for Huawei mobile phone. It allows you to restore data whether you delete data on Huawei mobile phone or mistakenly press Delete button after connecting the memory card to your computer.
2. Undelete software for memory card data recovery when files get deleted by antivirus software
Sometimes, you may not delete any data from your memory card, but some data gets deleted with unknown reasons. In this situation, a possible reason is that data is deleted by antivirus software. Sometimes, when you run an antivirus program, it might mistakenly delete some files off memory card because the software considers the files as unsafe data. iCare Data Recovery also supports to recover data which got deleted by antivirus software.
3. Undelete software for Huawei cell phone memory card recovery after formatting
Formatting is able to delete all data from a memory card quickly. You can use iCare Data Recovery to recover data after formatting memory card in Huawei cell phone or computer.
As a matter of fact, iCare Data Recovery allows you to undelete files in more other situations, such as files get deleted after cutting data memory card to computer, files are deleted due to virus infection and more.

---
Related Articles