Undelete Email Outlook Express
iCare Data Recovery Pro - fast, easy data recovery software.
If you deleted email files, you can undelete it by iCare Data Recovery Pro. This program will search and retrieve email file produced by outlook express that may lost since deletion by mistake, software deletion, system error that makes your email files gone.
It is easy to use email undelete tool, which is available for pen drive data recovery, portable hard drive recovery, memory card recovery, etc.
Steps to Recover deleted email outlook express

Step1. Download and install the data recovery software on your computer. Launch the software and choose a recovery module.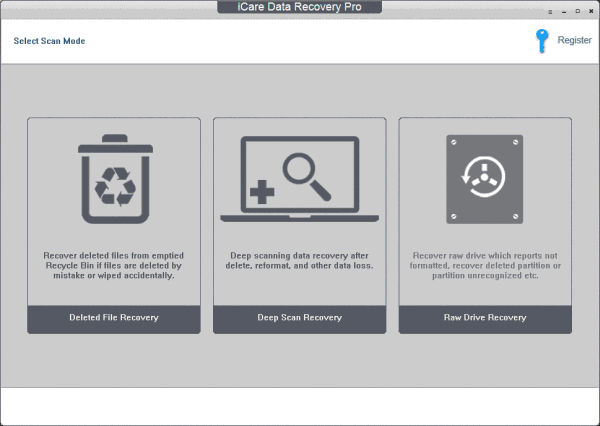 Step2. Choose the device where data was deleted for scanning. Then, you only need to wait before scanning is finished.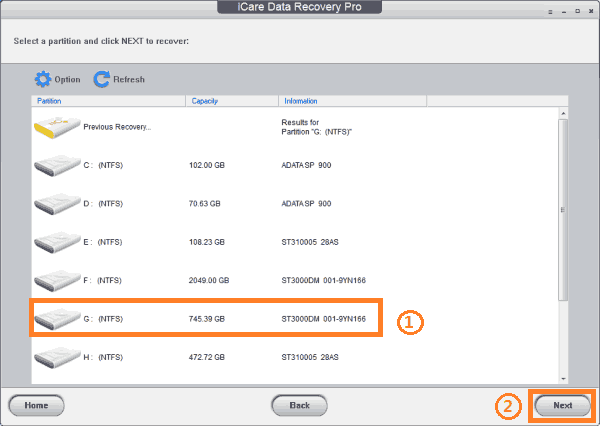 Step3. You can select all needed data and save them.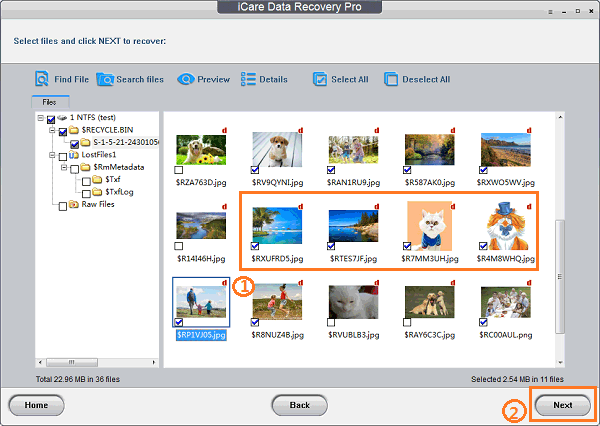 As an email user, accidentally deleted messages, notes, contacts, etc is a common thing. but there are many kinds of problems you may meet, here, we'll introduce one of them and tell you how to quickly and totally deal with it.
What's Microsoft Outlook Express?
Outlook Express is a widely used e-mail program which attach to Microsoft applications as part of its package. Businessman must be fond of it because of its ability to organize everything by itself and store a number of messages for a long time. Its function contains sending mails and rending messages sent by others.
What's the common reason of why the data getting lost?
As we said above, although the Outlook Express has a much bigger capacity than the others, there's still a limited to its size. If you stored messages far beyond its size, .DBX files in which mails stored began to break. This is one of the common reason, so, you need a method to deal with it.
Steps should be taken to solve these problems
If you're just an ordinary use without any professional knowledge to do with these problems, it doesn't matter, just install iCare Data Recovery Pro and then follow its instructions, you can quickly solve them with some mouse clicks. finally, look back at your Outlook Express, you've got everything back.
Some excellent features about iCare Data Recovery Pro
It is totally automatically, it means that iCare Data Recovery will detect the path where the .DBX files stored in, you are able to see a list of . DBX files in the source .DBX file field.
It will initiate the process of mail analysis, it means that iCare Data Recovery permits to repair deleted messages, it is all by your choice.
It will unpack many files of email format for Outlook Express
The process of email recovery and undeleted Outlook Express with iCare Data Recovery just needs several steps, what's more, these steps are quite easy for you, reading the instructions in the wizard will do. Try iCare Data Recovery Pro and we'll make sure you can repair corrupted files with .DBX extension. Now that we have known so many perfect functions of the software, it is time to learn some steps to use it.
iCare Data Recovery also allows you to recover files after deleting from SD card. What is more, you can use this data recovery software to recover files even if SD card is not accessible because SD card shows as blank and has RAW file system.

User's experience
You'll never know a faster method to deal with your mail problems, what I want to say now is "iCare Data Recovery Pro is perfect" . there is no need to say much about my experience, the reality talks big than words, so what you have to do is to have a try, then whether it is good or not is in your mind.
---
Related Articles