Unable to Complete Format SD Card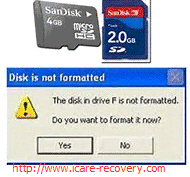 "SD card asks to be formatted but Windows was unable to complete the format. What should I do next? As a matter of fact, I do not want to format the SD card because it contains many important files. However, I cannot open the memory card if I do not format it. I am wondering if there is any way to repair the corrupted sd card without formatting."
"My micro SD card changes to RAW file system and ask me to format it in my Android phone. Then, I connect the card to my computer, but Windows system pops up the same error message to say microSD card needs formatting. Without any choice, I click Yes to format the card, but I get another message that Windows was unable to complete the format. What is wrong with the micro SD card and how to recover data from SD card?"
Failed to Format RAW SD Card
People seldom reformat an SD memory card unless its file system is corrupted and changes to RAW file system. Usually, when an SD card turns to RAW file system, its capacity will show 0 byte space and it will ask you to reformat the card. If the SD card is not corrupted, usually you can format it successfully and use it again. However, if there are too many bad sectors on the card or it contains virus, Windows probably say that SD card is unable to be formatted.

>>Quick Solution for Data Recovery When SD Card Cannot Format
Download iCare Data Recovery Pro to recover files from various SD cards including SDHC, SDXC, micro SD when it shows unformatted and cannot be formatted by Windows.
Data Recovery from Unformatted SD Card
It prevents you from accessing any data on your SD card when it cannot be formatted, but you can rely on iCare Data Recovery software to restore files. If you run into the similar problem above, the first thing you should do is to connect the card to your computer and then run the data recovery software. This software allows you to recover all types of files from unformatted SD card. Now, you can follow the steps below to recover deleted data from SD card which has RAW unformatted error:


Step1. Launch the software and choose a recovery module.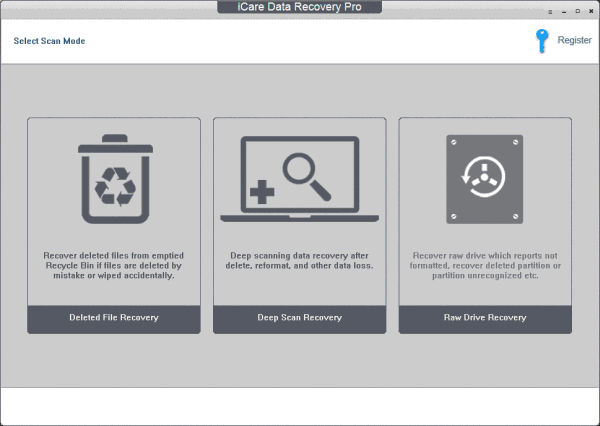 Step2. Choose the SD card as aim disk and let the software scan it for lost files.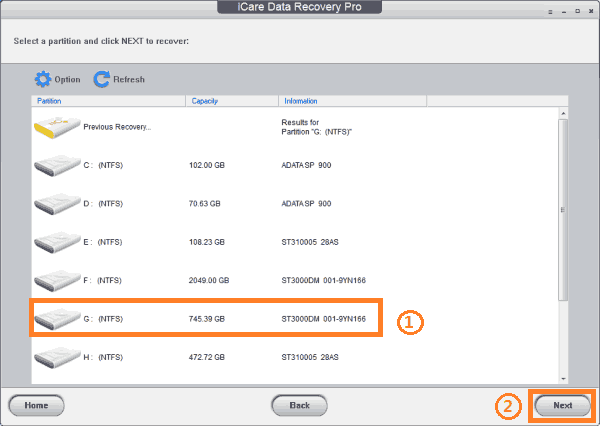 Step3.   Preview the found pictures after scanning and then recover files you need.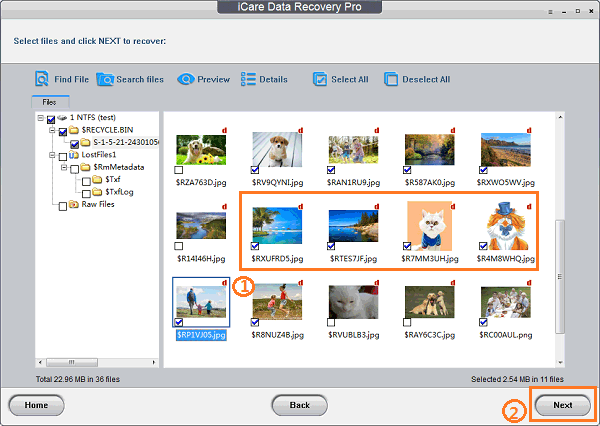 How to Open SD Card without Formatting?
When SD card says not formatted error, many people want to look for a way to access the card and get back data without formatting. Usually, it is impossible to open an unformatted SD card without formatting. If you want to access an unformatted SD card without losing data, you can run data recovery software to recover files first of all and then format the SD card. However, you have to format the SD card successfully in order to open it.
==>> To get more useful methods to resolve the problem without losing data when SD card is unable to be formatted, please refer to Windows is unable to format error
Note:
Since data is unrecoverable if it has been overwritten by new data or the SD card is physically damaged, you should not try any method to format the SD card or fix problem on it before you are sure that you have get back everything you need!
"I inserted my 4GB SD card to a card reader and connected it to my Windows XP computer. When I attempted to open the card to copy some files, it says disk drive is not formatted do you want to format it now? I tried my best to access the SD card without formatting but failed. Then, I decided to format the card, but I received another message to say Windows was unable to format SD card. Now, what can I do to repair unformat error on SD card and restore data?"
Windows Unable to Format SD Card
Windows unable to format error occurs on an SD card frequently because many people would like to perform format on the SD card by connecting it to a computer when they receive error message that SD card needs to be formatted or shows RAW.
==>> Refer to this page for SD card RAW unable to be formatted problem
Unable to Format SD Card on Any Device
An SD card can be used in different devices, so you may find it cannot be formatted in various situations:
>> Windows was unable to format SD card when you format it on computer
>> SD card was unable to be formatted by Android when it shows RAW file system on your phone
>> SD card unable to format error while formatting it in digital camera
==>> This page to share causes and guide you to fix unable to format error on SD memory card in all situations and devices
SD Card Write Protected Cannot Format
"I used Diskpart, Disk Management, command to format my micro SD card but I got an alert message while formatting it, Windows says the micro SD card is write-protected and cannot be formatted." - A user from tomshardware forum
For detailed information about this user's experience, please go to the user resources of this page.
SD card write-protection would stop you performing any modifying operation such as copying, deleting, writing on the card. This problem may be cased by human mistake or SD card corruption.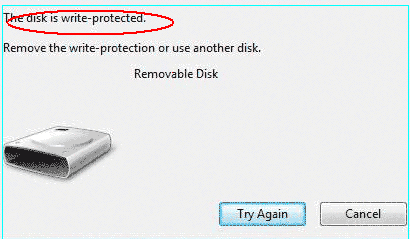 ==> For more information about SD card write protection problem, you can visit this page – memory card write protection cannot be format
Samsung SD Card Won't Format
Samsung SD card shows RAW and not formatted error, but you are unable to complete the format on it? You may meet the similar error on other SD card such as SanDisk, Kingston, Toshiba, PNY, Transcend, Lexar, etc.
==>> Here are some helpful links for SD card wont format error
>> Windows was unable to format SD card for Nikon camera
>> RAW SD card cannot format in Samsung mobile
Unable to Complete Format SDHC, SDXC, MicroSD
SDHC, SDXC and micro SD are common SD memory card, which is respectively compatible with different devices. For example,
An SDHC card usually refers to the SD card that has the capacity from 4GB to 32GB. It has FAT32 file system.
An SDXC card has a higher capacity than SDHC card. Its capacity can be up to 512GB today. An SDXC card usually has exFAT file system.
==>> Visit this page to fix problem that Windows cannot complete the format>>
A micro SD card has a smaller size compared to SDHC and SDXC. Its capacity is from 1GB to 128GB.
If you are unable to complete format on any type of SD card on any device, you can use the similar methods to resolve the problem.
==>> Solution when Windows failed to format SD card>>
iCare Data Recovery offers solution for SD card recovery after formatting it successfully or even it cannot be formatted by any device.

---
Related Articles
Hot Articles
Forum Users Details Resource