TXT File Deleted Recovery
Is It Possible to Rescue Deleted Notepad Text Files from Windows PC?
Situation1: Hello! Urgently need your help to recover TXT files from my Windows 7 external hard disk! These notepad files are deleted accidentally when I am trying to uploading a large number of files inside this USB hard disk to my computer internal hard disk. But, I need them all back to go on editing my business documents. Is it possible to undelete TXT files from Windows 7 PC? Please help me! Thank you very much!
Situation2: Hey, everyone there! I have a Windows 7 laptop which has been restored to its factory setting and also made no data backups elsewhere. Many of my important PC files and folders are lost for that. What's worse, yesterday, some of my notepad TXT files also got deleted from my USB drive and also needed to be taken back. How can I undelete USB flash drive to get my TXT file back? Thanks for any clue here.    
Hello, friends! Files, like your needed TXT files, Word files, PPT files or more, deleted from computer internal hard disk, USB hard disk or flash drive is not really erased and become irrecoverable. They are often still written on the original storage device and could be restored back with the help of deleted file recovery software. So, go try one of these data recovery tools to recover deleted files on Windows.
Recover Deleted TXT/Notepad Files with Deleted File Recovery Software

As we all know, the TXT files are often created by Windows computer notepad tools and can help people store much crucial data to use on different machines. However, they are also able to be deleted or lost due to accidental delete, shift delete, format, reformat, drive corrupted or computer crashing, etc. But, when you really lost TXT files due to mistaken deletion, also do not panic! As long as these notepad files are not rewritten by else data on the same hard disk, flash drive or external drive, you often get chances to recover them back. Therefore, stop using this drive which you delete your important file from if you do not want to end with permanent data loss and apply deleted recovery software to recover deleted files from Windows 7 drive with ease as below:
Step1. Launch deleted file recovery software to its main screen and select desired data recovery type or option to go on.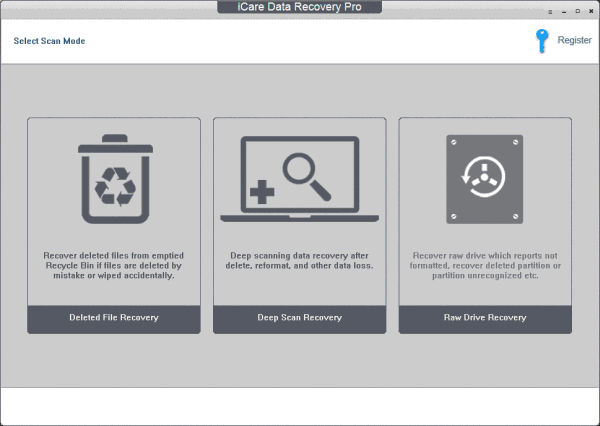 Step2. Run software to pick a practical data recovery mode and let it scan your device with deleted file troubles.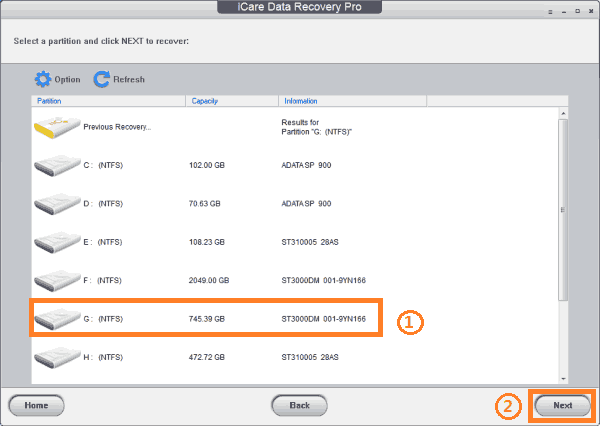 Step3. Select computer local hard disk partition or other drives to hold all restored files or information in case of losing data permanently.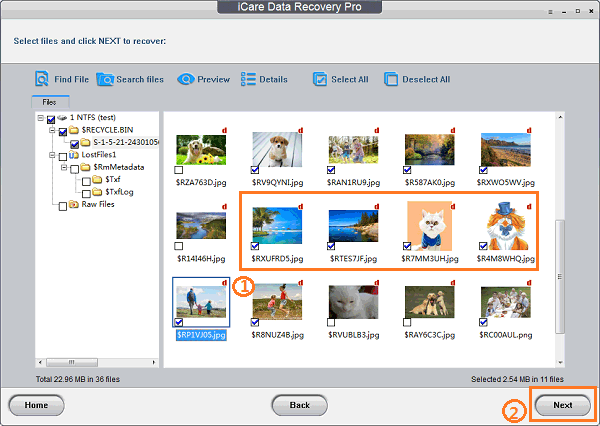 It is hardly recover deleted file without using software from pen drive, external hard drive, USB flash drive, memory card, etc, so you can free download iCare Data Recovery now in order to restore any deleted txt file from any media.
Please Note:
* There are many data recovery tools that needs to be paid or also could be completely free. You'd better choose one according to your own conditions.
* Choose the one that can help scan and preview most or all of your desired TXT files well.
*Also prepare enough storage devices to make drive data backups well from now on.
Computer TXT Files Are Damaged?
Even when you do have selected or paid a TXT file recovery tool to scan your USB hard disk, flash drive after deletion, you do select no desired notepad files back at all? OK! You are sure that you do have saved these TXT files on this storage device well in advance? Is it possible that all your TXT files have been damaged in advance due to virus infection, improper drive extraction or computer crashing and more? Honestly, when your original TXT files are seriously damaged before deletion or format, no matter how effectively your chosen data recovery software works, you also cannot take all wanted files back. Why? The corrupted files are surely irrecoverable even with the help of data recovery software. Therefore, it is always necessary to keep important TXT files backed up well on other devices.
Computer Drive with Deleted TXT Files Are Overwritten?
Generally, people could get no satisfying data recovery result since their original device TXT files are already damaged somehow in advance and also are possible to recover part or even several previous notepad files since they do have rewritten their computer flash drive, hard disk or external drive with deleted files. Why? Though the deleted files stored on a drive will not be really wiped out and also could be damaged to be irrecoverable when people write new data to instead it all. Hence, no matter what happens to you, move no fresh files, photos, audios, messages and more to the same storage device after delete or format, unless you do have taken all wanted ones back with undelete freeware. 
---
Last updated on Aug 30, 2021
Related Articles