Transcend SSD Data Recovery
Transcend SSD refers to solid state drives that are developed by Transcend Information Inc. Transcend SSD allows its users to save various kinds of data to it, so it will be a terrible problem if all data gets lost from the Transcend SSD drive without any backup. For instance:
You mistakenly deleted files from Transcend SSD drive
Accidentally perform quick format or complete format on Transcend SSD drive
Transcend SSD requires formatting on computer
Windows cannot complete the format on Transcend SSD
Transcend probable SSD drive is not recognized by Windows PC
How to Recover Data from Transcend SSD?
iCare Data Recovery is read-only data recovery program, which supports to recover data in various situations. Therefore, you can recover data from Transcend SSD drive by following steps below:

Step1. Free download and install iCare Data Recovery on Windows computer. Run the software and choose a proper scan mode.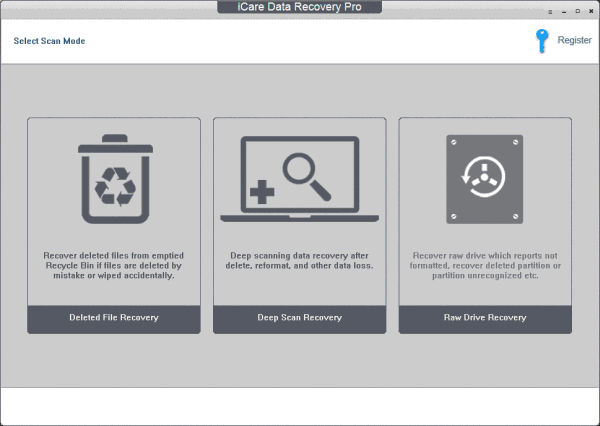 Step2. Choose the Transcend SSD drive as aim disk so that the software will scan it to search lost files.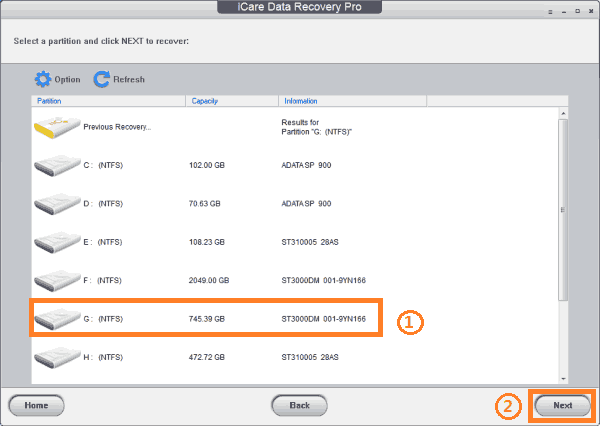 Step3. Preview files after scanning and then save the lost files to another drive.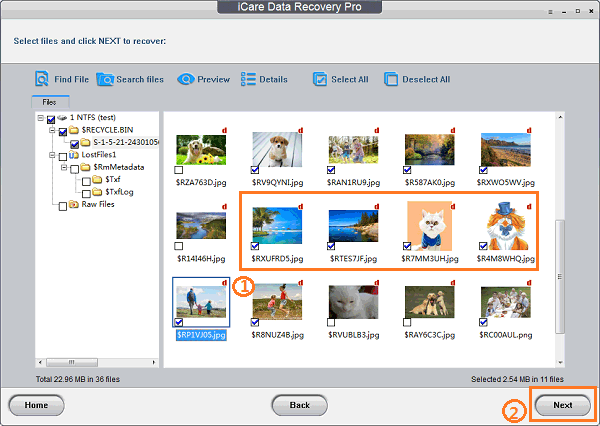 Transcend SSD Drive Deleted File Recovery
You may delete files from Transcend SSD drive by pressing Shift + Delete keys on the keyboard of your computer. Or you may delete files from Transcend SSD by simply pressing Delete key on the keyboard of computer. Or you may click Delete option after right clicking one or more files on Transcend SSD drive. However, files will not be erased permanently in all those situations. You will lose all data only after deleting it from recycle bin. In this situation, you can use iCare Data Recovery to undelete files from Transcend SSD drive.
Situations to Format Transcend SSD Drive
You quick format Transcend SSD drive since you press the wrong button by mistake?
You full format Transcend Solid State drive because you want to erase virus from the drive?
You want to format Transcend SSD drive when it says RAW file system and not formatted error?
You can format a Transcend SSD drive in different situations, but you can rely on iCare Data Recovery to recover data after format Transcend SSD in all those situations as long as you do not add new data after formatting.
RAW Transcend SSD Asks to Reformat
Does your Transcend SSD turn to RAW format asking to reformat? If Transcend SSD or external SSD turns to RAW asking to reformat, you will not be able to access any data whether you reformat it or not. If you reformat the Transcend SSD drive, it will erase all previous inaccessible data. If you do not reformat, you will frequently receive the disk drive not formatted error message when you want to open the SSD drive. If you are upset about this problem, now stop using the Transcend SSD drive at once. Then, you can use iCare Data Recovery to restore all inaccessible data from the RAW Transcend SSD which requires formatting. Finally, you can reformat the Transcend SSD to fix the problem.
Pay attention:
Whether you perform reformat on the RAW Transcend SSD or not before data recovery, you are able to use iCare Data Recovery to restore lost data like videos (MP4, AVI, MOV, MPG, etc), images (JPEG, GIF, PNG, BMP, etc), Microsoft documents (Word, PowerPoint, Excel, Text) and audios (MP3, MIDI, WMA, etc) and more other types of files.
Reasons for Transcend SSD Error
In addition to not formatted RAW error, you may receive other kinds of error messages on your Transcend SSD drive such as I / O devices error, data corruption error, file system corruption error and more. Such kind of error on Transcend SSD drive might be caused by following reasons:
1. Transcend SSD drive is attacked by virus
2. Transcend SSD drive contains bad sectors
3. Transcend SSD is not compatible with the computer
4. Transcend SSD drive is physically damaged (usually, data is not recoverable if the SSD drive is physically damaged)
5. Transcend external SSD is corrupted due to improper operation
Transcend SSD Drive for Windows Computer
SSD drive is widely used by many Windows computer users, while many people like to use Transcend SSD drive or external SSD drive to save, backup or transfer data. Generally speaking, all types of Transcend SSD drives are compatible with Windows operating system including Windows XP, Vista, 7, 8, 10 and Windows Server 2000, 2003, 2008, etc. When you meet data loss problem from Transcend SSD drive due to any reason on any of Windows computers, you can perform data recovery by installing iCare Data Recovery to the computer.
Transcend External SSD Drive Is Not Recognized by PC
When referring to external hard drive, many people consider it as a convenient device for data storage and backup. External SSD drive provides a better solution for data storage and backup. However, it will become a problem if your Transcend external SSD drive is not recognized by PC. The most terrible problem is that you cannot read data stored on the Transcend SSD drive when it is unable to be recognized. Although you cannot access an unrecognized external SSD drive, you can extract files off the unreadable Transcend SSD drive by using iCare Data Recovery. You only need to connect the Transcend external SSD to a Windows computer and then the software is able to deep scan it to search all lost files. You should wait patiently when the software is scanning if you want to recover all inaccessible data from the Transcend SSD drive which is not recognized by any computer.
About Transcend SSD Drive
Transcend Information Inc. is an enterprise, which develops and manufactures various products from SD card to SSD drive. Many products developed by Transcend Information Inc. are popular all over the world, while Transcend SSD drive is only one of the most common products of this enterprise. If you want to get a Transcend SSD drive, you can go to its shop or buy the SSD online.

---
Related Articles