Toshiba SSD Data Recovery
Can anybody tell me a good solution for my Toshiba SSD drive deleted data recovery?
Is it possible to recover files from reformatted Toshiba SSD drive on my computer?
How do I restore files from a Toshiba SSD drive that is corrupted?
Are you also looking for a way to recover files from Toshiba SSD drive? You may mistakenly delete important files from a Toshiba SSD drive and find it not go to recycle bin? Or you might accidentally format Toshiba SSD drive when you attempt to format another media? Even worse, your Toshiba SSD drive is not accessible because Windows computer reports not formatted error, RAW drive error, write error, read error or other similar error message on the SSD? Or the Toshiba SSD drive is not recognized by Windows operating system? Please do not panic whenever you meet the similar data loss problem on Toshiba SSD drive because you still have chance to get back lost files before overwriting the SSD.
How to Recover Files from Toshiba SSD?
Whether you format Toshiba SSD drive or the SSD drive becomes inaccessible, you can run iCare Data Recovery to restore lost files by following the guide below:

Step1. Free download and install iCare Data Recovery on your computer. Run the software and select a proper scan mode.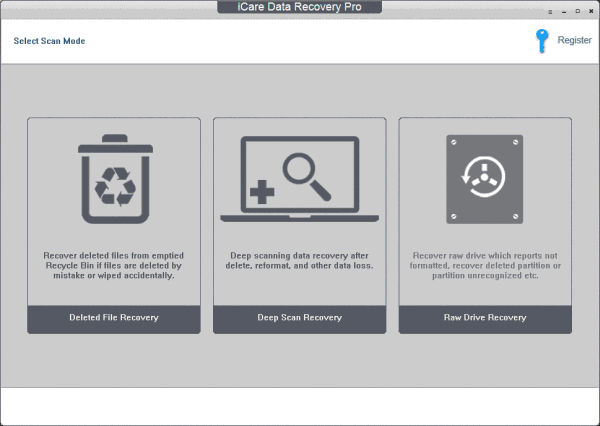 Step2. Choose the Toshiba SSD drive as aim disk and then wait patiently when the software is scanning to search lost files.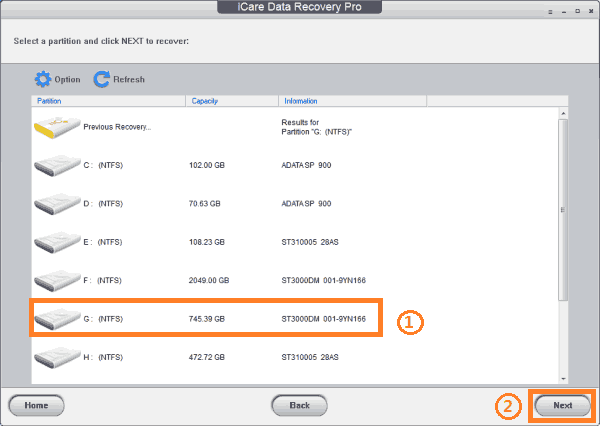 Step3. Preview files after scanning and then save the lost files to another drive.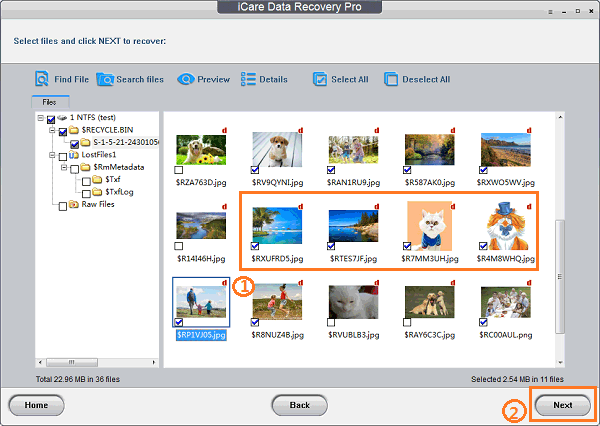 Recover Deleted Files from Toshiba SSD
You can recover lost files by using iCare Data Recovery when you mistakenly delete any data from Toshiba SSD drive and delete files from recycle bin. This data recovery software works as undelete software to restore any type of file such as videos, music, images, emails, Microsoft documents, PDF files, Tiff files, etc after permanently deleting from Toshiba SSD.
Recover Formatted Toshiba SSD Drive Data
You quick format Toshiba SSD drive on purpose because you want to free up disk space quickly? Or you complete format Toshiba SSD by mistake when you want to format another drive? It does not matter why you format your Toshiba SSD, you have a good chance to unformat the SSD with all data back by using iCare Data Recovery.
Toshiba SSD Wants to Reformat
Although there are some differences between SSD and HDD, Windows system also reports disk drive not formatted error when the file system of Toshiba SSD drive is corrupted. If you are unable to access any data since Toshiba SSD drive wants to reformat on your computer, you can ignore the error message and rely on iCare Data Recovery to retrieve all inaccessible files from the RAW unformatted Toshiba SSD drive.
Toshiba SSD Is Unrecognized by PC
Sometimes, you may find that Toshiba SSD drive is not showing up as a normal drive on your computer. Instead, the SSD drive is not recognized by computer. As long as the Toshiba SSD is not physically damaged, iCare Data Recovery is able to help recover files from unrecognized Toshiba SSD when it does not show up in My Computer or Disk Management.
RAID 0 Created by Two Toshiba SSD Drives Is Corrupted
Well, you can create RAID 0 array by using two Toshiba SSD drives. However, RAID 0 array might stop working sometimes if one SSD drive is corrupted. If you are unable to read data from RAID 0 array when one or two Toshiba SSD drive got corrupted, iCare Data Recovery is also available for RAID 0 data recovery on any Windows computer. If your Toshiba SSD drive is damaged, you had better add another Toshiba SSD drive that has the same capacity to rebuild the RAID 0 array after data recovery.
Toshiba Solid State Drive Failure
Toshiba Solid State drive provides a fast solution for data reading / writing, but data stored on an SSD drive is not always safe. In addition to human mistake, you may lose data from Toshiba SSD drive due to SSD failure, such as:
1. Although Toshiba SSD drive can afford to shockproof since it does not contain any mechanical parts inside, the SSD might be still damaged due to serious shock or water damage.
2. Toshiba SSD drive might be corrupted since the components in the SSD drive are broken.
3. Toshiba external SSD drive turns to RAW asking to reformat due to improper operation or virus infection.
4. Toshiba SSD drive becomes unreadable or inaccessible since Windows system is crashed.
5. Toshiba SSD drive is corrupted due to sudden power outage / surge.
Toshiba solid state drive failures might cause unexpected data loss, in which situation iCare Data Recovery provides a read-only solution for all inaccessible data recovery without damaging the SSD or modifying any previous data.
Solution for Toshiba SSD Failures
You can try following methods to fix the Toshiba SSD failures after recover data from SSD drive:
1. If the Toshiba SSD is corrupted due to physical damage like water damage, fire damage, etc, you probably need to send it to the manufacturer and ask them to repair the SSD drive.
2. If Toshiba SSD is attacked by virus, you can run antivius software to check and remove all viruses. You had better not download and install any spyware on your computer.
3. If it is Windows system crash that leads your Toshiba SSD drive to be inaccessible or unreadable, you can reinstall Windows operating system to fix the problem.
Why Use Toshiba SSD Drive?
When referring Toshiba Corporation, you probably know its laptop, external hard drive, mobile phone, memory card, etc. As a matter of fact, Toshiba Corporation also manufactures SSD drive. Why do you select a Toshiba SSD drive for your computer? Well, an SSD drive provides a better solution for data storage than that of basic hard drive. If you prefer to install an SSD drive in your computer, you can select Toshiba SSD drive. If you need to buy a Toshiba SSD drive, you can visit the company's official website or go to Amazon to get one.
Do You Need to Format Toshiba SSD When Install It to Windows PC?
You probably know that you need to format the drive when you install a basic hard drive on your desktop or laptop. Well, when you install an SSD drive in your computer, you still need to format it to make it work normally. Usually, you can install a Toshiba SSD drive on any computer such as Dell computer, Alienware computer, Samsung computer, Sony laptop, Lenovo computer, HP computer, Acer computer, Toshiba laptop and so on.
Toshiba SSD Drive Runs Slowly
As you know, all brands of SSD drive are famous for its fast speed for data reading and writing. However, your Toshiba SSD drive might run more slowly day by day after installing on your computer? It is a common situation because many factors will have influence on the performance of your Toshiba SSD drive. If you find your Toshiba SSD drive runs slower than before, you had better not defragment the files on the drive because it will reduce the life of your SSD drive.

---
Related Articles