Toshiba Laptop Data Recovery
Like many laptop users, Toshiba laptop users also like to install many programs and save almost all important data on the laptop hard drive without any backup because they can carry a laptop anywhere they like and they can read all data anytime. However, it will be fatal when data loss occurs on Toshiba laptop in following situations:
How to Retrieve Files on Toshiba Laptop?
iCare Data Recovery Pro is a data recovery program that is compatible with all Windows OS, so you can rely on this data recovery software to restore lost data on Toshiba laptop:

Step1. Free download and install iCare Data Recovery on Toshiba laptop. Then, run the data recovery software and choose a proper scan mode.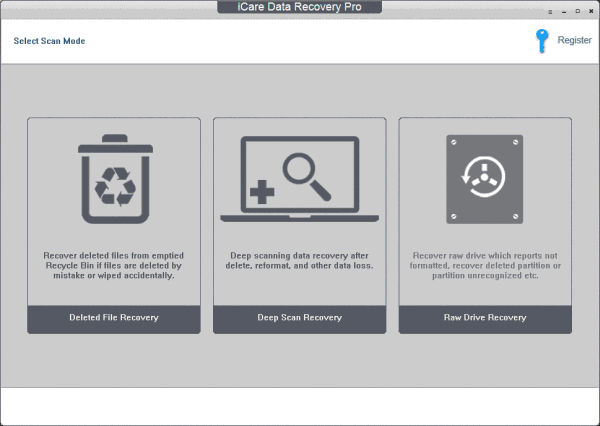 Step2. Choose the disk drive where data got lost and then you only need to wait when the software is scanning to search lost files.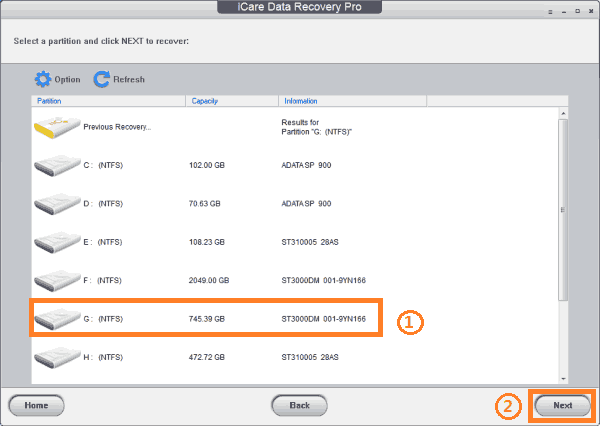 Step3. Preview files when scanning is completed and then save the lost files to another drive.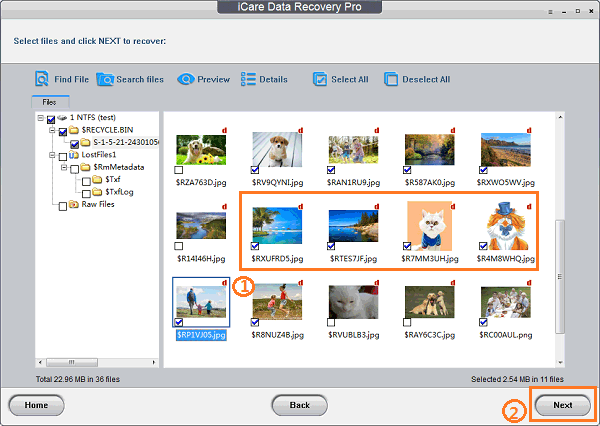 Toshiba Laptop File Recovery after Deleting
You usually delete files from hard disk drive on a Toshiba laptop in following situations:
iCare Data Recovery supports to recover files after deleting from hard disk drive on Toshiba laptop. In addition, you can also use this data recovery software to recover deleted files on memory card, pen drive, external hard drive, etc on Toshiba laptop.
Toshiba Notebook Format Recovery
You may also lose data from hard disk drive on Toshiba notebook due to formatting the drive in different situations:
When you format a hard disk drive on Toshiba notebook, you can use iCare Data Recovery to unformat the disk drive before writing new data to this drive. Of course, you can also use this software to recover data after reformat removable disk on Toshiba notebook.
Toshiba Laptop Hard Drive RAW Asking to Reformat
Hard disk drive usually has NTFS or FAT32 file system on any computer that runs Windows operating system, but sometimes it might show RAW file system asking to reformat on Toshiba laptop which runs Windows OS due to many reasons. Hard drives RAW format asking to reformat usually because the hard drive is infected with virus, hard drive contains too bad sectors or Toshiba laptop system corruption, etc. Whether the problem is caused by hard drive malfunction or Toshiba laptop system crash, you can use iCare Data Recovery to restore all inaccessible data. You had better not format the hard drive before data recovery in order to prevent unexpected damage to the previous data.
CHKDSK Is Not Available for RAW Drives on Toshiba Laptop
You may receive CHKDSK is not available for RAW drives on Toshiba laptop sometimes, in which situation you might fail to access the drive or format it. iCare Data Recovery allows you to restore data from a RAW drive even when you receive CHKDSK RAW partition error message on any disk drive or removable disk. This data recovery software enables you to recover lost files without modifying any previous information or causing any harm to your Toshiba laptop.
Toshiba Laptop Freezes
Sometimes, PC freezes when you are handling some documents or doing something else on your Toshiba laptop. You probably think that the operating system is crashed on your Toshiba laptop, so that you may reinstall Windows operating system to fix the problem. As a matter of fact, system crash is only one of possible reasons that might lead your Toshiba laptop to freeze. This kind of problem might occur due to other reasons. Sometimes, you do not need to reinstall OS in order to fix this problem. A Toshiba laptop might freeze in situation when you open too many programs or Windows at the same time, you installed some malware or software that is not compatible with the Toshiba laptop or there are too many junk files on your Toshiba notebook, etc. You just need to close some programs or Windows, install the incompatible software and clean up disk to fix the problem sometimes.
About Toshiba Notebook
Toshiba Corporation was founded in July 1987, which mainly develops and manufactures digital products, electronic components and materials, industrial and social infrastructure systems, consumer electronics, household appliances and more. Toshiba notebook has features of reasonable price, fashionable design, high-end and multimedia entertainment to meet users' demands. Toshiba notebook aims to provide its users with personalized life and work.
Toshiba notebook include: Toshiba Satellite, Toshiba Satellite Pro, Toshiba Tecra, Toshiba Qosmio, Toshiba Libretto, Toshiba Netbook, etc.
Compared with other brands of laptops like Asus laptop, ThinkPad laptop, etc, Toshiba laptop has its own features which appeal to many users from different places.

---
Related Articles